Cheeseburger Salad with Big Mac Dressing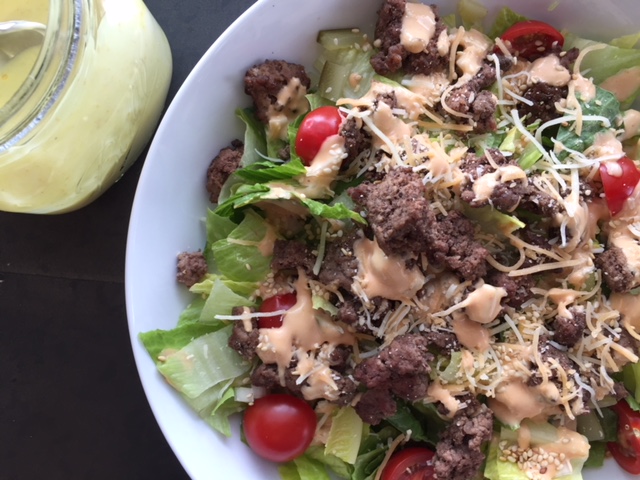 Skip the drive through.  You can make a great dinner in less time than it takes to say, "hold the pickles," and the only skill you need is browning ground beef.  Kids will eat it.  Husbands, too.  And because you are buying your own ingredients (lean, organic beef, light shredded cheese and mayo, organic tomatoes and lettuce), it's a lot better for you.  If you have an especially rough night coming up this week, you can make it ahead.  Just brown the ground beef, prep the salad, and make the dressing.  Keep all separate, covered,  and refrigerated until ready to serve.  When you're ready, rewarm the meat, put out some bowls, and let everyone make their own.  Or, follow the directions below to make one large, family style salad.  However you make it, you'll be having it your way.  All that big, juicy cheeseburger flavor and no waiting in a line.
The ingredient list is so simple, you most likely have most of what you need on hand.  Buy bagged romaine salad if you want to skip rinsing and cutting up lettuce.  I made the dressing without the ketchup and let everyone decide whether or not they wanted it.  If you are a die-hard Big Mac lover, here is a link for a dressing that it says tastes just like the real deal.  And yes, I know, a Big Mac does not have tomatoes, but since you're making this at home you can have that salad any way you want it.
Big Mac Salad Cheeseburger Salad with Big Mac Dressing
1 lb lean ground beef
sea salt and freshly ground black pepper
8 ounces Romaine lettuce (or iceberg)
1/2 cup diced dill pickles
1/3 cup diced red onion
1 cup cherry tomatoes, halved
3/4 cup light shredded cheddar cheese
1 tablespoon toasted sesame seeds
dressing:
1/4 cup mayonnaise or Vegennaise
2 heaping teaspoons yellow mustard
2 tablespoons diced dill pickles
ketchup to taste, if desired
Brown ground beef in a skillet over medium heat, breaking up into pieces as it cooks, until no longer pink and thoroughly cooked.  Season with sea salt and black pepper.
While meat cooks, combine lettuce, pickles, onion, tomatoes, cheddar cheese and sesame seeds in a large bowl.
In a separate, small bowl, combine mayonnaise, mustard, pickle and ketchup, if using.  Top salad with warm beef, drizzle with dressing, and toss to combine.