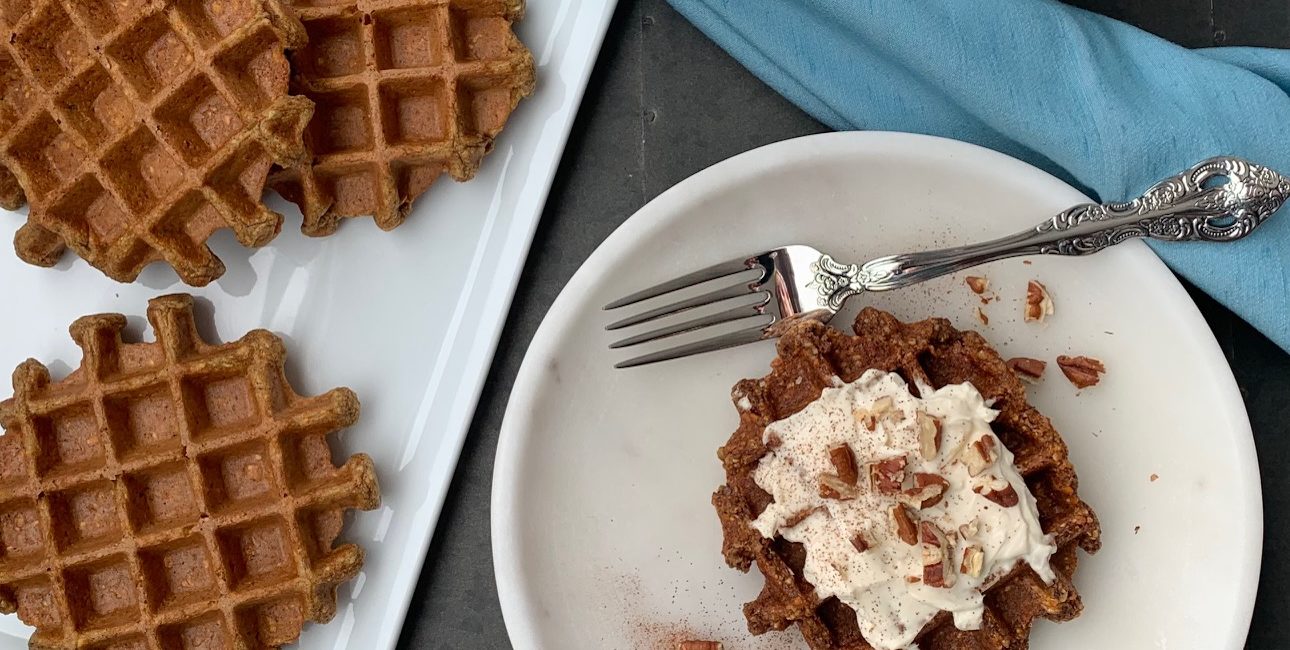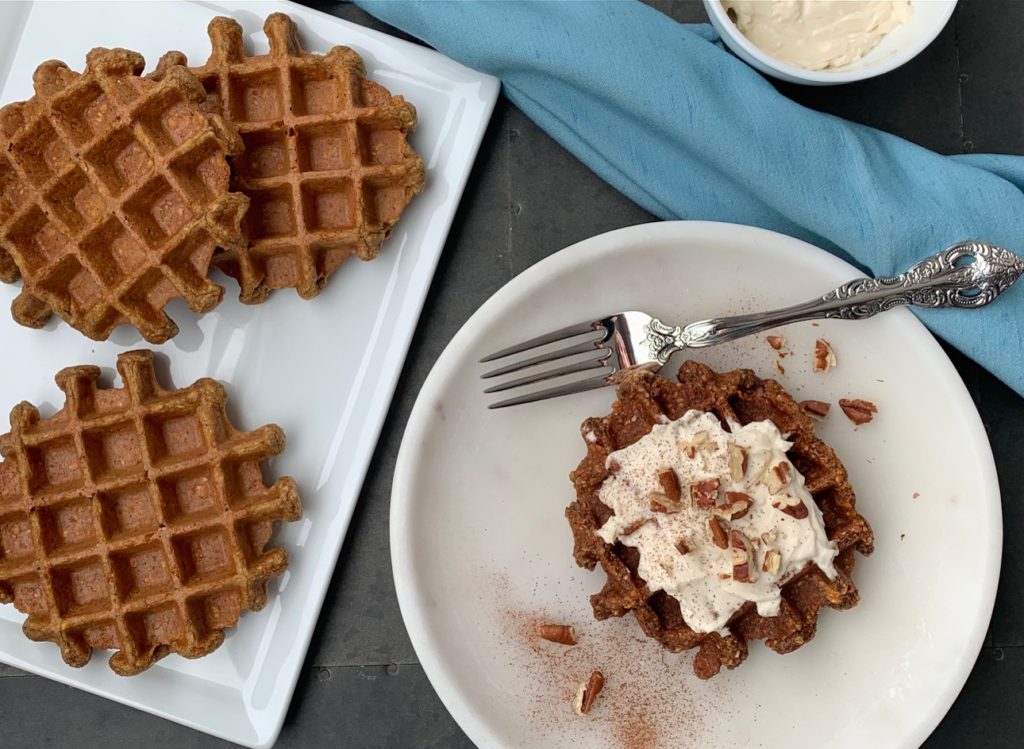 The sun is shining, the birds are singing, and Easter is right around the corner. If you're hunting for something deliciously different and trying to find something a bit healthier, these Carrot Cake Waffles are just the thing. Serve them for breakfast, brunch, or a fun dessert. You can even make them ahead. Sweetened with just a bit of maple syrup and made with only 2 tablespoons of oil, they're everything you love about carrot cake, but in waffle form. Loaded with carrots and topped with tangy, light whipped cream cheese frosting, they're just right for welcoming spring. 
Use your food processor to make your waffles. Start by finely chopping the carrots. You will need about 1 cup of chopped carrots, but a little more or less is okay, too. If you want to measure the carrots once they are chopped, spoon them into a 1 cup measure and then add them back into the processor. If you'd like to use jarred applesauce instead of an individual serving pouch, use 1/2 cup. To make this nut free, add 1/2 cup flour in place of the ground pecans. You can use any kind of waffle iron, although the recipe recommended the Belgian style.
I used a 1/2 cup measure to portion the batter into each quarter of the waffle iron and used the 3 setting on the temperature dial. Once you find a setting that works for your iron, leave it set that way. Also, make a note of the measurement you like to portion your waffles, so that next time you can make waffles without any guesswork.
I made another batch, vegan and gluten-free, using coconut milk, vegan buttery spread, gluten-free flour, flax eggs, and Daiya plant based cream cheese. Topped while still warm with the cream cheese frosting, they were delicious! Make either kind of waffle ahead. Rewarmed in the toaster oven they had a little bit of crunch on the outside, while still being tender and chewy inside.
What are you waiting for? Hop to it and make these for some bunny you love.
Carrot Cake Waffles
1/2 cup pecan halves, plus extra for garnish
cream cheese frosting:
4 ounces cream cheese, room temperature
2 Tablespoons unsalted butter, room temperature
1 Tablespoon maple syrup
1 teaspoon fresh lemon juice
1 teaspoon pure vanilla extract
pinch fine salt
carrot cake waffles:
1/2 cup oat flour + 1/2 cup all-purpose flour (can be gluten-free)
1 teaspoon baking powder
3/4 teaspoon baking soda
1/2 teaspoon fine salt
1 teaspoon ground cinnamon, plus more for dusting
1/2 teaspoon ground ginger
1/4 cup milk

 

1 Tablespoon maple syrup
2 Tablespoons avocado or vegetable oil, plus more for brushing waffle iron
1/2 teaspoon finely grated lemon zest
1/2 teaspoon pure vanilla extract
2 large eggs
1 3.17 ounce pouch unsweetened applesauce
2 medium carrots roughly chopped (about 1 cup when chopped)
Preheat oven to 350º F. Spread pecans on a baking sheet and bake until toasted, about 8 minutes. Let cool slightly, then pulse 1/2 cup in a food processor until finely chopped, but not ground. Transfer pecans to bowl, then roughly chop the remaining pecans for garnish. 
For cream cheese frosting, combine cream cheese and butter in a small bowl. Beat with a hand mixer until smooth, about 1 minute. Add maple syrup, lemon juice, vanilla and salt; beat until mixed and smooth. Set aside. 
For carrot cake: Reduce oven to 200º F. Preheat a waffle iron to medium-high. In a small bowl, whisk together flour, baking powder, baking soda, salt, cinnamon and ginger. Measure milk into a liquid measuring cup, then add maple syrup, oil, lemon zest, vanilla, eggs and applesauce and whisk together. 
Add carrots to food processor and pulse until finely chopped. Add liquid ingredients to carrots and pulse, then add flour mixture and chopped pecans. Pulse a few more times until just combined. 
Lightly brush the top and bottom of the waffle iron with oil. Fill each quarter of the waffle iron about three-quarters of the way full. Close lid gently and cook until waffles are golden brown and slightly crisp, 4 to 6 minutes. Keep the cooked waffles warm in the oven while you make the remaining waffles. 
Spread each waffle with cream cheese frosting, then sprinkle with chopped pecans and dust with cinnamon. 
Freeze waffles, unfrosted, in resealable plastic bags, up to 1 month. Reheat in 350º oven or toaster oven until warmed through and crisp. 
– adapted from Food Network Kitchen recipe