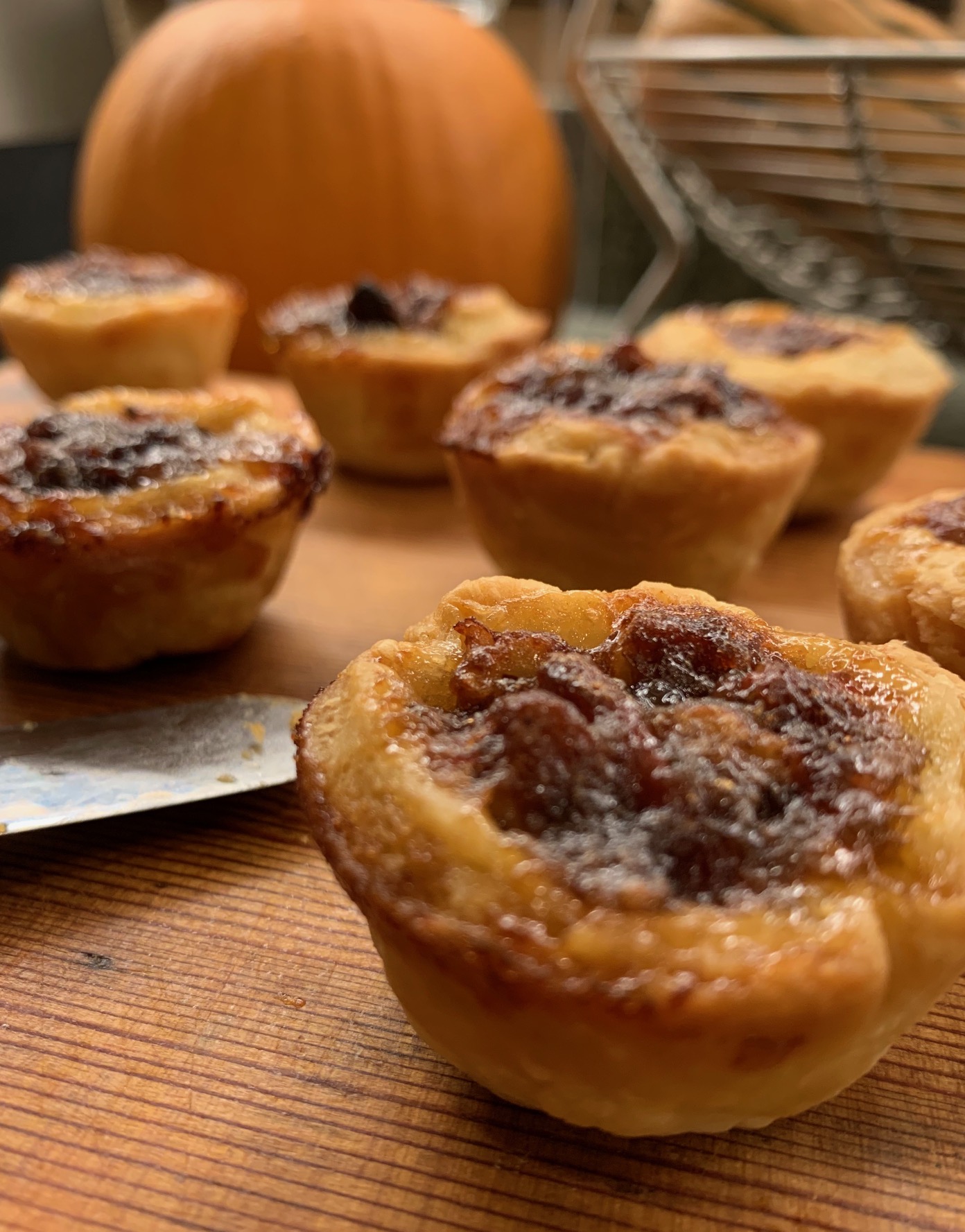 The rest of the world may be smitten with pumpkin spice, but in our house, it's the butter tart. Canada just celebrated their Thanksgiving, so for those of you just putting the wrap on your turkey dinners, this week I'm sharing a recipe from our neighbors up North. 
As the wife of a Canadian, I know my way around a Nanaimo bar. We have two Thanksgiving dinners every year, and I must admit, I have come to love hockey. But for all things Canada I have come to embrace, admittedly, this is my first foray with the butter tarts. 
Realizing I was in unfamiliar territory, I read through all the comments at the end (a crash course in butter tarts for those of us not in the know), and quickly learned a thing or two. There are numerous variations on the filling: runny, firm, raisins or currants, and the addition of nuts, most notably pecan and walnut. Some suggested keeping the filling just plain. More than a few said to skip the vanilla and add some bourbon. Done! I also opted to use 2/3 cup brown sugar plus 1/3 cup maple syrup and decided to make half of the recipe with raisins and half using pecans. Both were delicious! You can also use gluten-free flour with good results. 
Buttery and rich, they were delightfully easy to make. No electric mixer or food processor required, you make the dough with a fork and the filling is stirred by hand to avoid the possibility of adding too much air. Because I liked the idea of keeping these bite-sized, I used a mini muffin tin, which made 22 tarts, and found 17 minutes to be just right for the baking time. 
These sweet little butter tarts are having a moment. They are oh so delicious and will be added to our holiday traditions. Spend some time with the ones you love and bake some this weekend. Wrap in plastic wrap and store in a crushproof container, tucked away in your freezer for the holidays. Canadian friends, if you have made these before, please email me. I would love to see your family's recipe! 
Butter Tarts
pastry: 
1 1/2 cups all-purpose flour, plus more

 

pinch of fine sea salt
1/2 cup cold unsalted butter (113 grams) or lard (103 grams), cubed
1/4 cup ice water

 

1 large egg yolk
1 teaspoon white vinegar
filling:
1/4 cup raisins and/or 1/4 cup lightly toasted chopped pecans or walnuts
2/3 cup packed brown sugar
1/3 cup maple syrup
1/2 teaspoon fine sea salt
1/4 cup unsalted butter, softened
1 teaspoon vanilla extract, or 1 teaspoon bourbon

 

1 large egg
Combine flour and salt in a large mixing bowl. Use a pastry blender or your fingertips to rub butter or lard into flour until mixture is in pea-sized pieces. Mix water, egg yolk, and vinegar in a small bowl until well combined. Add liquid to flour mixture and combine with a fork, adding 1 more tablespoon of water if it is too dry. Knead by hand several times until it forms a ball. Shape into a flat square. Wrap with plastic and refrigerate at least 30 minutes.
On a lightly floured surface, roll chilled dough into a rectangle about 3 to 6 millimeters thick, continuing to flour your surface and rolling pin as your work. Use a biscuit cutter to cut circles, re-rolling dough as needed. Use your fingertips to press each circle into the cup of a mini muffin tin, making the edge of the dough flush with the pan. Transfer to refrigerator. 
In a small bowl, cover raisins with hot water to plump. Preheat oven to 425º F. In another bowl, mix brown sugar, maple syrup and salt, then mix the butter into the sugar by hand until smooth. Add vanilla and egg and mix until combined. 
Drain raisins and place enough in each chilled tart shell to completely cover the bottom. Spoon filling into each tart, covering raisins and filling about halfway. Bake 13-15 minutes for runnier tart, 17-19 for firmer. A few minutes after removing from oven, run a knife or spatula around the edge of each tart to loosen. Let cool completely in tin before removing. Serve warm or at room temperature. Cover and refrigerate up to 3 days.
– adapted from recipe by Sara Bonisteel, cooking.nytimes.com