Buffalo Chicken Dip and Vegan Lentil Chili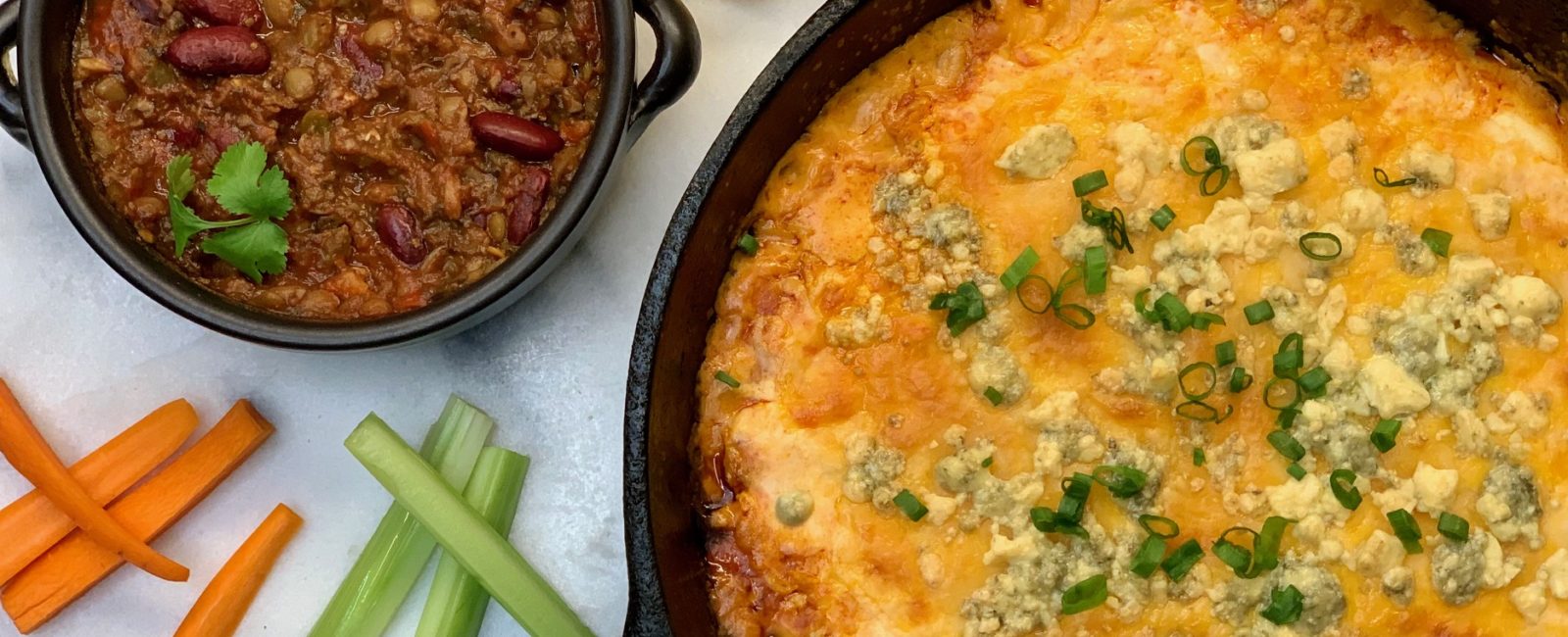 Football's biggest party is just around the corner. Be ready for all the Super Bowl action with some winning food that's guaranteed to please all your fans. Here are two ideas for easy game day food that you can make at home. 
Tackle one dip and spice up your game day lineup with this Buffalo Chicken Dip. Filled with hot wing flavor, this riff on the fan favorite is sure to score a win. It's hot, spicy buffalo chicken but in creamy, cheesy, dippable form. 
Remove your cream cheese from the refrigerator ahead of time, and let it warm up for about 20-30 minutes, so that it softens. If you are short on time, give yourself a break and use rotisserie chicken. Reduce the hot sauce by half to make a milder dip, or add more hot sauce if you want to make it spicier. If you're not a fan of blue cheese, leave it out. You can also make this in a 1-quart baking dish. Prepare ingredients as directed in a pan on the stove, transfer to your baking dish, then top with cheese and bake. Serve with the traditional carrots and celery, and add red bell pepper sticks and cucumber slices to sneak in some extra veggies. 
This Vegan Lentil Chili is a guaranteed crowd pleaser. Thick, chunky, and satisfying, even meat lovers will enjoy it. Hearty lentils and meaty mushrooms are a healthy swap that mimics the texture of ground beef. Use your food processor to quickly dice your onion, bell pepper, and mushrooms and make quick work out of all the chopping. Pulse until your vegetables are chopped, but use care not to overprocess the bell pepper or it will become watery. 
I like using tomato sauce for this chili, but you can use diced tomatoes if you prefer the chunks. Rather than using a can of lentils, I decided to use dried. I prepared one cup of dried lentils and used 2 cups of the cooked lentils for this recipe, a little more than what would have been in the can. It left me with enough to freeze, so that I can make a quick soup or use them in another recipe. I used a heaping teaspoon of Better Than Bouillon Seasoned Vegetable Base to add extra flavor, but you could omit it if you don't have this on hand. Serve it in bowls and enjoy the chili as is, or let everyone use it to top nachos, baked potatoes, tater tots, or fries. 
Buffalo Chicken Dip
1 Tablespoon unsalted butter
2 teaspoons minced garlic
2 cups cooked chicken, shredded
1/2 cup Frank's Original Red Hot Sauce
8 ounces block cream cheese, softened
1/2 cup sour cream
1/2 cup white Cheddar cheese, freshly shredded
1/4 cup American cheddar, freshly shredded
1/4 cup crumbled blue cheese (optional)
2 teaspoons green onions, sliced

 

celery sticks, carrot sticks, tortilla chips, for serving

 
Preheat oven to 375º F with oven rack placed in middle of oven. In an 8-inch cast-iron skillet, or other ovenproof pan, melt butter over medium-high heat. Add garlic to butter and sauté until fragrant, about 30 seconds. Add chicken and hot sauce and simmer until sauce thickens and is reduced by half, about 2 minutes. 
Reduce heat to low, stir in cream cheese, and mix until combined. Remove from heat, stir in sour cream and top with shredded cheese. Bake 10 minutes, until cheese has melted and bubbling around edges. Place under broiler for a few minutes to brown on top. Garnish immediately with blue cheese and green onions. Serve with vegetable sticks and chips for dipping. 
Vegan Lentil Chili
2 Tablespoons extra-virgin olive oil
1 onion, finely chopped
1 large carrot, chopped
2 ribs celery, chopped
1 red bell pepper, finely chopped
3 cups mushrooms, finely chopped
1 1/2 Tablespoons chili powder
1 Tablespoon ground cumin
1/8 teaspoon cayenne pepper
crushed red pepper flakes, several shakes
1 4-ounce can fire-roasted chiles

 

1 15-ounce can tomato sauce, or one 15-ounce can petite diced tomatoes
4 Tablespoons tomato paste
1 1/2 teaspoons smoked paprika
1 heaping teaspoon Better Than Bouillon Seasoned Vegetable Base
1 12-ounce can dark kidney beans, drained and lightly rinsed
1

 

15-ounce can lentils, drained and rinsed, or 1 1/2 cups cooked lentils
1 Tablespoon garlic powder
1 – 2 teaspoons sea salt
freshly ground black pepper
1 Tablespoon light brown sugar
fresh cilantro

 
Add olive oil to a large soup pot or heavy Dutch oven and warm over medium-high heat. Add onion, carrot, celery and bell pepper and cook, stirring occasionally, 5-7 minutes until softened. Add mushrooms; cook, stirring frequently, 8-10 minutes. Add chili powder, cumin, cayenne pepper and crushed red pepper and cook, stirring, about 1 minute, until spices are fragrant. Stir in chiles, tomato sauce, tomato paste, smoked paprika, vegetable bouillon base, kidney beans, lentils, garlic powder, sea salt, black pepper and brown sugar; bring to a simmer, then reduce heat to low. Simmer uncovered for 10 minutes, stirring occasionally. Taste and adjust seasonings as desired. Ladle into bowls and top with fresh cilantro.