Broccoli, Rice, Cheese, and Chicken Casserole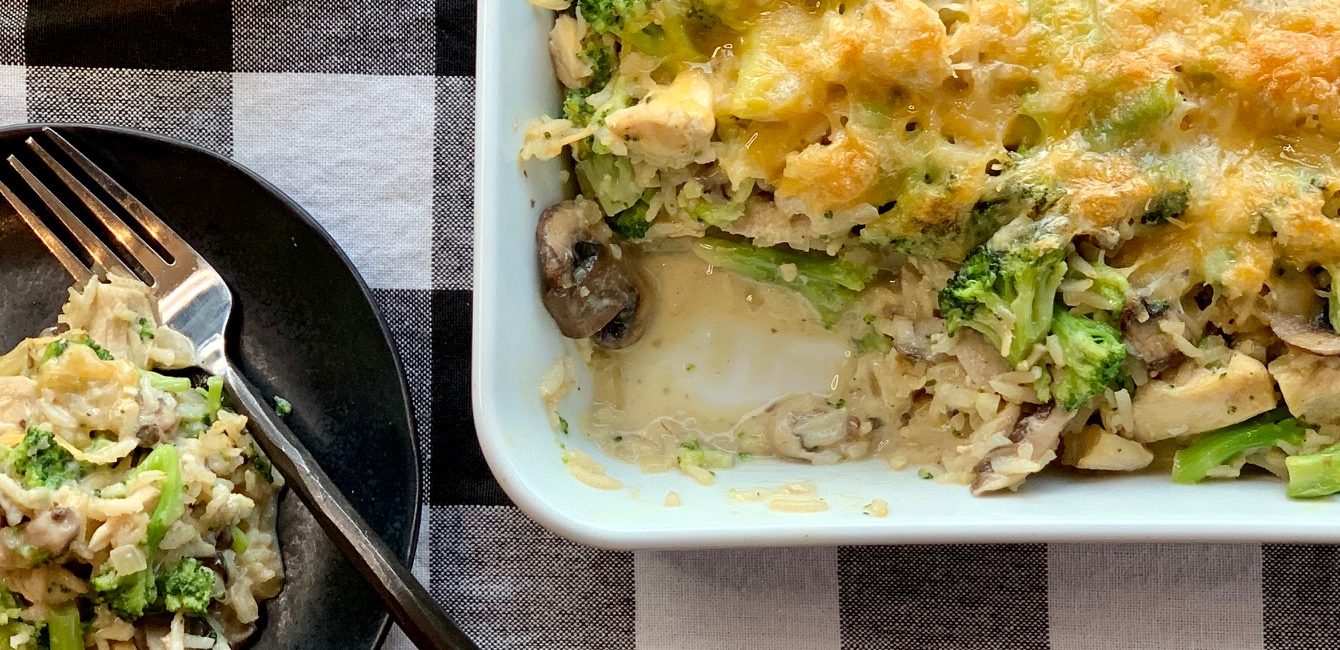 The Thanksgiving countdown has begun. Soon your whole house will be filled with the wonderful aroma of roast turkey and pumpkin pie and your table filled with all those smiling faces. This year, more than ever, celebrate your family. It's a time for tradition. Make those dishes that you've been making for years. The ones that everyone looks forward to. It's a great way to honor and remember your loved ones. 
My dad made the mashed potatoes every year. He liked to make them perilously close to meal time, taking up precious burner space at the very last minute. I can still see him, his youngest grandson perched on a step stool just beneath him, his big hand around my son's tiny one guiding the spoon. That same grandson makes those same potatoes, in the same perilous way, every year. It's a tradition. 
When I gathered things to preserve in case we had to evacuate from the fire, I came across my grandmother's recipe for  butterhorn rolls. She would make them every year, and this year, I will try making them, too, following her well worn recipe and notes. Her voice is so friendly and her details so helpful, it's almost like having her here. Best of all, the recipe is in her handwriting. Its familiar cursive slant reminds me of her and it makes me happy just to see it.   
While you are dusting off those recipes, think about passing some of them on to your family. It's a precious gift that you can share now and it doesn't matter if they're organized or not. A few years ago, my mom gave me a small envelope for Christmas. It had recipes for all sorts of things, but most importantly, they were hers. There was a salad dressing from a local restaurant, her beloved holiday cheeseball, a few cookie recipes, her spiced wassail, and a varied assortment of things I remember her making, all on recipe cards and in her own handwriting. It was a great gift and I am so grateful that she thought of it. Even though she is gone, we can still make the things that we remember her making and it continues to connect us.
My mom made a Broccoli, Rice, Cheese and Chicken casserole that I remember well. It made the rounds back in the seventies, and it was creamy, cheesy and delicious. It was made with canned cream of chicken, cream of broccoli or mushroom soup, and lots of Velveeta. She topped it with toasted almond slices, too, so it had a nice little crunch. 
This lightened up version is gluten-free, but it still hits the spot. I added diced, cooked chicken, but you could make it without and keep it plant-based or use it as a side dish. If you use turkey, it would also be a great way to use those Thanksgiving leftovers. This recipe comes together very quickly, so have all of your ingredients prepped before you start.  Make and serve this in an ovenproof skillet, or transfer it to a casserole dish so you can reminisce before you finish it under the broiler. Satisfying, family friendly, and feeds a crowd. Plus, it's great to have something ready to eat tucked away in your fridge.
Think ahead about those turkey day leftovers and make sure you have everything you need in house. Be sure to add the ingredients for turkey soup, some greens for a post-Thanksgiving salad, or bread for sandwiches to your list so you can avoid that dreaded day after trek to the store. Make sure you have containers for leftovers, too.
Share those recipes with your family. It's not too early to start preserving those memories that will be cherished and remembered every year.
Broccoli, Rice, Cheese, and Chicken Casserole
1 Tablespoon unsalted butter
8 ounces fresh cremini mushrooms, stemmed and sliced
1 cup chopped yellow onion
2 cloves garlic, minced
1 Tablespoon finely chopped fresh thyme
4 cups cooked chicken, diced

 

1/4 cup white wine

 

1 cup unsalted chicken broth
1/2 cup sour cream
1 teaspoon Dijon mustard
1 Tablespoon tamari (gluten-free) or soy sauce
1/2 teaspoon salt
freshly ground black pepper
3 Tablespoons cornstarch
3 cups frozen broccoli florets, heated according to package directions
3 1/2 cups cooked brown rice, or 2 (8.8 ounce) packages microwaveable brown rice, warmed
1 cup shredded extra-sharp Cheddar cheese
Preheat broiler and position a rack 6 to 8 inches from heat source. Melt butter in a large high-sided ovenproof skillet over medium-high heat. Add mushrooms and onion; cook, stirring often, until browned and tender, about 7 minutes. Add garlic and thyme; cook about 1 minute, stirring constantly until fragrant. Add chicken and 1/4 cup white wine; cook and stir, 2 minutes. Whisk broth, sour cream, mustard, tamari, salt and pepper in a bowl until smooth. Whisk in cornstarch. Add mixture to pan, stir to combine, and bring to light boil. Reduce heat and continue to stir until mixture thickens. Remove from heat. Stir in broccoli and rice and 1/2 cup of cheese. Sprinkle with remaining cheese, then transfer skillet to oven. Broil until cheese melts and lightly browns, about 2 minutes or more. Serve hot.
-adapted from eatingwell.com