Blueberry Balsamic Goat Cheese Appetizer and Blueberry-Chia Seed Jam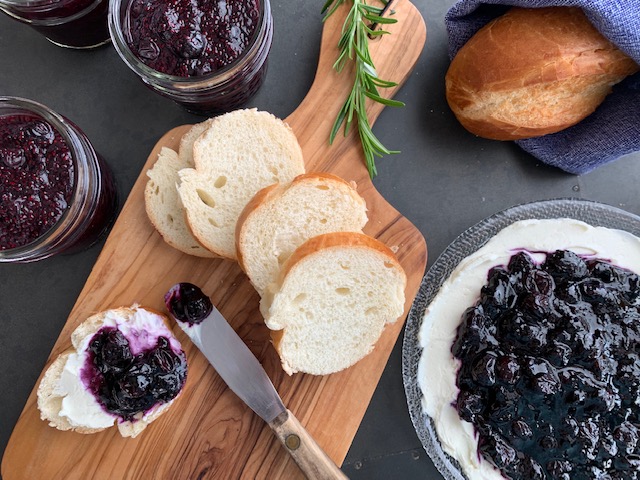 And just like that, it's Labor Day. We were just summering along and the next thing you know it's back to school, back to work, and I am pretty sure I have even seen a few leaves falling. Let's put a wrap on it this week with a few things you can cook right now as we head full speed into the busiest time of the year. 
The berry machine seems to be slowing down a bit, and I am starting to feel more generous and willing to share with the birds. Here are a few more ways to enjoy those berries before everything turns to apples. First, a quick, healthier Blueberry-Chia Seed jam. You can use it on your morning toast, over a nut butter or ricotta, make PBJ's for school lunches, or warm it and thin it a bit for pancake topping. Add it to your yogurt or share some on your cheese board. You can also make a cool, marble-swirled dessert by folding 1/4 cup of it into softened vanilla ice cream just until streaks form; cover and freeze until scoopable.
Something else you can make in a hurry is this Blueberry Balsamic Goat Cheese Appetizer. It's a perfect dish take along for whatever you happen to be doing this Labor Day. Check out my Red, White and Blue board on Pinterest for more food and drink ideas to help you celebrate this holiday weekend. 
If peaches are your thing, be sure to try making Seattle chef Renee Erickson's Peach Cobbler with Hot Sugar Crust. I plan to make this one more time before the peaches disappear, but this time, I'm adding in some blackberries. 
Have a safe, happy Labor Day weekend.
Blueberry-Chia Seed Jam
3 cups fresh or frozen blueberries
2 teaspoons finely grated lemon zest
1/4 cup fresh lemon juice
3 Tablespoons (or more) pure maple syrup
1/4 cup chia seeds
Combine blueberries, lemon zest and juice, and maple syrup in a medium saucepan and cook over medium heat, stirring occasionally, until berries begin to burst, about 5 minutes. Mash about half of berries lightly with spoon. Raise heat to medium-high and bring to a boil, stirring occasionally until juices are reduced by half, about 5-10 minutes. 
Remove from heat. Taste and adjust with more maple syrup if desired. Return to boil, stir in chia seeds, and cook 1 minute to soften seeds. Let cool slightly, then transfer to jelly jars or heatproof containers. Cover and let cool completely, chilling until ready to use. Can be made 2 weeks ahead. Store in refrigerator or freeze for up to 2 months. 
– recipe by Nicole Rucker, Bon Appétit, July 2016
Blueberry Balsamic Goat Cheese Appetizer
1 cup fresh or frozen blueberries
2 teaspoons honey
2 teaspoons balsamic vinegar
1/4 scant teaspoon crushed rosemary
1/4 teaspoon salt

 

4 ounces goat cheese
2 ounces cream cheese
1 loaf crusty French bread
Combine blueberries, honey, balsamic vinegar, rosemary and salt in a small saucepan. Cook over medium heat for 10 minutes, stirring occasionally. 
While berries cook, combine goat cheese and cream cheese in a small bowl and beat with a hand mixer. Spread goat cheese mixture over a small plate. Remove berry mixture from heat and let cool for several minutes before spooning over goat cheese. Serve with sliced bread or crackers.
– as seen on thecreativebite.com