Blistered Kale Ribs and Quinoa Salad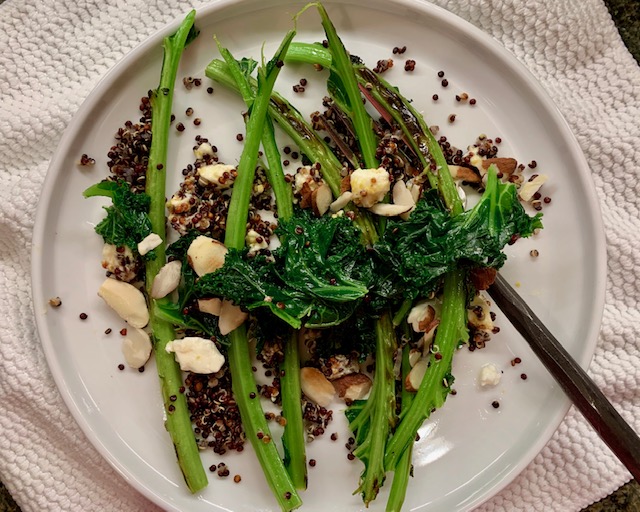 We are eating at home like never before – three or more times a day, seven days a week – meal planning, food prepping, and washing all the mounds of dishes, pots and pans that go along with it. You may be days away from your next grocery delivery, or you may not be able to get fresh vegetables at the speed or volume you're accustomed to, but don't let that stop you. This week we're rethinking salad.
This recipe is a good way to use up every last bit of what you have, so don't toss those kale stems! You could also use a roasted vegetable, like cauliflower florets, broccoli rabe, or sliced brussels sprouts, or consider topping the flavor packed quinoa with some lightly dressed arugula, or other spring greens if you are lucky enough to have some. Frozen vegetables, like green beans, also work. Try them warmed, with a drizzle of olive oil. 
Quarantine has made me love quinoa, particularly this dramatic black variety I found nestled among the rice and noodles in my pantry. High in protein and gluten-free, it's a great vegan option, so I doubled the amount you prepare for this recipe. Use half of the cooked quinoa in this dish, then keep the rest in your fridge for another meal. If you don't have black quinoa, other varieties are just fine. The recipe calls for Persian feta, but feel free to substitute ricotta salata, halloumi, or queso fresco if any of those happen to be on hand.
You can call it a vegetable, call it a side dish, or call it your main dish. I call it delicious, and you will, too. 
Blistered Kale Ribs and Quinoa Salad
1 cup black quinoa

 

3 Tablespoons olive oil, divided, plus more
1 1/2 cups water
1/2 teaspoon salt, plus more

 

1 generous handful kale leaves, coarsely chopped

 

juice of 1/2 lemon
3 cloves garlic, sliced

 

10 young kale ribs, trimmed and halved
2 Tablespoons chicken stock or water

 

1 shallot, finely chopped
1 Tablespoon chopped mint
1/4 cup toasted or smoked almonds, coarsely shopped
Feta and mustard dressing: 
1/3 cup Persian feta
2 Tablespoons extra-virgin olive oil
1/2 teaspoon Dijon mustard
1 garlic clove, crushed
juice of 1/2 lemon
sea salt and freshly ground black pepper
Rinse quinoa thoroughly and drain. Warm 1 tablespoon olive oil in a medium saucepan over medium heat. Add quinoa and sauté briefly, stirring occasionally for a few minutes, until some of the quinoa is toasted. Add 1 1/2 cups water and 1/2 teaspoon salt and bring to a boil. Reduce heat and let simmer until all water has evaporated and quinoa is tender, about 20 minutes. Remove from heat and fluff with a fork. 
Add kale leaves to a large bowl. Drizzle with olive oil and juice from half of lemon; sprinkle with salt and lightly massage to soften. Set aside. 
Heat 2 tablespoons olive oil in a large frying pan over medium heat. Add garlic; stir until lightly golden. Remove with slotted spoon and set aside. Add kale ribs and cook until blistered, turning occasionally, about 2 to 4 minutes. Add chicken stock and continue to cook until ribs soften and stock evaporates, about 4 to 6 minutes. Transfer kale ribs to platter, then transfer kale leaves from bowl, keeping separated.
Add all ingredients for dressing to bowl and whisk. Add half of quinoa, shallot, mint, almonds, and reserved garlic and toss to combine. Spoon quinoa onto plate, then top with kale ribs and leaves. Lightly drizzle with olive oil, season with salt and pepper to taste. 
– adapted from gourmettraveller.com
While we continue cooking at home in earnest, check out the list of food holidays on foodimentary.com for some ideas to plan your meals around. April 11 is Cheese Fondue Day, which I vote you can celebrate any time you want.