Black Bean Veggie Burgers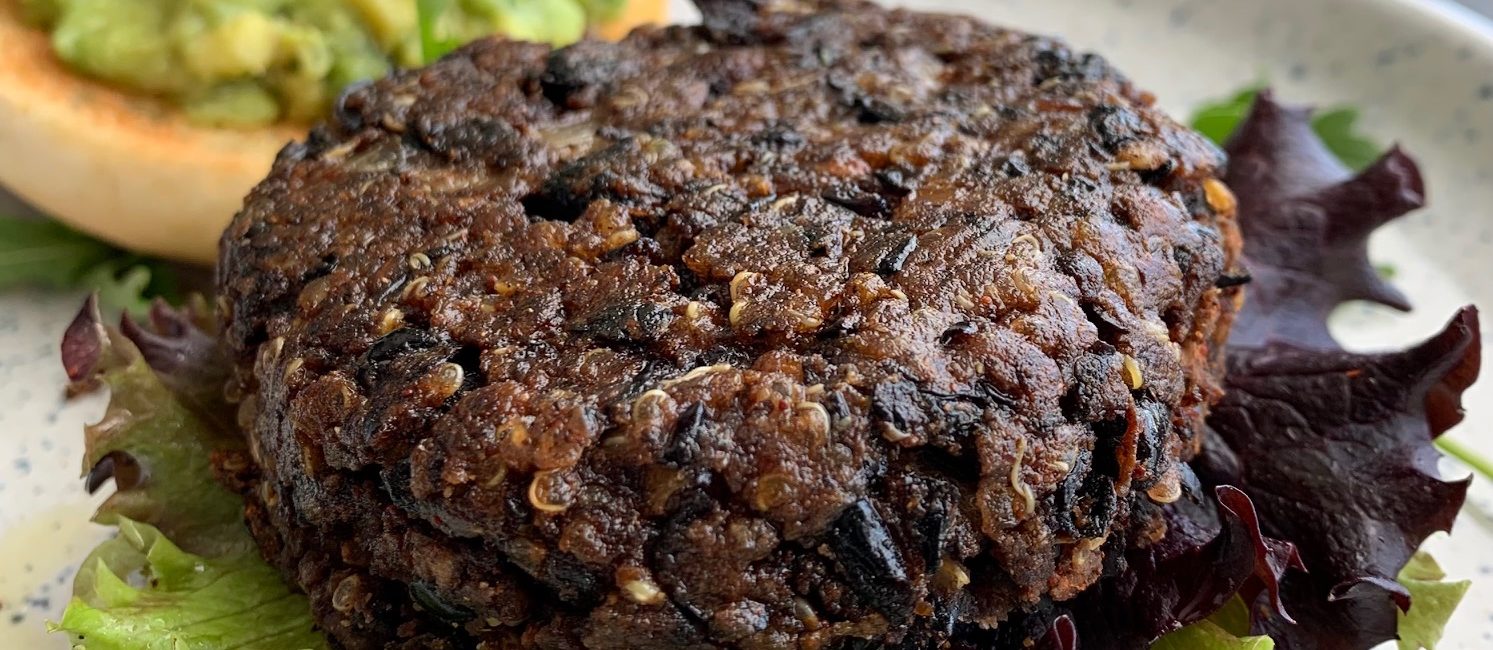 No matter what may change, the need for a quick, easy meal remains. Anything you can pull from your freezer and heat in a hurry fits the bill. These Black Bean Veggie Burgers are hearty and flavorful. Big, thick, and full of texture, they hold their shape and are easy to make. They're perfect anytime you want something low fuss and don't feel like cooking. 
Chop the mushrooms in your food processor so that no large chunks remain. I used quinoa to add protein and keep these gluten-free, but cooked barley or brown rice could also be used. You can add other spices or ketchup, mayo or BBQ sauce to the burger mix, but I like to keep mine fairly neutral so that I can vary the flavor with the toppings. If you don't have a food processor, use a fork or potato masher. Use a standard measuring cup to shape your burgers. If you like a bigger burger, use 1/2 cup. 
Serve with your favorite toppings like mashed avocado, caramelized onions, roasted peppers, pickles, salsa, sliced mango or pineapple. Refrigerate leftovers up to 5 days or freeze up to 3 months. Freeze cooked or uncooked burgers in a single layer on a parchment lined sheet pan. Once frozen, stack between parchment sheets in a zip-top bag. If uncooked, cook according to directions, but factor in some additional time. Reheat cooked burgers as you like: warmed in toaster oven or microwave, or pan fried in a skillet.  
Make extra and stock your freezer. They travel well, too. 
Black Bean Veggie Burgers 
2

 

14 ounce cans black beans, drained, rinsed and patted dry

 

1 Tablespoon extra virgin olive oil
1 cup finely chopped yellow onion (about 1/2 large onion)
2 cups chopped button or cremini mushrooms
2 garlic cloves, finely minced
sea salt
freshly ground black pepper

 

1 – 2 teaspoons garlic powder
1/2 – 1 Tablespoon Worcestershire sauce
1/2 – 1 Tablespoon tamari or soy sauce
1 Tablespoon paprika

 

2 Tablespoons arrowroot
2 Tablespoons water
1 cup cooked quinoa
Preheat oven to 350º F. Line a large baking sheet with parchment paper. Spread beans evenly onto baking sheet; bake 15 minutes to slightly dry beans out. 
While beans are baking, warm olive oil in a large nonstick skillet set over medium heat. Add onions and sauté, stirring occasionally, until they soften, about 3 to 4 minutes. Add chopped mushrooms and garlic to skillet and season with salt and pepper. Continue to cook and stir until mushrooms soften, about 3 minutes more. Remove from heat and let cool. 
Transfer onion and mushroom mixture to bowl of food processor, then add 1 teaspoon of garlic powder, 1/2 tablespoon each of Worcestershire sauce and tamari, and paprika. Pulse together. Combine arrowroot and water in a small bowl and whisk together. Reserve 3/4 cup black beans, then add remaining beans to processor along with quinoa and arrowroot. Pulse to combine. Taste and adjust seasonings, then add remaining beans, pulsing lightly. 
Form patties using 1/3 cup or 1/2 cup measure. Mist or brush both sides of burgers with olive oil. Place on parchment lined sheet and bake in 350º oven for 20 minutes, turning after 10 minutes.