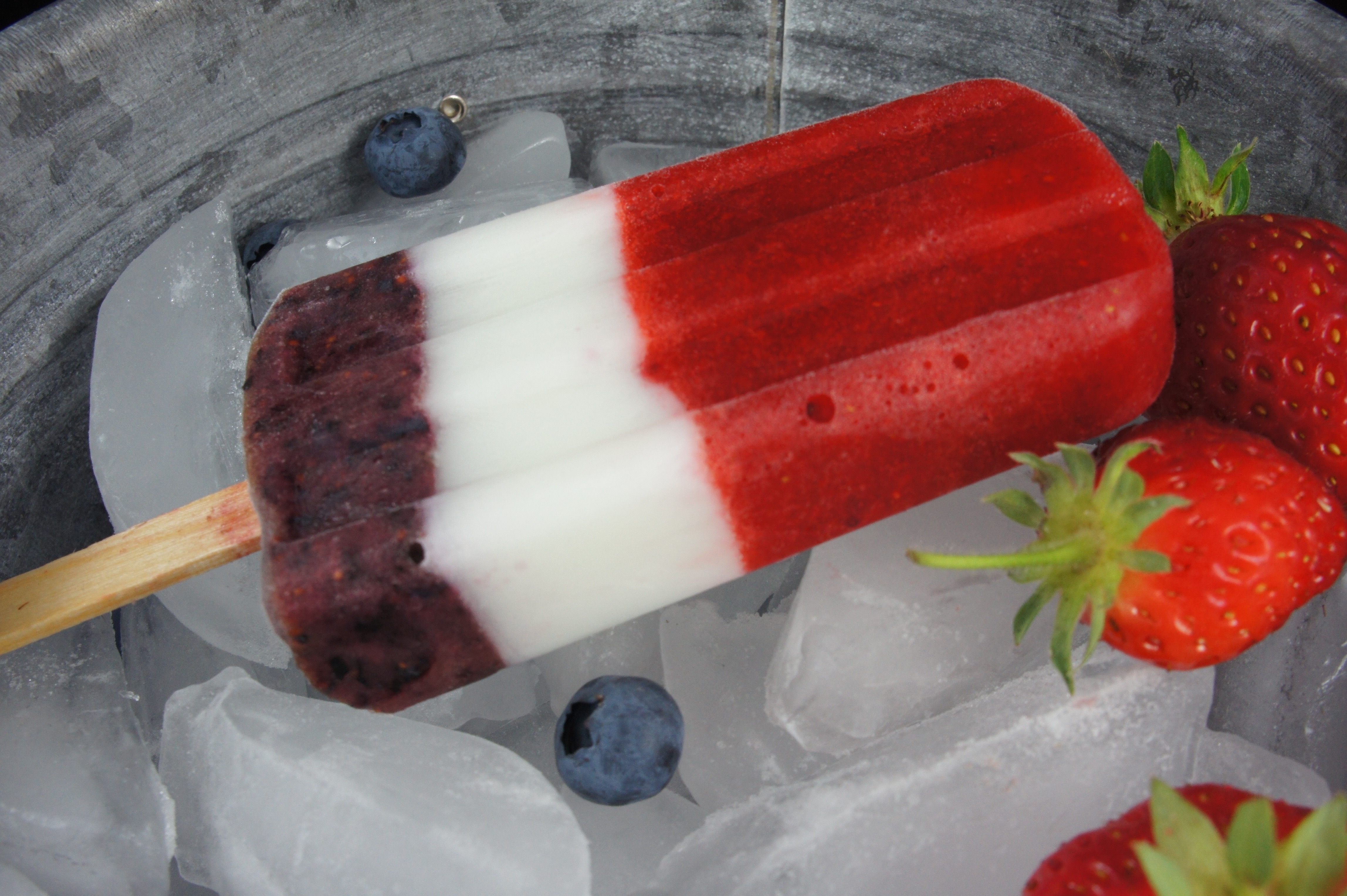 It is entirely way too hot.  So hot that I have caught myself more than once lately staring into the refrigerator just to feel the cold air.  Nothing really sounds good to eat, unless it is something cold.   And while I am standing there cooling off, I am staring at an awful lot of berries.
Note to fellow gardeners… Do not leave your garden unattended for a few days.  Sometimes I get too busy and don't check on things outside.  Big mistake.  When I saw how many berries had ripened, I screamed so loud they could hear me downtown.   Truly, I should know better.  My first foray into Northwest gardening led to a zucchini the size of my toddler.  (Don't laugh. I have pictures.)  I know now to be cautious about what I plant.   Despite this, I have berries gone wild and there's not a lot I can do about it.
When I saw this photo on Pinterest, I could hardly wait to put my surplus of berries to good use.   This recipe has it all –  fast, healthy, fresh and fun.  The fact that it's red, white and blue, freezing cold and makes good use of something growing in my garden… now we're talking.  There were a lot of versions of this basic idea, but I really liked the Red, White, and Blue Double Berry Coconut Pops recipe on An Edible Mosaic.  I omitted the sweetener in some of the berry layers because I think our berries are sweet enough.  You can use any sweetener you like, but I opted for the stevia to keep these sugar free. I used clear vanilla extract so that the white layer would stay a crisp, bright white.  This recipe is also dairy free, but heck, you can even use softened vanilla ice cream, or even frozen yogurt, for the white layer.  This recipe made 8 standard popsicles, with a little leftover berry puree to get creative with.
Hurry, quick.  Go find your pop molds.  Get out your blender and gather up your berries.  Top off your holiday weekend and keep that red, white, and blue spirit going a bit longer.   Ready for some relief from the heat?  Make berry pops!
Berry Pops
2 cups fresh strawberries
3/4 cup unsweetened coconut milk
1 teaspoon clear vanilla extract
2 packets stevia, or sweetener of your choice
1 1/2 cups fresh blueberries
Rinse and hull strawberries.  Lightly puree in blender.  Add stevia if desired, but taste first!  Pour puree into popsicle molds, filling each mold 1/3 full.  Freeze until solid.
Mix coconut milk, vanilla extract, and sweetener to taste.  Pour coconut milk into popsicle molds and freeze until slushy (about 15 minutes).  Insert wooden sticks and freeze until solid.
Puree rinsed blueberries in blender.  Pour into popsicle molds over white layer, being careful not to overfill because the liquid will expand as it freezes.  Freeze the pops until solid.  Dip the bottoms in warm water to help the pops release and un-mold more easily.
Waste not, want not.  If you have any leftover pureed berries, add a tablespoon or two of chia seeds, stir well, and refrigerate.  Now you have some chia jam to top your toast or waffle, or to drizzle in your yogurt!