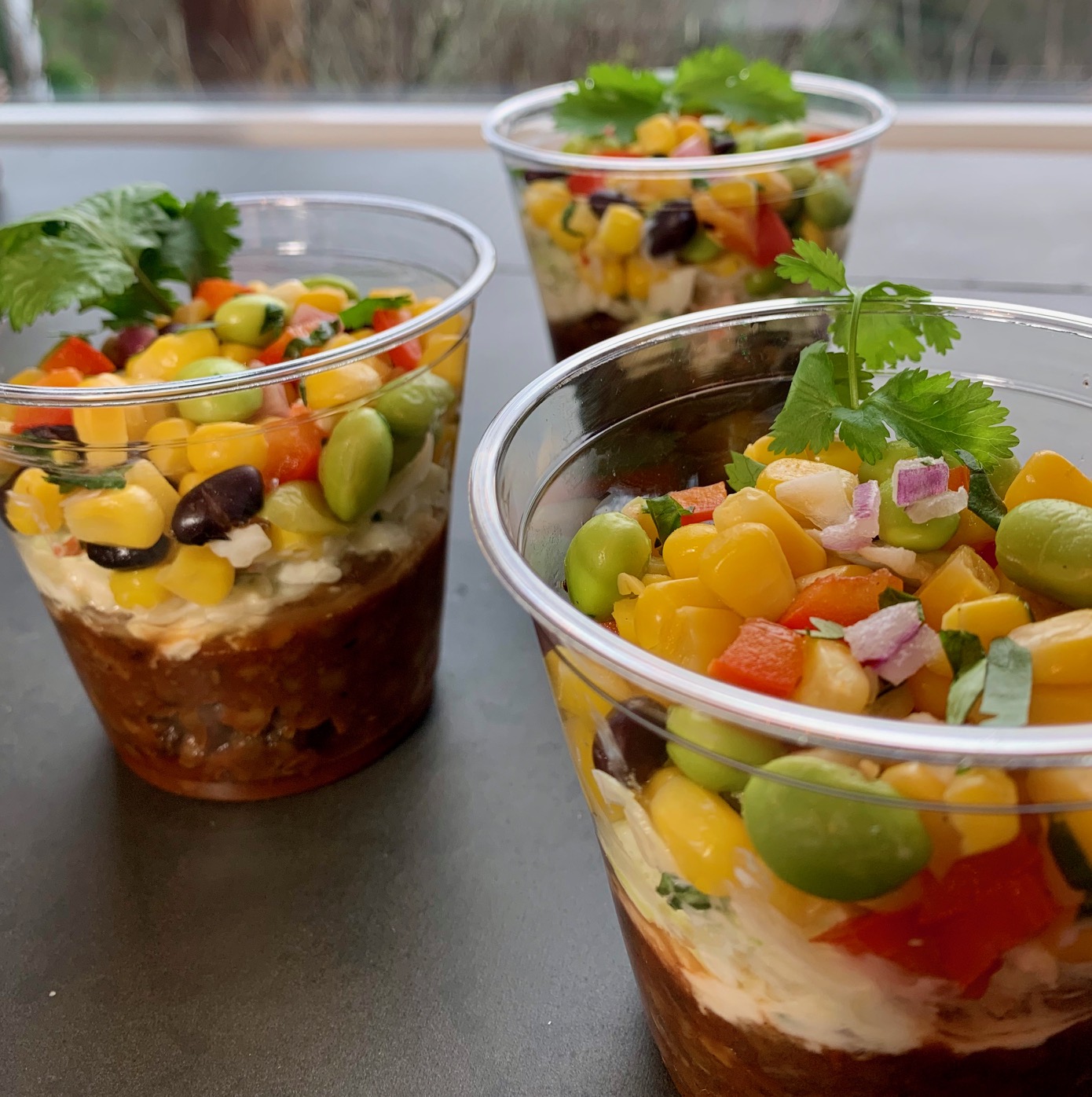 Football's biggest fan fest, Super Bowl 2020, is officially here. People are ready to eat and there will be certain expectations. Don't mess with the standbys. Give the people what they want: wings, ribs, burgers, nachos, dips, pretzels, pizza. People will be looking for chips, and there better be guacamole.
Be a MVP and tackle something unexpected. The veggies. The carrot and celery sticks on that wing plate are not getting much, if any, love, so why not try something fun and different? Barbecue Sundaes are a lively way to add something healthy. Made ahead into single serving cups, they're a hand-held, portion controlled, sneaky way to get some veggies into play.  
You can swap out the bottom layer of this sundae with whatever barbecued meat you may be serving at your Super Bowl party, but you may be quite surprised at how good this plant-based option is. I took some inspiration from a vegan sloppy joe recipe created by one of the friendly ladies at Trader Joe's that was unbelievably made from lentils and several of their jarred salsas. The barbecued lentils taste remarkably like meat, even to some of the biggest barbecue fans I know.
Layer two is an easy to make cilantro-lime slaw, which adds some crunch and texture. Top it off with an edamame succotash – corn, edamame, black beans, red bell pepper and cilantro in a zesty lime vinaigrette – for a splash of color.  I used lightly defrosted, frozen corn, but would try using fresh corn, and maybe even grilling it, if I made this in the summer. You can find ready to eat lentils, as well as the salsa and barbecue sauce below, at Trader Joe's.
Best of luck to both teams. Enjoy the game.
Barbecue Sundaes
lentils:
1 cup Garlic Chipotle Salsa

 

1/2 cup Kansas City Style Barbecue Sauce
1

 

17.6 ounce package steamed, ready to eat lentils

 
cilantro-lime slaw:
3/4 cup plain Greek yogurt
2 Tablespoons white balsamic vinegar
1 Tablespoon lime juice
1/2 teaspoon salt
8 ounces coleslaw mix
1/4 cup chopped cilantro

 
edamame succotash:
1 Tablespoon canola oil
1/4 cup chopped purple onion
1/2 cup chopped red bell pepper
2 cups frozen corn kernels, lightly defrosted
1 1/2 cups frozen, fully cooked, shelled edamame, lightly defrosted

 

1/3 cup canned black beans, drained and rinsed
1 Tablespoon freshly squeezed lime juice
2 Tablespoons rice vinegar

 

1/4 cup chopped fresh cilantro
1/2 teaspoon sea salt
freshly ground black pepper
Combine salsa and barbecue sauce in a small saucepan and warm over medium heat until thick and bubbly. Reduce heat to low and add lentils, breaking up any large pieces with a wooden spoon and stirring gently. Remove from heat.
Combine Greek yogurt, white balsamic vinegar, lime juice, and salt in a medium bowl and whisk together. Add coleslaw mix and cilantro to dressing in bowl and toss to coat. 
Warm canola oil in a large skillet over medium heat. Add onion and bell pepper and cook, stirring frequently, until vegetables just soften, about 2 minutes. Reduce heat to low and add corn, edamame, and black beans, stirring to combine. Add lime juice, rice vinegar, cilantro, sea salt, and a small grind of black pepper. Stir and remove from heat. 
To serve:  spoon barbecued lentils, slaw, and succotash in layers into individual serving cups or bowls.