Baked Jambalaya and Instant Pot Red Beans and Rice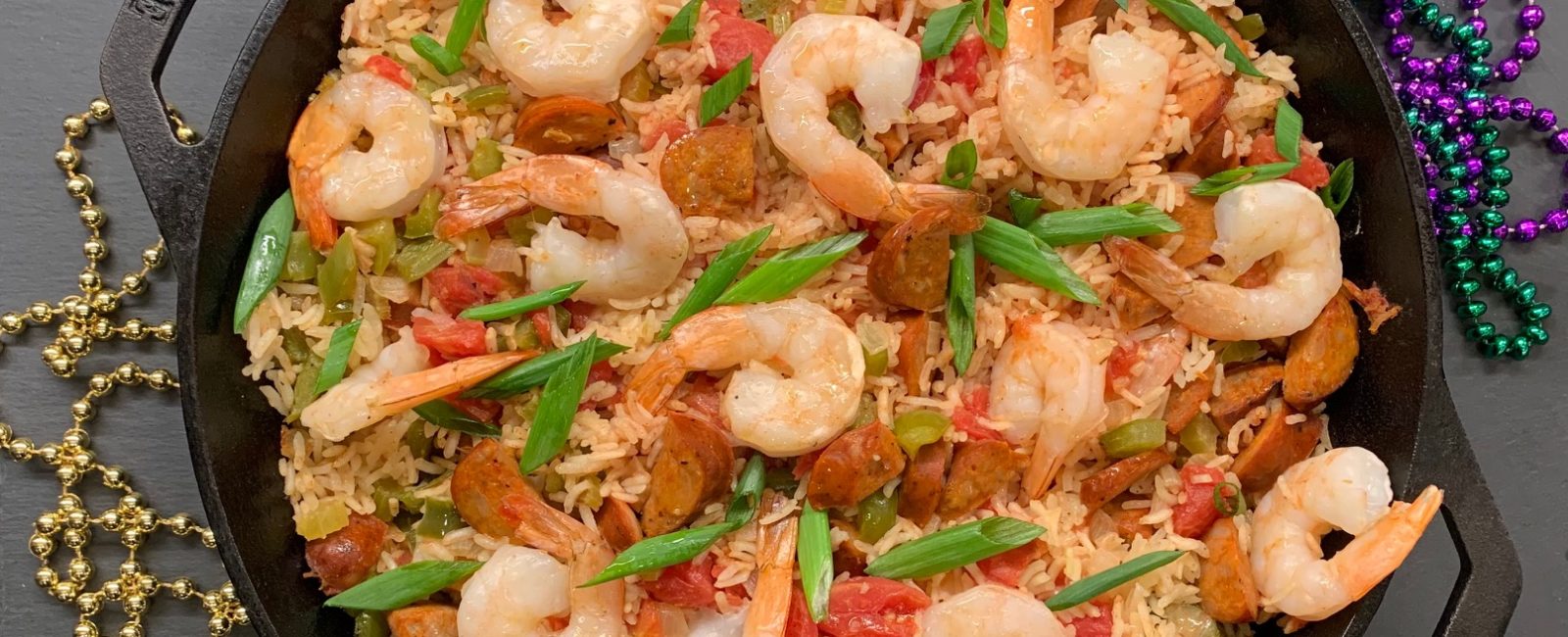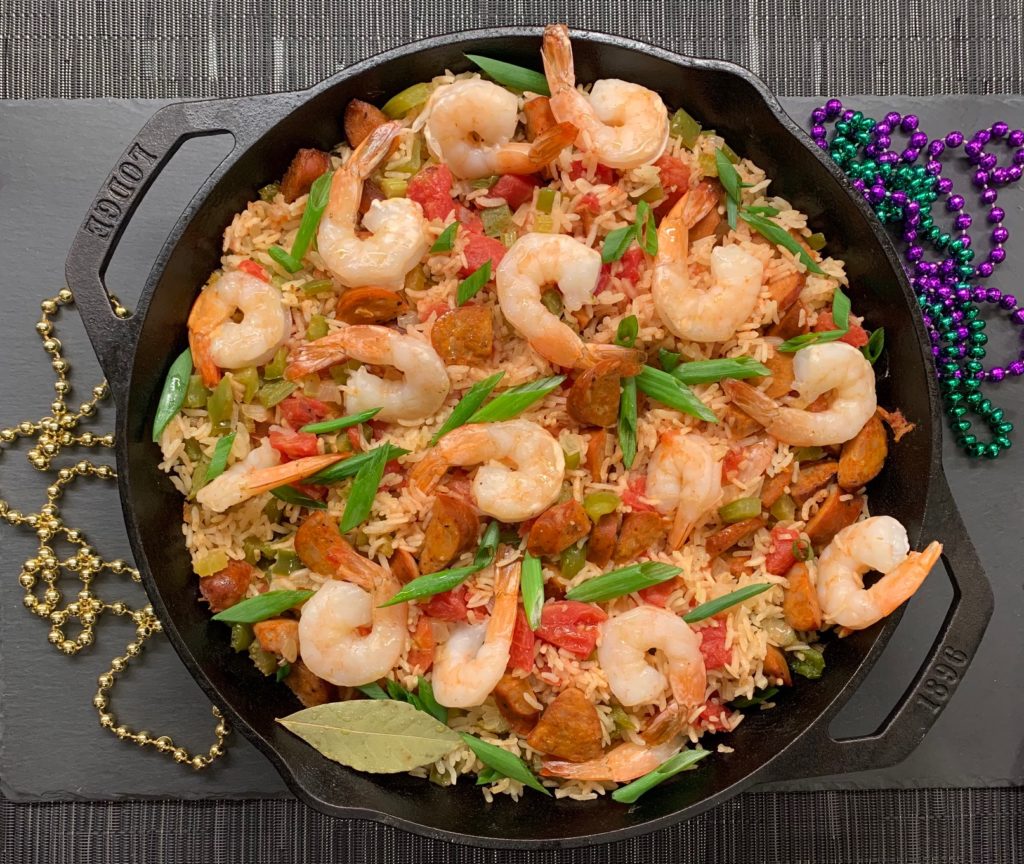 It's Mardi Gras! Bring home a taste of New Orleans with two quick, easy dishes that are guaranteed to deliver a taste of the Big Easy. This Baked Jambalaya is perfect for a busy weeknight. It uses smoked sausage, a big time saver because it is fully cooked, and shrimp, another speedy protein. Everything cooks in one big skillet, so the clean up is minimal. If you do not have a 12-inch cast iron pan, any large oven safe skillet will do. 
I have made more than a few variations of jambalaya through the years and while I do love the traditional, time intensive New Orleans School of Cooking recipe, this one delivers all the roux-stirring flavor, but is quite a bit lighter. You will need onions, celery, and green bell peppers for both recipes. These three aromatic vegetables form the base for almost every traditional Cajun and Creole recipe and are often referred to as the holy trinity, a nod to Louisiana's Catholic heritage.  
Make your own creole seasoning by combining 3 tablespoons smoked paprika, 2 tablespoons of each: kosher salt and garlic powder, and 1 tablespoon of each: ground black pepper, ground white pepper, onion powder, dried oregano, cayenne pepper, with 1/2 tablespoon dried thyme. You can store any unused seasoning in a covered jar for up to 1 year. If you are using frozen shrimp, pour them into a bowl of cold water when the jambalaya has been in the oven for about 20 minutes. Drain thawed shrimp and add as directed.  
Red Beans and Rice is a classic Creole dish. You can prepare this in the traditional way, using an 8 quart pot and cooking for 2 hours, but using your Instant Pot means you can make this in much less time. I used bacon in this recipe, because you might just happen to have that on hand, but you can also use a ham hock, smoked turkey legs, or any kind of smoked sausage that you like. Even just a little bit can do wonders to flavor any pot of beans that you are cooking and I usually freeze leftover ham from the holidays just for this purpose. For a great meatless option, omit the bacon and use vegetable broth to make your beans and rice every bit as delicious and plant-based. A technique tip to make this true to form: smash some the beans against the wall of the pot to make them creamy. This will give your finished dish that authentic, thick consistency that makes it so good. 
Happy Fat Tuesday, and enjoy!
Baked Jambalaya
2 Tablespoons canola oil
1 medium onion, chopped
1 green bell pepper, chopped
1 celery rib, sliced
8 oz. smoked Andouille sausage, chopped
1 1/2 c. jasmine rice
2 cups chicken stock
1 14.5-ounce can diced tomatoes
1 1/2 teaspoons Creole seasoning
1 bay leaf
kosher salt and freshly ground black pepper
1 lb. medium shrimp, peeled and deveined
1/4 cup chopped fresh flat leaf parsley
2 scallions, sliced
hot sauce, for serving
Preheat oven to 325º F. Warm oil in a 12-inch cast-iron skillet set over medium-high heat, then add onion, bell pepper, celery and sausage. Cook, stirring often, until lightly browned, about 8 to 10 minutes. Add rice and cook, stirring, 1 minute more. Remove from heat and stir in chicken stock, tomatoes, Creole seasoning, and bay leaf. Season with salt and freshly ground black pepper. Cover with foil.
Bake until rice is tender, 45 to 50 minutes. Remove from oven, uncover, then gently stir in shrimp and parsley. Bake covered, until shrimp are opaque throughout, 5 to 7 minutes. Top with scallions and serve with hot sauce alongside.
Instant Pot Red Beans and Rice
for beans:
1 Tablespoon olive oil
5 strips bacon, chopped into 1-inch pieces
1 large yellow onion, chopped
1 large bell pepper, chopped
2 large stalks celery, chopped

 

5 medium garlic cloves, chopped
2 teaspoon Cajun seasoning
1/2 teaspoon smoked paprika
1 pound dried red kidney beans, sorted and rinsed

 

4 cups chicken broth
2 bay leaves
1 teaspoon dried thyme, or 2 4-inch fresh sprigs
kosher salt and freshly ground black pepper
for rice:
4 cups water
2 cups uncooked, long grain rice

 

1/2 teaspoon kosher salt

 
for serving:
2 large scallions, thinly sliced
hot sauce (optional)
Select SAUTÉ setting on Instant Pot and adjust to HIGH. Add oil and heat several minutes until shimmering. Add bacon and cook for 5 minutes, stirring constantly until bacon browns and crisps but is still pliable. Remove bacon with a slotted spoon and set aside. Add onion, bell pepper and celery and cook, stirring often, until vegetables begin to soften, about 5 minutes. Add garlic, Cajun seasoning and smoked paprika; stir to combine and cook 1 minute more. Stir in beans, chicken broth, bay leaves, thyme and bacon. 
Press CANCEL, cover with lid and lock in place. Turn steam release knob to SEALING position. Select MANUAL/PRESSURE COOK setting and select HIGH for 75 minutes.  
About 40 minutes before ready to serve, combine water, rice and kosher salt in a large saucepan set over high heat. Bring to a boil, then cover with lid and reduce heat to low. Cook 15 minutes without removing lid. Remove from heat and let stand, covered and undisturbed for 20 minutes. 
When Instant Pot has finished, carefully turn steam release handle to VENTING, and let steam fully escape, about 3 to 4 minutes. Remove lid from cooker and stir, then remove thyme and bay leaves. Taste and adjust, adding salt, pepper or more seasonings as desired. Serve immediately with rice, topping each serving with scallions. Serve hot sauce alongside.