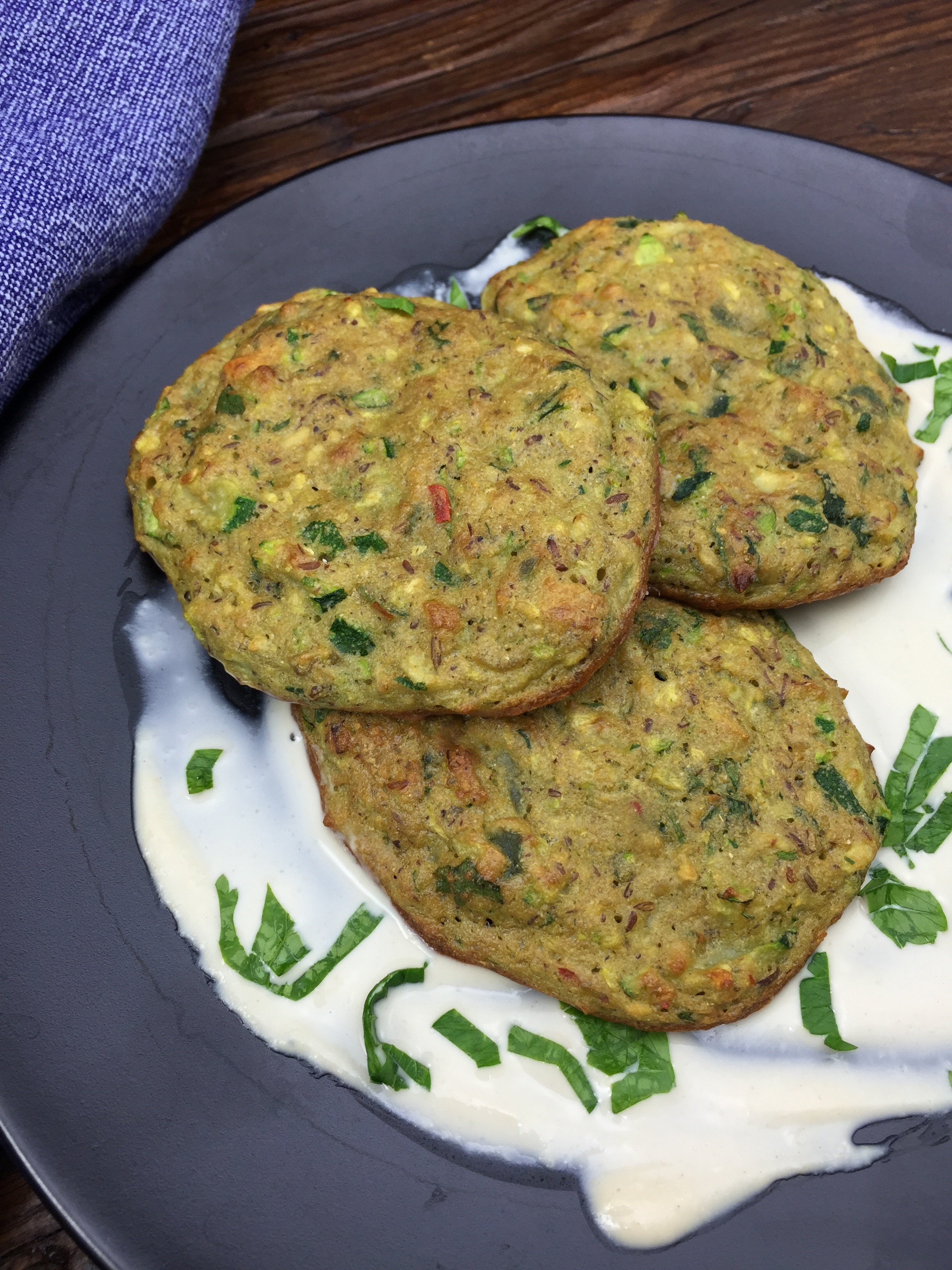 Falafel lovers, rejoice – it's International Falafel day!  If you are a fan, you know there's just no way to describe the deliciousness of falafel.  The exotic herby-spiciness plus the deep-frying… what's not to love?  Admittedly, falafel is not the most photogenic food, but what it lacks in visual appeal, it more than makes up for in flavor.
Here's an easy to make recipe that gives you all that great falafel flavor without the frying.  Chickpeas are protein and fiber-packed, and the shredded zucchini is a great way to sneak in a vegetable.  Thinking ahead… this will be a recipe to keep on hand for when your garden starts giving you more zucchini than you know what to do with.   You can chop and mince all the ingredients by hand, or use a food processor or high-speed blender, like a Vitamix, to speed things along. Trader Joe's is currently stocking a Tahini Sauce in their refrigerated section that I swear they are making just because it goes so well with these.
Store any leftovers in your refrigerator.  The baked falafel will keep well for several days, but because they are so good, they disappear quickly.  They travel well, so you can stash them in your cooler and take them along to your picnic, or have them as a snack when you're on the go.  They are best served warm (topped with that tahini sauce!).  Reheat in a 350 degree oven until warm, or microwave by wrapping several at a time between two paper towels and using 50 percent power.   You can also keep the batter covered and refrigerated for several days and have fresh baked, fast falafel.  I am betting you will make a second batch.
Baked Falafel
2 cups shredded zucchini (about 3 medium sized)
1/2 medium onion (1/2 cup chopped)
2 cloves garlic
1/4 cup loosely packed flat leaf parsley
1/2 cup loosely packed cilantro
1/2 cup garbanzo beans, drained, 2 tablespoons liquid reserved
1 cup chickpea flour*
1 teaspoon cumin
1/2 teaspoon sea salt
1/2 teaspoon baking soda
1 teaspoon garlic powder
1 – 2 tablespoons ground flaxseed (optional)
1/4 teaspoon red pepper flakes
freshly ground black pepper
2 eggs
1/4 cup water
Shred zucchini using food processor or by pulsing in a high powered blender.  Transfer to paper towel lined colander and press with paper towels to remove as much moisture as possible.  Set aside.  Cut onion into large chunks and transfer to blender or processor with garlic, parsley, cilantro and garbanzo beans.  Pulse until mixture becomes coarsely chopped, scraping down sides as needed.
In large bowl combine chickpea flour, cumin, sea salt, baking soda, garlic powder, flaxseed (if using), red pepper flakes, and a generous grind of fresh black pepper.  In a small bowl, combine eggs and water, stirring to mix.  Add egg and water to dry ingredients and stir well until combined.  Add shredded zucchini, stir to mix in, and then add all the remaining chopped ingredients and the 2 tablespoons of chickpea liquid.  Stir to mix well.  Let batter rest while oven preheats.
Preheat oven to 400 degrees F.  Lightly oil a parchment lined baking sheet.  Spoon batter by tablespoonfuls, spacing 1 1/2 inches apart, onto baking sheet.  Transfer to oven and bake for 12 minutes, or until lightly, golden brown.
*chickpea flour can be found in your grocery store's bulk food bins, or buy it pre-packaged from Bob's Red Mill.