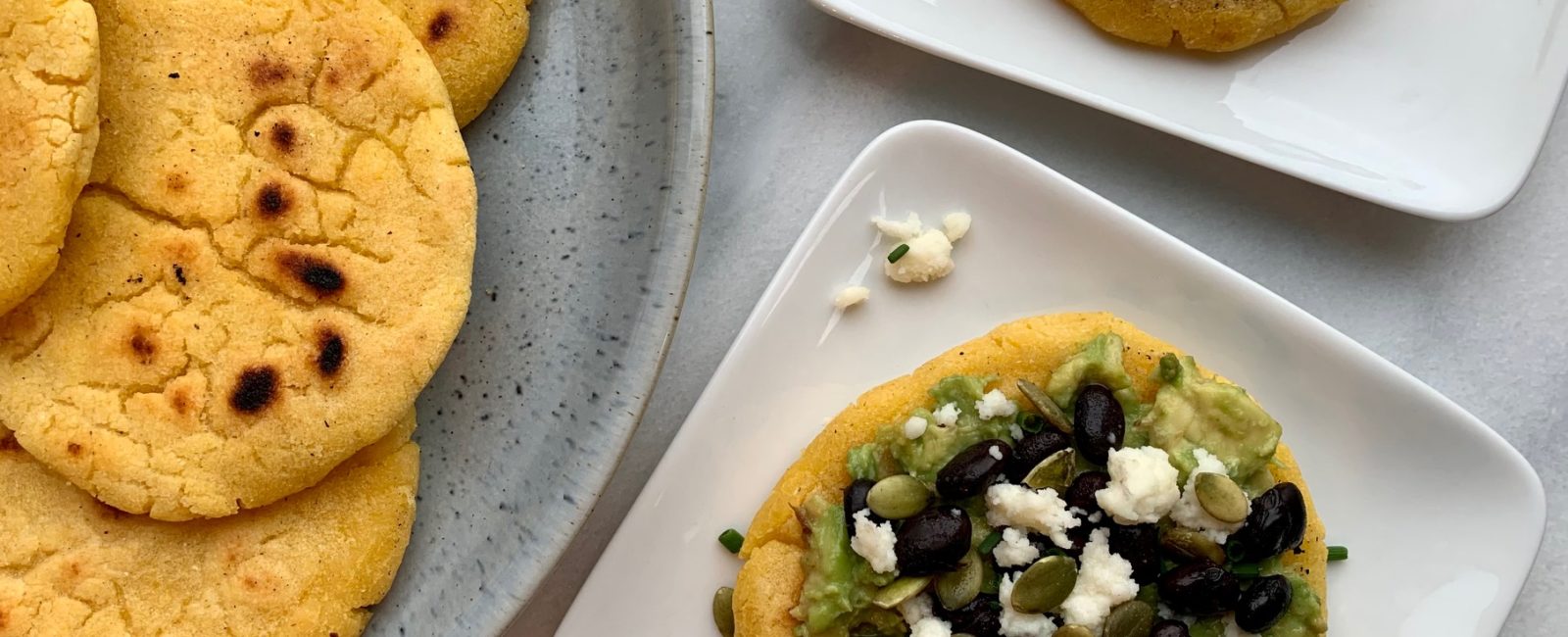 As we run down our pandemic bucket lists, I am making good on all the things I discovered in my pantry, namely the Harina PAN I bought when I had an itch to make those delicious little cornmeal cakes known as arepas. Crispy on the outside, pillowy on the inside, I will order things off the menu that I don't even want if I see that they come with arepas. 
Arepas can be found in the cuisines of Colombia, Venezuela and Bolivia. Why not give them a try and make some for your Cinco de Mayo? You only need one ingredient to make arepas: arepa flour. Sometimes sold as masarepa, you can find it in Latin markets and some supermarkets. Popular brand names are Harina PAN, Areparina, and Goya. Making the dough is as simple as mixing it with water and salt, although some recipes include butter or oil. Because the flour is already cooked, it forms easily into patties that can be griddled, grilled or baked.
The recipe below makes one batch of 4 arepas. Doing a small recipe lets you practice and get the hang of it. After you try one batch, make another. Before you know it, you'll be a pro. Water should feel warm to touch, but not too hot. Use your best kitchen tool – your hands – to mix and knead the dough. Feeling your way through the dough is the best way to know when it is accurately ready.
Split arepas and stuff with desired fillings to make a sandwich or top with mashed avocado, black bean, queso fresco and pepitas as show here. Use them as a vehicle for leftovers or fill them like you mean it with stewed meat, beans, roasted veggies or cheese. 
I always knew arepas were delicious, but I never knew how quick and easy they would be to make. This is a great recipe to try with your kids, so much fun to make – try some and see for yourself!
Arepas
1 cup arepa flour (precooked cornmeal)
1 cup warm water
1/2 teaspoon sea salt
1 – 2 Tablespoons extra-virgin olive oil, cultured butter or vegan spread (optional)
butter, oil, or oil spray for pan

 
Add arepa flour to a medium bowl. Stir sea salt into warm water until it dissolves. Pour 1/2 cup of water into the flour and using fingers of one hand whisk until water fully incorporates into flour. Add splashes of water, kneading after each addition. Continue adding water and kneading, adding only enough water until dough holds together firmly. Add oil or butter and continue to knead until incorporated. Let rest 10 minutes to hydrate. 
Heat a large non-stick or cast iron skillet over medium heat. While skillet heats, divide dough into 4 pieces. Roll each piece into a flattened ball, about 1/2" thick, smoothing edges if desired. Lightly grease skillet, then add arepas. Cook for about 10 minutes or until lightly golden, adding more oil to pan as you turn arepas over. Cook until lightly golden and crispy. Transfer to a plate or wire rack. Serve warm.