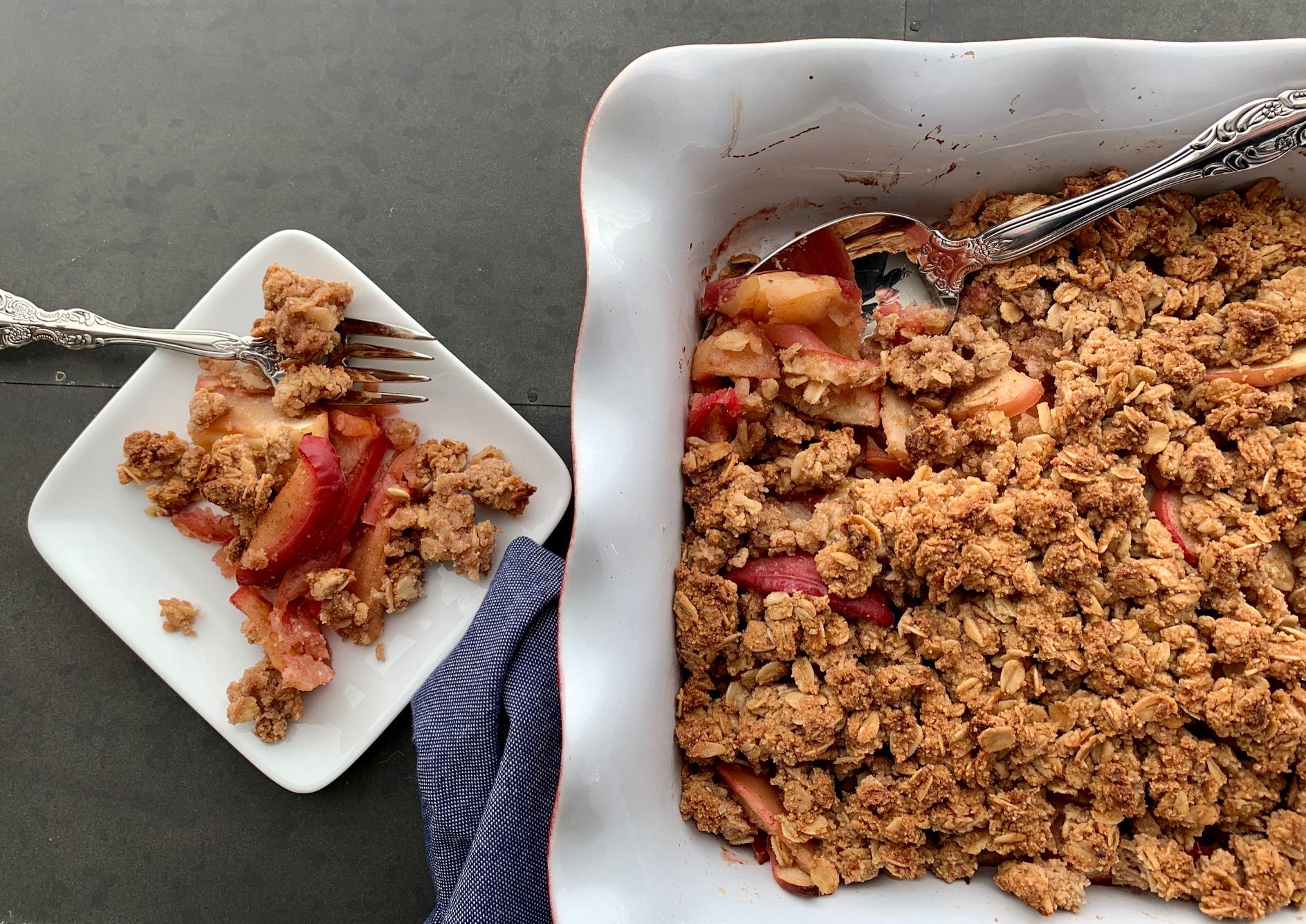 Cooking at home full time these past 6 months has been an endurance sport, but if these times have taught us anything, they have taught us to endure. To be resourceful. To use what we have and make the most if it. And to celebrate. Right this moment is a good time to enjoy whatever it is you've been saving. Do it now and don't wait. So without further ado, here comes the first apple recipe of the season. There's just enough of a change in the air, the light, and even a few of the leaves, that I say on with it! 
This Apple Crumble from nutritionist Joy Bauer is absolutely delicious. It's low mess, quick prep, and easy – a perfect way to serve up a taste of fall this Labor Day weekend. The delectable crumb topping gets its toasty goodness from whole grain oats and almond flour. No one will guess it has just 2 tablespoons of butter and is sweetened with maple syrup. Skip peeling and just slice the apples, then toss them with the lemon juice and cinnamon in the same bowl you'll use to make the topping. Use your favorite sweet apple like Fuji, Honeycrisp or Gala in this recipe, or you could use a few of several varieties and even add a tart one, like Granny Smith, to the mix. Use gluten-free rolled oats to make this recipe gluten-free. Use coconut, canola, or grape seed oil and make it dairy-free and vegan, too. If you have nut allergies, substitute whole wheat flour for the almond flour. Store leftovers refrigerated. Reheat gently in the microwave. Served with a dollop of yogurt, it's breakfast. 
Stay safe and enjoy the long weekend! 
Apple Crumble
for the apples:
6 to 8 medium apples (about 3 pounds), cored and thinly sliced, skin on
2 teaspoons lemon juice

 

3/4 teaspoon ground cinnamon or apple pie spice
for the crumble:
3/4 cup old-fashioned rolled oats

 

1 cup blanched almond flour
2 teaspoons vanilla extract
1 teaspoon ground cinnamon or apple pie spice
1/4 – 1/2 teaspoon kosher salt
1/4 cup maple syrup
2 Tablespoons melted butter

 
Preheat oven to 350º F. Lightly mist a 9- x 13-inch (3 quart) baking dish with non-stick spray and set aside.
Add apples, lemon juice and 3/4 teaspoon cinnamon to a large bowl and toss lightly until well combined. Transfer apple mixture into prepared baking dish and set aside.
Using same bowl, add oats, almond flour, vanilla extract, cinnamon, salt, maple syrup and melted butter; stir to combine until mixture is wet and clumpy.
Sprinkle oat crumble evenly over apple mixture to create top layer. Wrap tightly with foil and transfer to middle rack of oven. Bake for 45 minutes . Remove foil and bake for 15 minutes more, until crumble topping is golden brown and apples are hot and bubbly.
Let cool for 10 minutes before serving. Serve warm with ice cream, whipped topping, or yogurt. 
– recipe by Joy Bauer, joybauer.com