New political action committee backed by familiar names
The first negative campaign flier is out for Vancouver council and mayoral races. It was paid for by a new political action committee, Vancouver Vitality, which is backed by familiar names.
According to the state's public disclosure commission, the committee filed its first papers on Sept. 13 and to date has reported receiving $32,570. Of that, $25,000 came  from Kanati Falls Ranch, a timber-management company that gave the committee a $20,000 loan and a $5,000 donation. The Washougal company, which was  a top donor to anti-Columbia River Crossing lobbying efforts, lists Nancy Engleman as the registered agent (you have to go to the Washington Secretary of State's corporation search to find the names behind the donor businesses). Mark Engleman of the I-5 Project (the organization that hired a group of lobbyists to fight the CRC) and a precinct committee officer for the Clark County Republican Party, is listed as a member of the Kanati Falls company. Another $5,000 donation came from Hudson's Bay Industries, a manufacturing company that lists Randal Wilson as president and Tracy Wilson as vice-president. Tracy Wilson is the husband of Lynda Wilson, chairwoman of the Clark County Republican Party. (DeWils Industries, which contributed to the I-5 Project, lists Tracy Wilson as president and Randal Wilson as vice-president.)
Whew! OK, now that you know who paid for the flier, let's take a look at what it says.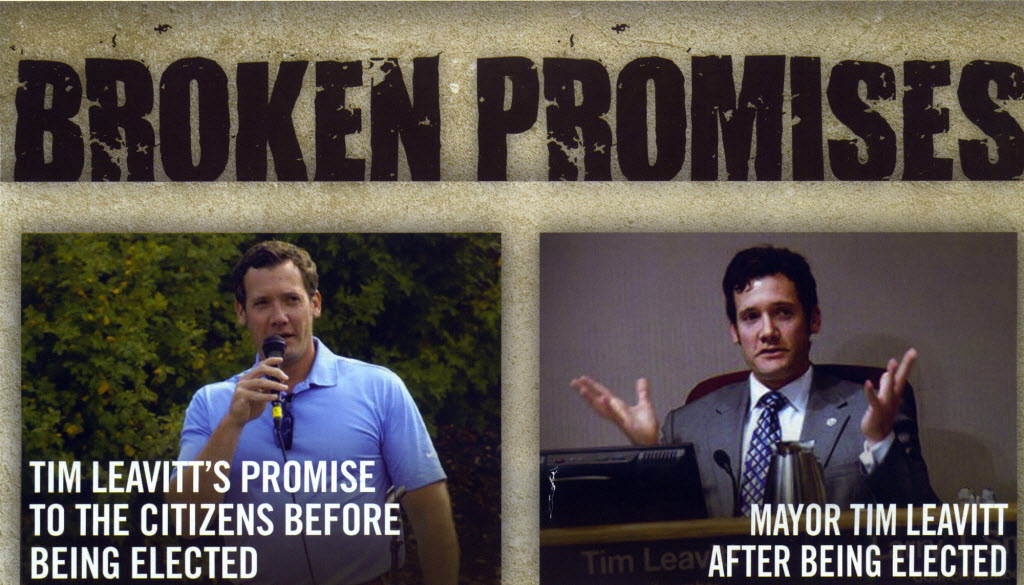 The flier contrasts anti-toll statements made by Vancouver Mayor Tim Leavitt when he was running for his first term in 2009 with comments made after taking office explaining why he now supports tolls. We've covered why he changed his position, time and time again. And again.
On the other side of the flier, it says, "Broken Trust," and "Jack Burkman joins Tim Leavitt in a tug of war against the people." On the bottom, it says, "What can we do? Bring in a new team!" Then it shows pictures and quotes from Councilor and mayoral candidate Bill Turlay, Councilor Jeanne Stewart (who obviously isn't new) and candidates Micheline Doan and Frank Decker, who are running against Burkman and Anne McEnerny-Ogle, respectively. (McEnerny-Ogle and Decker knocked Councilor Jeanne Harris out in the primary.)
Burkman responded on his campaign Facebook page:  "They claim I am 'against the citizens of Vancouver' because I kept the "binding citizen petition" off the ballot. If I had supported putting that petition on the ballot, I would have broken the law. I would have violated our city charter, state law and the state constitution – the very laws I swore to uphold as a councilmember. This isn't my opinion – this is the finding of a judge."
On Leavitt's campaign Facebook page, he referenced the "hit piece" and then said his campaign "will stay focused on issues."