Madore: 'We should never behave like chickens'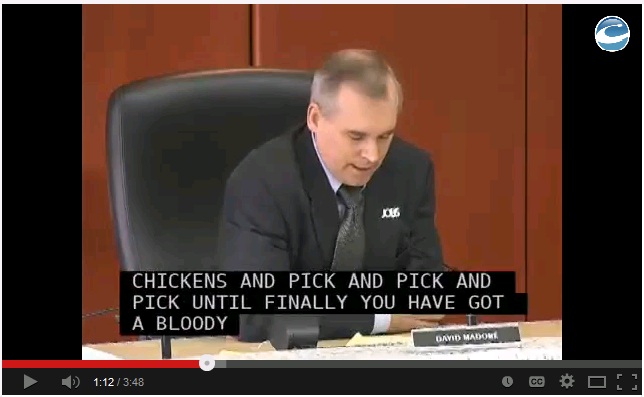 Today, in strained similes, Commissioner David Madore defends Clark County's environmental services director, Sen. Don Benton, by likening him to a chicken marked for death by a ravenous brood. The impassioned soliloquy was delivered at Tuesday's commission hearing, in response to public comments critical of the mercurial department head.
"I used to have chickens. You ever see chickens behave? You got one chicken that decided that somehow the other chickens mark that chicken and they're going to attack that chicken. If you ever watched that sort of behavior, it's very motivating that we should never behave like chickens, and pick and pick and pick until finally you've got a bloody chicken that finally ends up dying. It's the most cruel thing I've seen …. I just can't stand by and see a good man who I respect, who's gone to bat for our community, who's played a key role in somehow defending us against one of the most potentially damaging projects, the CRC project … I'm very thankful for that."
There's a lot more to Madore's remarks. The full video is below.
One of the most interesting aspects of Madore's defense of Benton is when he said Benton had righted the ship at environmental services. In particular, Madore points to Benton's handling of his department's stormwater permitting processes, an issue that, until recently, was tied up in the courts. The county eventually settled in December and agreed to pay $3.6 million for violating the federal Clean Water Act.
We didn't used to be doing so well in the department of environmental services. We weren't very successful issuing stormwater permits. And we were sued for noncompliance. As commissioners, we take responsibility for that. But we lost that suit on every count. That department is doing very well …. And we should give credit where credit is due. That department is doing very well, but departments need leadership, and I respect that new leadership Don has provided. He has been long suffering in not retaliating — just simply, week after week, hearing the same people demonize and assassinate the character of a good man, and it's not appropriate.
It's notable that Madore says the commissioners take "some responsibility" for the lawsuit. After all, the commissioners were the ones who authorized fighting a state Court of Appeals ruling on the county's polluted rainwater runoff in 2012. That court fight eventually led to the county paying the $3.6 million settlement. While Madore wasn't on the board of commissioners at the time, he supported the board's decision as a candidate.
It should also be noted that Benton did try to silence Ed Barnes, a persistent thorn in the county's side, last November. Benton threatened to sue Barnes over the critic's public remarks questioning the state senator's hiring as environmental services director.
Of course, if we're making a fowl comparison, Barnes is less a chicken and more a rooster.