"I love the look in your eyes."
Clark County Commissioner David Madore offered up a veiled threat to Commissioner Steve Stuart this week during the commissioners' board time meeting.
After Stuart, a Democrat, basically begged Madore, a Republican, to stop filibustering the room against something Stuart and Commissioner Tom Mielke, also a Republican, had decided upon, Madore looked at Stuart, who is chairman of the board, and insinuated that his position could change.
This took place 16 minutes into a discussion on how the county should plan workshop meetings and at just over two hours into the meeting.
Here's audio:
https://soundcloud.com/col_video/clark-county-commissioner
Here's a transcript:
Stuart: "I'm really hoping we can move forward here. I know we need to reach closure on this, and I want us to reach closure on this please."
Madore:"If you will be patient…"
Stuart: "I have been enormously patient. I am looking, I am seeking closure. I'm not pushing it. I'm not saying that I have the answer. I'm saying could we please seek closure on this so we can move to our staff, who needs to present information to us as well. Please?"
Madore: "The way that's going to happen is if we have a two way conversation and I get a turn to speak."
Stuart: "Oh my god. You've gotten so much time to speak, sir. So please let's get to it."
Madore: "As the chairman, if you want to continue as the chairman, your job is to facilitate the conversation."
Stuart: "Wow. If I want to continue as the chair? You're going to go there? I love the look in your eyes too as you're saying it. Some anger in there."
At this point there is some cross talk where Madore seems to begin arguing that he's not angry and Stuart tells Mielke he doesn't know what to do.
Mielke, who has honestly done a noble job of negotiating peace between the two, pushed to call for question. And after Madore talked some more, he kinda sorta made it seem like what Mielke and Stuart had already agreed on was now his idea.
Again, they were discussing how to schedule workshop meetings. It lasted 20 minutes. Madore wanted to see a whole bunch of workshop material before the workshop to decide if they should have the workshop and discuss the material provided for the workshop. No one else wanted that. He pushed.
This seems to be a new tactic. Not the talking a bunch, that's old news. Both Mielke and Stuart have asked Madore to dial back the verbose exposition.
The new tactic is the whole argue the same point again and again routine.
Last week Mielke and Stuart agreed on a path forward with remodeling to be done to the county's permit center. Madore didn't like that. He talked and talked and then started to give staff different direction. At that point both Mielke and Stuart said, in unison, "No, no, no."
When Stuart tries to move forward with a conversation, Madore has started saying: "Let me finish."
And then Stuart looks defeated. And Mielke looks nonplussed. And Madore talks.
This is your county government.
The takeaway here is the relationship between Mielke and Stuart appears to have healed some. The two commissioners are actually on the same page more often than folks might imagine. They also joke around quite a bit. When Madore talks at length, Mielke shoots Stuart a knowing eye.
After the May Day blowup, where Stuart furiously left the meeting, it seemed unlikely the two would reconcile.
But it appears they have: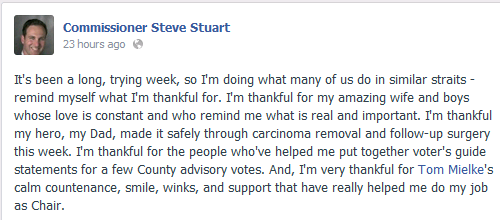 You know what they say: time heals all wounds. And Madore is giving his two fellow commissioners plenty of time together.