How have council candidates addressed police shootings?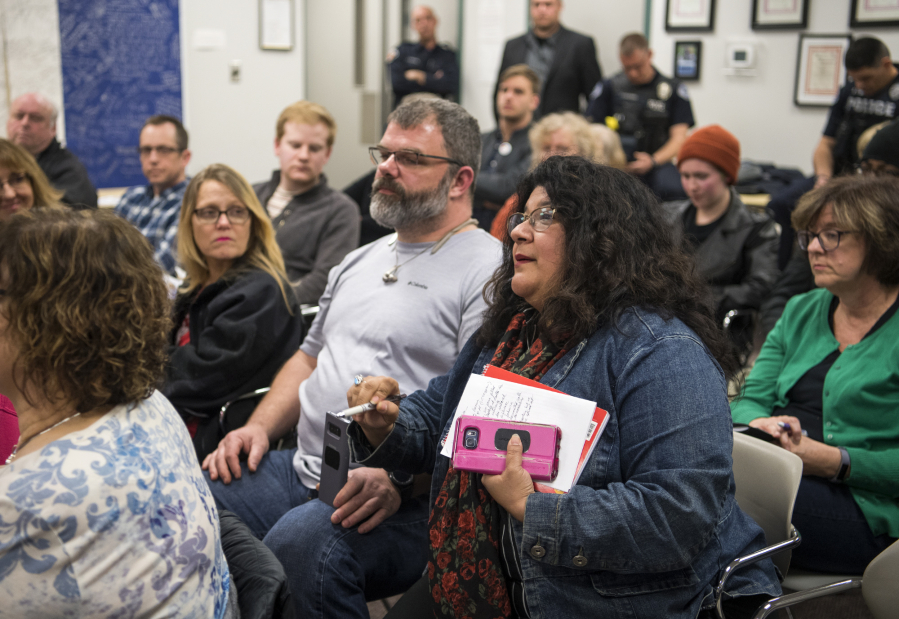 At the Vancouver Neighborhood Alliance meeting last night, most of the discussion revolved around a recent string of police-involved shootings: four in five weeks, three of them fatal. Vancouver Police Department Chief James McElvain fielded questions and defended the department's actions and policies in a Q&A session that included a few tense exchanges.
Also at the meeting were three candidates for city council: Adam Aguilera, Diana Perez and David Regan (Regan has yet to formally announce, but has said he plans to run and in January registered a campaign with the Public Disclosure Commission).
It's a matter of timing that these police-involved shootings have lined up with a series of candidate declarations. Regardless, their decision about how to address the issue — or whether to address it at all —  has proved an early campaign litmus test.
The most vocal candidate has been Perez, who spoke with McElvain at the neighborhood meeting. Earlier this week her campaign also released a statement that called out city leaders' reluctance to publicly discuss the issue.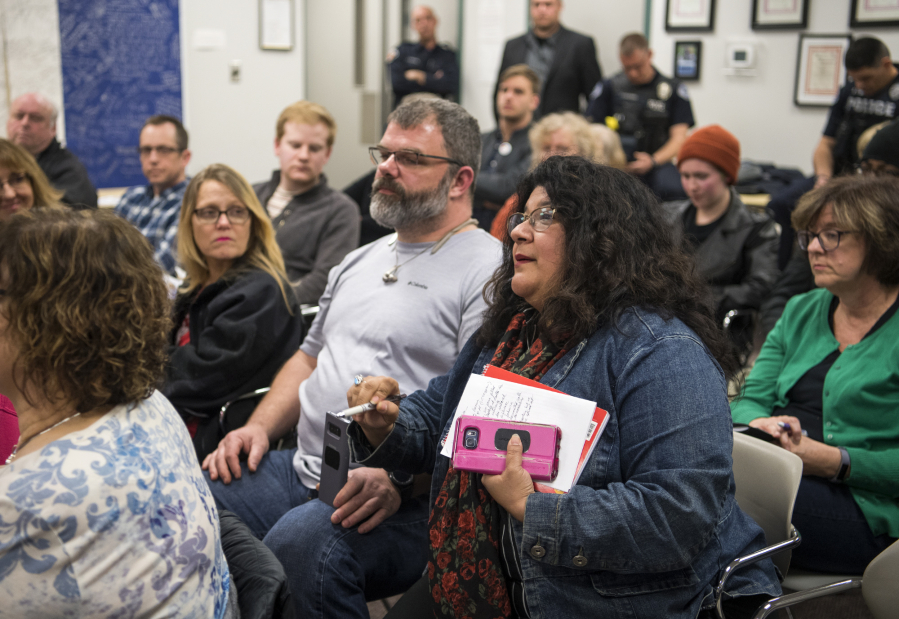 "When tragedies like this happen in our community, it is important the elected leaders say something — anything. These were lives that were tragically and irreversibly taken away and these are our officers whom we entrust our public safety with," Perez's release said.
"I understand and respect the legal parameters of being able to discuss any part of the investigations but compassion can be demonstrated regardless of fact-finding underway. Compassion doesn't cost any organization a penny."
Regan, too, spoke with McElvain at the neighborhood meeting, drawing on his experience as owner of a bail bonds business. He's Puerto Rican, Regan said, and understands how the community's trust in the police might be eroding. "I also understand the difficulty of working with criminals, I think I've arrested upwards of a thousand fugitives in the last 10 years, really bad guys. I also wear a body cam." There's practical concerns with the technology, he said. How do you interact with an informant who doesn't want to talk to an officer wearing a camera? How do you work with other agencies who don't have body camera policies?
(The VPD doesn't use body cameras. McElvain said he's open to the idea, but worried about the expense of archiving all the footage and handling public record disclosures.)
Aguilera, who used the neighborhood meeting to announce his campaign, didn't speak again and hasn't publicly addressed the shootings.
Current city councilors up for reelection — Ty Stober, Bart Hansen and Erik Paulsen — have stayed largely quiet on the issue. The exception is Stober, who tweeted on Feb. 20 after police fatally shot a 16-year-old armed with a knife: "I am saddened by the death of Clayton Joseph. A youth lost from our community is a tragedy to us all."
Sarah Fox is also running again this year after a narrow 2018 election loss. Fox, who did not attend the neighborhood meeting, posted on her campaign Facebook page about the event but skirted the bulk of the evening's conversation — instead, she addressed the discussion about the Westside Bike Mobility Project, which was also on the agenda.