CRC can't even beat dead Colonel
The meeting mavens aren't delusional – we know where our stories about local governments rank.
We get the daily analytics on page hits on our website. Crime stories always rank the highest — as the saying goes, "If it bleeds, it leads." Those "nice" stories about "nice people" that people always say they want? They rarely rank in the Top 10. Government stories do OK, but even a big story about the Vancouver City Council will rank behind a story about a car accident with minor injuries.
Even knowing our place in the world of web hits, Eric Florip and I thought we had what would be a hitmaker  in Thursday's newspaper about Vancouver Mayor Tim Leavitt calling for a workshop next month to discuss ways to generate revenues  to pay annual operating costs for light rail.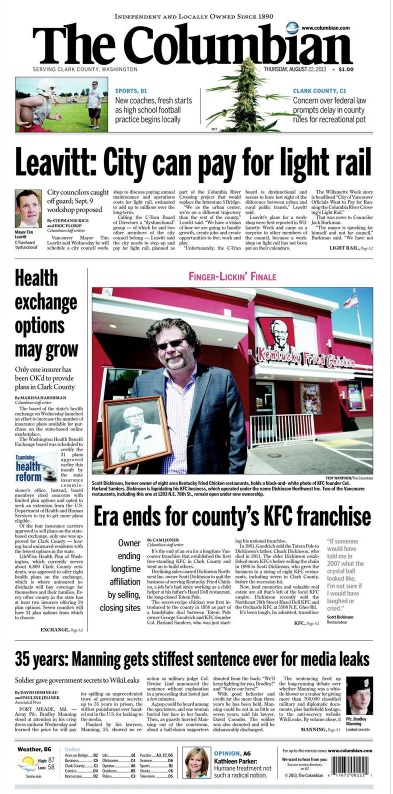 The fact that none of the councilors knew he was setting up this workshop was, to us, a bonus.
Alas, we couldn't compete with The Colonel.
Cami Joner's story about the end of an era for a family franchise of KFCs in Clark County drew more than twice the amount of pageviews (both total and unique pageviews, which we track because we want to see how many different people are reading the story versus how many Top Commenters keep going on to argue with each other.)
Whatever.
It just reinforced what we knew: Not even the juiciest local government story can compete with a story about fatty food.