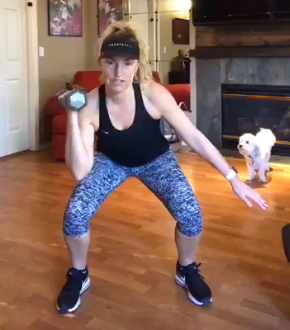 Since our training studio has been closed for nearly a month due to COVID-19, I've been teaching a lot of virtual online classes and training sessions. It has definitely proven that you don't need a gym to get a great workout.
There are literally hundreds of muscle and cardio exercises you can do with absolutely no equipment whatsoever. Your body is the best machine and if you were on a deserted island with no access to any exercise equipment, you could still give yourself a fabulous workout.
In addition, you can mimic a lot of additional exercise and training tools with stuff you most likely already have at home.
Here's some items that you can now consider exercise equipment:
---
Canned goods
Cans of soup, vegetables or stew work great as hand-weights to add additional resistance during squats, lunges or for chest and shoulder presses, curls, kickbacks, extensions etc.
---
Jugs
If you need something heavier to lift, jugs of laundry detergent, soap or milk can work great.
---
Bags and backpacks
Grab a reusable grocery bag or backpack and fill with items such as books or cans to create something heavier to lift.
---
Bag of dog food, kitty litter, dirt and rice
Bags of heavy items can be held during squats, lunges etc for additional resistance.
---
Staircase
If you live in a two-story home, you have a whole gym waiting for you. Walking or running up the stairs is a fabulous cardio workout. The steps can be used for step-ups, pushups and tricep dips. You can also wrap an exercise tube around the railings to perform rows, chest presses, torso rotations, external rotation, tricep kickbacks, etc.
---
Paper plates
You can place one foot under a paper plate and perform a sliding reverse or lateral lunge. You can do mountain climbers with feet on paper plates. You can do bridging with feet sliding on paper plates.
Bottom line message – If there's a will, there's a way. Your physical fitness and strength are so important, now more than ever. So commit some time to focus on your health and get it done!
---
Yours in health & fitness,
Sherri McMillan
---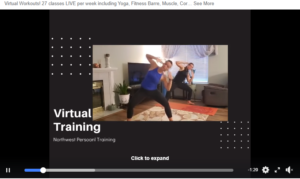 27 classes LIVE per week including Yoga, Fitness Barre, Muscle, Core, KickBoxing, Mobility, Bootcamps and more. Join award-winning NWPT Personal Trainers from the privacy of your home.
$99 for 4 weeks of unlimited classes. Your physical fitness, mental health, stress release and health of your immune system is important now more than ever!
---