Breast Cancer and Exercise – Muscle Strength and Endurance
Week Five
Although you are never the same after Breast Cancer, we have many clients who have gone on to living incredibly healthy, fit, rich and adventurous lives post Breast Cancer – and some are actually in even better shape now because they've taken a very active role in their overall health and well being.
Over the last four weeks we have discussed how exercise can play a role in both prevention and treatment of Breast Cancer. Every woman is different so it's important to discuss your fitness plan with your doctor.
Once given the approval post-surgery….
You can typically start with light cardio like walking
The next step will generally be range of motion and mobility exercises
The next stage is typically strength training focusing on the un-affected areas
Then once given the approval, muscle and strength training of the affected areas starting with light resistance and then gradually building from there.
Today we focus on muscle-conditioning for the affected areas.
*Review past columns for the details of the stages prior to today's focus.*
Post-surgery, as a woman's range of motion improves and pain subsides, it is very important that she start a strength training program to minimize muscle atrophy, improve strength, enhance bone density and prevent posture deviations and muscle imbalances.
She can start with little or no resistance and then slowly add resistance as her body manages the load.
Start with 1 set of 8-12 reps of a variety of exercises for the lower body, upper body and core.
She can increase to 2-3 sets or increase the number of exercises she performs.
It's a good idea to rotate between Lower & Upper Body exercises to allow for recovery in between sets and to help prevent lymphedema.
Since certain muscles and joints will be more affected from Breast Cancer surgery and treatment, exercises to strengthen the Lower and Middle Trapezius, Rotator Cuff, Rhomboids, Lats, Chest, Shoulders, and Core will be very important for the Breast Cancer Survivor.
A list of good specific Post-Breast Cancer Strength Training Exercises include: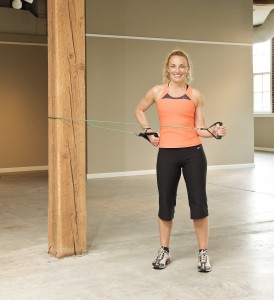 Lower/Mid Trap Floor Presses

Lower/Mid Trap Wall Presses

Prone Lower/Mid Trap Arm Lifts
Shoulder Tubing Exercises
Back Rows
Back Flies
External Rotation – Side Lying/Standing
Chest Press/Flies

Pullovers
Standing Torso rotation
Oblique Crunch
Prone/Quad Opposite Arm/Leg
If you are unfamiliar with any of these exercises, be sure to consult with a therapist who specializes in Post Breast Cancer Rehab to ensure you are performing the movements correctly and safely.
Note: As an avid Columbian reader, you can redeem a 2 week pass at her world-class training studio to help get you started.  Contact 360.574.7292 for more details. 
Yours in health & fitness,
Sherri McMillan
---
Join us for Girlfriends Run for a Cure Half Marathon, 10K & 5K THIS SUNDAY!!
October 13th – Vancouver, WA
The 13th Annual Girlfriends Run for a Cure offers a Half Marathon, 10K & 5K designed specifically for women to get together to do something good for themselves and to help support a very important women's cause.
---