Pink Power – Training Post Breast Cancer Surgery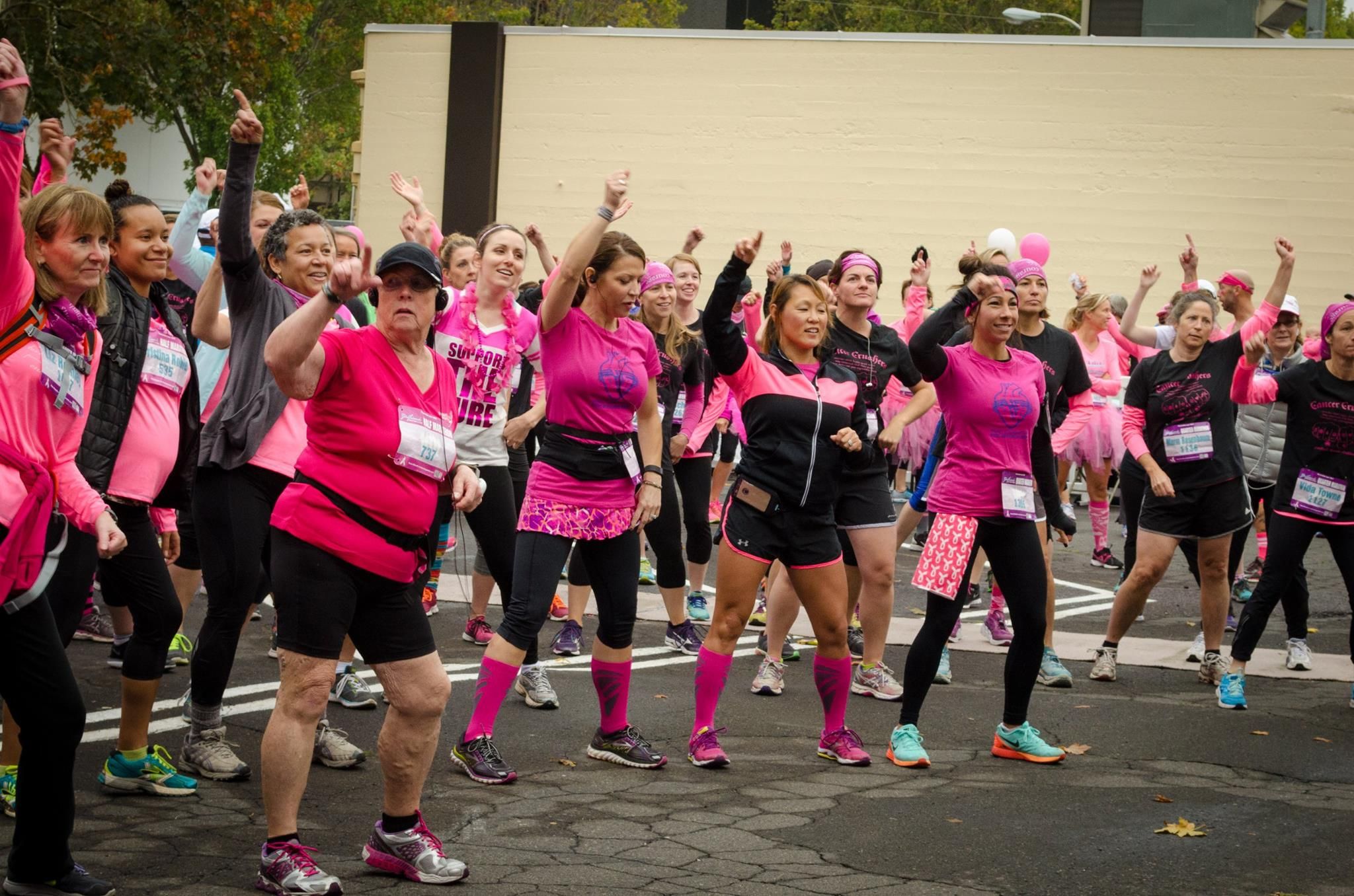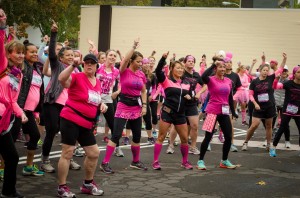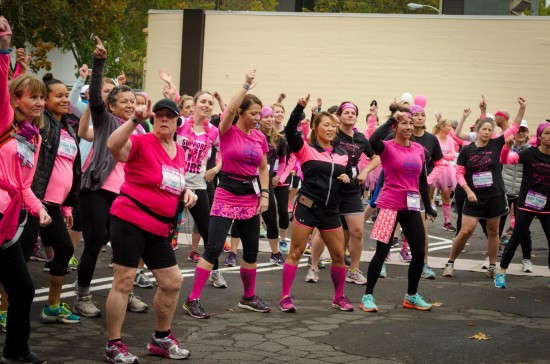 We probably all know at least one person who has been diagnosed with Breast Cancer. I personally know a great deal of women who have been diagnosed including many of my best girlfriends. We started our Girlfriends Run for a Cure, now in our 11th year, for one of our girlfriends Joleen Skarberg, who continues to race it every year with her daughters, sisters, cousins, nieces and best girlfriends. We have been able to raise $450,000 and are hoping to break the half a million mark this year. All of the funds raised over the years from events like ours is one of the reasons that women now receive better diagnosis and treatment and go on to live strong and healthy lives. Joleen is a true testimony to that! I hope one day in my lifetime we can all see a cure for all forms of cancer!
Anyone who has ever been diagnosed with Breast Cancer realizes that the cancer experience does not end the day that treatment ends. You want to get back to your normal life and put cancer behind you but at that same time, you're dealing with all kinds of post-Cancer Treatment effects that affect your physically, emotionally and spiritually.
Breast Cancer Surgery and Treatment will typically result in pain, tightness, reduced range of motion, weakness, postural deviations and decreased bone density. When starting an exercise program after Breast Cancer surgery and treatment, the goals will be to reverse the negative affects of killing cancer…which can cause other secondary issues. An effective program will function to restore strength and flexibility to the affected areas, minimize the development of scar tissue, reduce pain and swelling and minimize the loss of bone.
Post-Breast Cancer Rehab:
The type of Breast Cancer treatment and surgery will determine a woman's recovery, how her body is affected and the post rehab process so you will need to work closely with your therapist or a trainer who specializes in post-Breast Cancer rehab.
You will want to get the go-ahead from your physician to begin your exercise program but typically you can begin a light post-rehab program a few weeks after surgery and a more aggressive protocol an average of 10 weeks post surgery. Work closely you're your physician and therapist to determine effective and safe protocol.
Range of Motion
Initially, you will want to focus on ROM at the shoulder. You can start with holding each stretch for 15 seconds x 3-4 sets. Most women are very protective of the affected shoulder so ease into the stretches avoiding pain and gradually progress the stretch as the tissues allow. As your range of motion improves, you will be able to go deeper into the stretches. Here is a variety of stretches to start with:
Supine Single Arm Shoulder Stretch – Lie on your back with your arms at your side.  Slowly lift the affected arm up and back over your head until you feel the stretch. Return to the starting position. You can assist with your unaffected arm or use a pillow beside your head to control the range of motion at the deepest stretch.
Butterfly Stretch – Lie on your back with your hands at your neck and elbows pointed towards the ceiling. Slowly let the elbows drop to the side. You can use a pillow under the affected arm to control range of motion.
Wall Climb – Stand in front of a wall and slowly walk your affected arm up the wall until you feel the stretch. You can use your unaffected arm to assist. (Perform this wall climb from a variety of angles – front and side and in between)
Single Arm Chest/Doorway Stretch – Stand within a doorway.  Place your affected arm at shoulder height and move forward into the chest and shoulder stretch. You can perform this stretch with arm bent and straight.  Perform the stretch at various angles – shoulder height, above shoulder height and below shoulder height to involve all the tissue fibers.
Seated Side Stretch – Sit with your body tall and spine extended.  Slowly reach the affected arm up and over to the other side while maintaining good posture.
Towel Stretch – Take a towel behind your back and hold each end in one hand.  Slowly straighten and bend your arms back and forth as you stretch through your shoulders.
Overhead Tricep Stretch – Lift one arm up and bend at the elbow placing the hand on your upper back area as if you are trying to scratch your upper back.  Take the other arm and apply light pressure downwards on the elbow to assist the stretch.
Muscle Conditioning
As her range of motion improves and pain subsides, it is very important that she start a strength training program to minimize muscle atrophy, improve strength, enhance bone density and prevent posture deviations and muscle imbalances.
She can start with little or no resistance and then slowly add resistance as her body manages the load. Start with 1 set of 8-12 reps of a variety of exercises for the lower body, upper body and core.  She can increase to 2-3 sets or increase the number of exercises she performs. It's a good idea to rotate between Lower & Upper Body exercises to allow for recovery in between sets and to help prevent lymphedema.
Since certain muscles and joints will be more affected from Breast Cancer surgery and treatment, exercises to strengthen the lower and middle trapezius, rotator cuff, rhomboids, lats, chest, shoulders, and core will be very important for the Breast Cancer Survivor.
A list of good specific Post-Breast Cancer Strength Training Exercises include:
Lower/Mid Trap Floor Presses
Lower/Mid Trap Wall Presses
Prone Lower/Mid Trap Arm Lifts
Shoulder Tubing Exercises (variety of angles)
Back Rows
Back Flies
External Rotation – Side Lying/Standing
Chest Press/Flies
Pullovers
Standing Torso rotation
Oblique Crunch
Prone/Quad Opposite Arm/Leg
If you unfamiliar with any of these exercises, be sure to consult with a therapist who specializes in Post Breast Cancer Rehab to ensure you are performing the movements correctly and safely.
Although you are never the same after Breast Cancer, we have many clients who have gone on to live incredibly healthy, fit, rich and adventurous lives post Breast Cancer – and some are actually in even better shape now because they've taken a very active role in their overall health and well being. Here's to reaching for your Personal Best!
Yours in health & fitness,
Sherri McMillan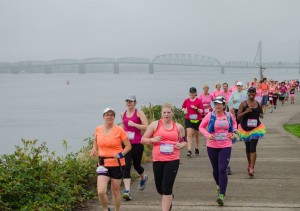 If you would like to be a part of a few thousand women walking or running 13.1 or 6.55 miles to raise money for Breast Cancer Diagnosis, Treatment & Research, please join us for the annual Girlfriends Run for a Cure on Sunday October 15th. It is one of the most amazing and positive experiences that you could ever be a part of.
Note:  As an avid Columbian reader, you can redeem a 2 week pass at her world-class training studio to help get you started.  Contact 360.574.7292 for more details.