Try a Triathlon – Swim, Bike, Run your way to the Triathlon Finish Line – Training Tips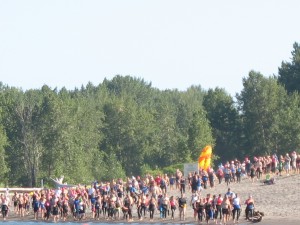 Over the last 4 weeks, we've reviewed all the ins and outs of the sport of Triathlon and provided specific training tips. So hopefully you're now inspired to try your first Triathlon this summer and will join us for the Girlfriend & Dudes Triathlon or Duathlon on July 20th to support the Children's Center. Today we are going to tackle some specifics of program design to help you plan your training week. 
Frequency of Training:
It's difficult for many to imagine training for 3 different sports but it can easily be done in 5-6 training days per week.  However, in order to achieve the frequency for each sport as listed in prior columns, it will often require two workouts per day – one in the morning and one in the evening or two disciplines back to back. Try to incorporate one Rest or Active Recovery Day per week and try to balance your program so you alternate different types of workouts. Here is a sample workout template that you will adjust based on your schedule:
| | | | | | | |
| --- | --- | --- | --- | --- | --- | --- |
| Mon | Tues | Wed | Thurs | Fri | Sat | Sun |
| AMSwimPMBike | AMRunPMResistance & Core Conditioning | AMSwimPMBike | AMRunPMResistance & Core Conditioning | Rest Day | Brick Workout(Bike/Run)orMini-Tri Practice | Swimand/orYoga |
Duration & Intensity of Training: 
Remember that duration and intensity are dependent on each other – for example, if you're going to complete a really high intensity workout, it should be shorter…if you're going to complete an easier intensity workout, it should be longer.  The key is to mix it up…some workouts will be harder and shorter and others easier and longer.  It's also important to note that some coaches suggest that for longer Triathlon events (1/2 Ironman, Ironman), you only need to train to a maximum of 70% of the race time…for example, if you were going to complete a 4 hour marathon, you'd only need to run to a maximum of 3 hours in your training program. That's a very wise and prudent approach if you find yourself prone to injuries or need to be efficient in your training because of a busy schedule.
Total Volume of Training:
How much time you spend training for your Triathlon will depend on your personal schedule, the distance of your triathlon and whether you are a recreational athlete, age group contender or elite level.  Clearly if your goals are more ambitious, you will need to spend more time training.  Generally, you can follow these guidelines.
Low volume/Beginner:  5-10 hours/week
Moderate/Intermediate volume:  10-18 hours/week
High/Elite volume:  18-27 hours/week
Then, a good approach to designing your training program is to split your volume according to triathlon times; Swim 15-20%, Bike 50-55%, Run 20-35%.  So let's say you are in the beginner level, based on this formula, you would spend 45 minutes – 2 hours swimming, 2.5-5.5 hours biking and 1-3.5 hours running per week.  It's okay to adjust these percentages to spend a little more time on your weaker areas. When advancing your program, incorporate a gradual progression increasing volume of training no more than 10-20% every 1-2 weeks.  And if you're new to exercise, incorporate 8-12 weeks of general base conditioning before beginning an aggressive sports specific program.
Strength Training & Stretching:
To maximize your performance and minimize your risk for injury, be sure to incorporate Resistance Training and Core Conditioning two times per week and spend some time after each workout stretching, foam rolling and releasing muscles.  During heavy training, it's also wise to schedule in regular massage sessions to address those tight areas that may surface. We are hosting the Girlfriends & Dudes Triathlon, Duathlon and Kids Triathlon on Sunday July 20th as a fundraiser for the Children's Center.  This event is perfect for new Triathletes because the ½ mile swim is in a calm section of the Columbia river at Frenchmans Bar so you get to swim with the current. Many of those fearful of the water love that if they just floated in the water, they'd get to the finish line in about 30 minutes and at any point, they can wade to the shore and touch down if they need a break.  The bike is a 12.5 mile flat ride and the 3.1 run/walk is on a flat, paved trail.  You can also donate an additional $25 to Children's Center and get Charity VIP waive which means you get the best transition spot and get to start before everyone else. We also offer a Relay option, a Duathlon division and a Kids Race plus there will be a live band making it a really fun party! You can register HERE. You can find other Triathlon distances by visiting either of the following websites.
Stay tuned next week as we finalize the series by discussing tapering in the week(s) leading up to your event and planning your race day and transitions between sports.
Sherri McMillan, M.Sc. has been inspiring the world to adopt a fitness lifestyle for over 25 years and has received numerous industry awards including International Personal Trainer and Fitness Presenter of the Year. She is the author of five books including "Go For Fit – the Winning Way to Fat Loss" and "Fit over Forty" and is the featured presenter in various fitness DVDs.  She is the owner of Northwest Personal Training in downtown Vancouver and can be seen running, hiking or cycling with her two children, Brianna and Jackson.  She can be reached at www.nwPersonalTraining.com or www.ShapeupwithSherri.com Note:  As an avid Columbian reader, you can redeem a 2 week pass at her world-class training studio to help get you started.  Contact 360.574.7292 for more details.