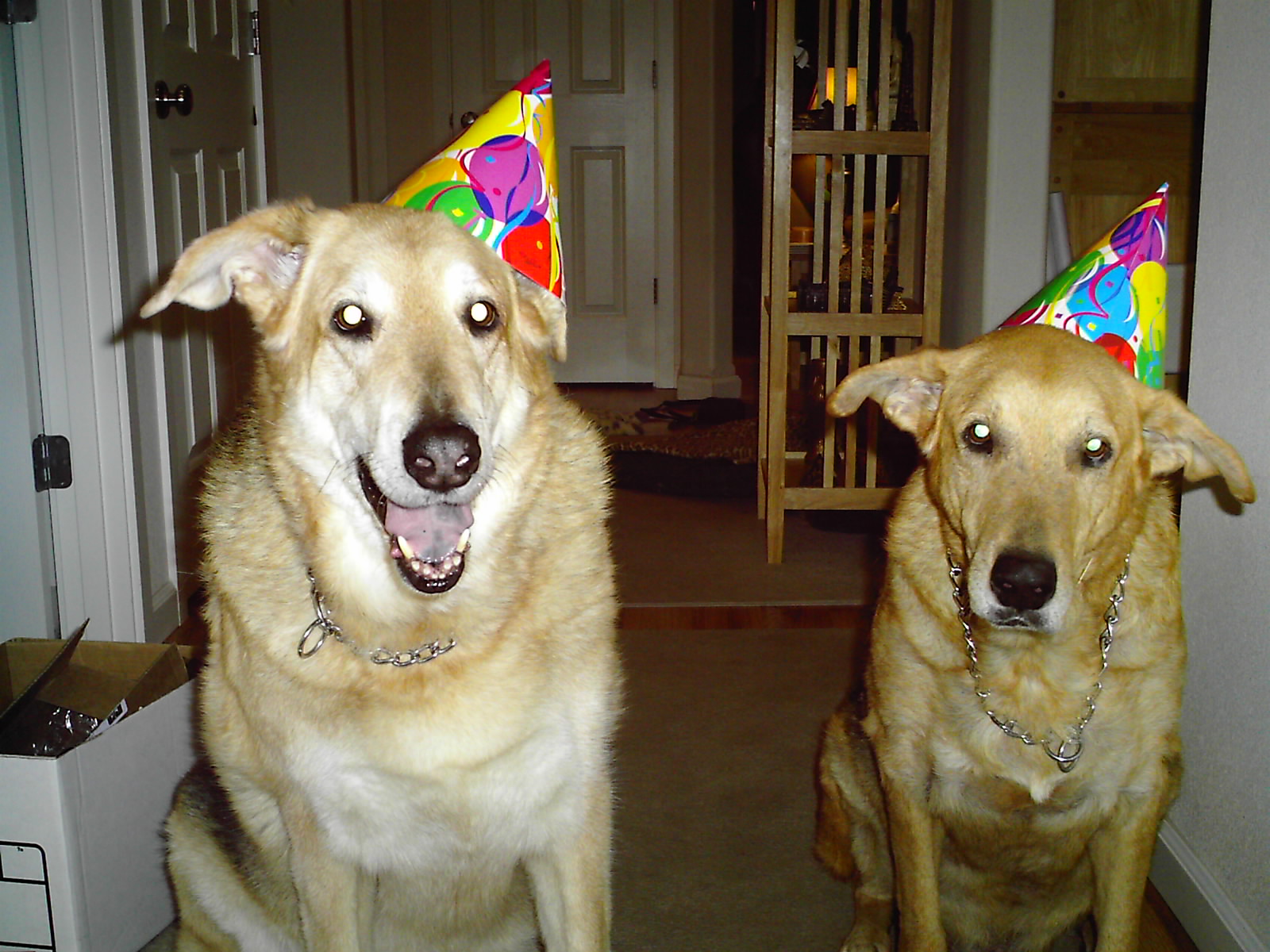 This is a story about my old dogs Butch and Sundance. When I first went to the shelter I was looking for a small dog. But one dog caught my eye so I took him for a walk and when I returned his brother looked so sad that I felt bad. After making the decision to adopt Butch it made me sad to think his brother will miss him. Worse, they were both on the kill list within days. So guess what I did? I took them both! The lady at the shelter asked if I knew what I was doing, as they are sheppard mixes and will get to 100 pounds. Yes, I told her they need a home and I'm their best chance for a happy one. On the way home they threw-up all over my back seat. Let the fun begin.
The next day I saw they had collars with a number so I called the old owners. I was wondering why these two were being surrendered for a second time. They were adopted from the shelter as pups and I adopted them at 7 months old. He told me they were chewing everything in sight, digging and jumping the fence. They escaped so many times that they finally left them in the shelter jail because they were tired of bailing them out. Great, I knew the problems I would have to tackle. Easier said than done.
We spent several months of them chewing holes in walls, playing can't catch me as they got away under or over our fence. They dug holes, we buried poo in them but that didn't work. So we tried balloons, that worked great but scared them so much that from that day forward they were terrified of fireworks. During their last escape, they ran onto Interstate 5, going the wrong way! Thank god we caught them before they killed anyone or themselves. We started chaining them to the porch so they could see everyone coming and going. It worked. Before long they just sat on the porch without being tied up. These boys were quite a challenge. It took over two years to train them, but by the third year they were angels. My Sheppard boys turned out to be 120 pounds each. We had Butch and Sundance for 16 wonderful years. My point is we had lots of challenges with these pups, but with training and direction any dog will respond. Pets are family and you don't get rid of family that annoys you. You can only try to make it better by being the better owner. If you adopt you commit to this animal for life. All pets have some issues. If you can't handle a dog, get a cat. But don't think you can ignore them as they will all need work. Even a fish needs to be fed and have its water cleaned.
We have tons of great rescues here in the Northwest. You can find just about any kind of dog or cat. Plus they have hamsters, rabbits, ferrets and all kinds of animals that need homes. I work with and know several of them. Recently I went to a rescue party: the 20th anniversary for Second Chance Companions (http://www.sccpets.com). It was a fun time. While I can't have another pet, I did sponsor one, a black kitty. For those of you who aren't sure you can adopt, you can always foster a pet or sponsor one. Most of the rescues I work with are looking for fosters. These pets need homes as some may not do well in a shelter environment. If you sponsor one, you don't have to clean up after it. How easy it that? Without your support rescues can't operate. They need funds to help them rescue pets in need. If you can't adopt or sponsor, you could volunteer as they always need help. Over the next few months I hope to share several rescues in the area.
I would love to get them all the help they need.
Remember a pet is a friend for life.