Tuscan Soup On The Plantation
It was such a treat discovering this recipe with Matt and Jen Schwab, owners of Inspiration Plantation in Ridgefield, Washington.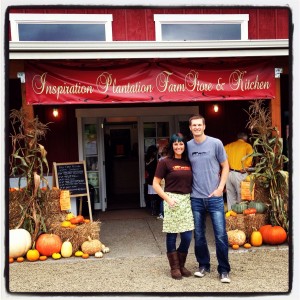 As late summer turned to fall, a festival was planned to welcome guests to Inspiration Plantation's newly opened Farm Store & Kitchen. A beautiful way to showcase the bounty they offer. From farm tours to cooking demos and compost classes, the Fall Farm Festival was set to inspire a community to support their local farmer.
I had the pleasure teaching two Paleo classes at the festival, showcasing Inspiration Plantation's grass-fed and pastured meats, eggs and vegetables. This was an easy task. Having been an Ispiration Plantation CSA member this past year, I was very familiar with the produce available for showcasing. I've also filled my freezer with plenty of grass-fed beef and pastured lamb, pork and chicken over the years, thanks to Matt and Jen.
Tuscan Soup On The Plantation pairs a 24-hour stew hen bone broth (recipe on the blog) with Italian spiced ground pork. Smoked bacon is used to caramelize seasonal veggies and hints of white wine, a drizzle of heavy cream and fresh chopped kale, round out the final layers of this Fall Festival favorite.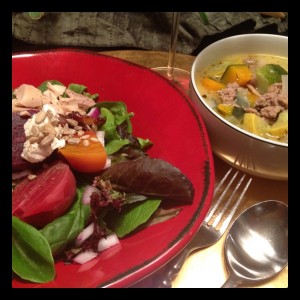 (pictured with Beet And Bacon Salad – recipe on the blog)
GROCERY LIST (makes 8 servings)
2 lbs pork sausage
1 1/2 tsp red pepper flakes
1/2 tsp salt
1 1/2 TBSP Italian seasoning
2 thick strips of bacon, cut into small pieces
3 cups kabocha squash, de-seeded and cubed
1 cup sweet onion, chopped
1 cup yellow butter squash, cut into bite-sized pieces
1 cup zucchini, cut into bite-sized pieces
4 garlic cloves, peeled and chopped
6 mushrooms, peeled and chopped
1/2 cup sweet white wine
8 cups 24-hour stew hen bone broth (http://paleoinapinch.com/post/62078965982/stew-hen-24-hour-bone-broth)
1/2 cup heavy cream
6-8 cups kale, chopped
salt & pepper, to taste
COOKING INSTRUCTIONS (prep time: 10 minutes, cook time: 20 minutes)
1) In a large frying pan, season sausage with red pepper flakes, salt and Italian seasonings. Brown seasoned sausage over medium-high heat until cooked all the way through. Set aside.
2) In a large soup pot, brown bacon over medium-high heat until crispy, about 5 minutes. Add kabocha squash, onion, butter squash, zucchini, garlic and mushrooms. Sauté in bacon fat 5-7 minutes, allowing the veggies to caramelize a bit. Add white wine and boil 1 minute. This will burn out all the alcohol. Add bone broth and bring to a boil. Boil for 3 minutes. Remove from heat and drizzle soup with heavy cream.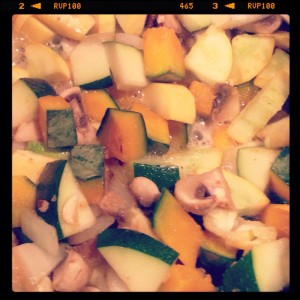 3) To serve: In a large soup bowl, spoon Tuscan soup over a handful of kale. Season with salt and pepper (optional).
From my kitchen, to yours …. support your local farmer! Enjoy!