Baked Salmon with Blueberry-Balsamic Reduction and String Beans sautéed with Onion, Raisins and Bacon Fat
Alrighty, folks. School is back in session!! Everybody having a good time?! Yah,……
I tell you what. Times like these, call for quick and easy meals. No need to be in the kitchen longer than you have to. You have much more important things to do. Like read and sign a million papers from school. Right?! Right.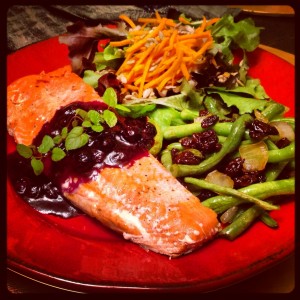 GROCERY LIST **makes 5 servings
SALMON
2 lbs salmon
1 TBSP pastured butter
salt, to taste
BLUEBERRY-BALSAMIC REDUCTION
olive oil
3/4 cup blueberries
1/4 cup balsamic vinegar
fresh cracked pepper
STRING BEANS
bacon fat or olive oil
2 onion, chopped
5 cups string beans, trimmed and cut into bite-sized pieces
1 cup raisins
salt and pepper, to taste
COOKING INSTRUCTIONS **prep time: 5 minutes, cook time: 20-25 minutes
– First we'll tackle the salmon.
1) Pre-heat oven to 350 degrees.
2) Line a baking sheet with tinfoil (makes for easy cleanup). Place salmon, skin side down, on tinfoil.
3) Spread butter on salmon and sprinkle with salt, seasoning to taste.
4) Bake in a 350 degree pre-heated oven for 20 – 25 minutes, or until desired doneness.
– Alrighty. Salmon is in the oven. Now, it's time to get busy with our veggie side and reduction sauce. Take sip of beverage of choice (mine, of course, would be wine) and let's get down to business.
5) In a large stir-fry pan, warm a generous amount of bacon fat over medium-high heat. Add onion and stir-fry 2-3 minutes. Add string beans, season with salt and pepper. Stir-fry until desired doneness, 10-15 minutes. Remove from heat and stir in raisins.
6) Meanwhile, in a small saucepan, warm a drizzle of olive oil over medium heat. Add blueberries and balsamic, turn heat to low and simmer until reduced to half (5 -10 minutes). Remove from heat and add fresh cracked pepper.
To serve, place salmon (skin removed) on plate and top with blueberry-balsamic reduction. Serve string beans along side and throw in a garden salad for good measure.
From my kitchen, to yours…. meals in 30-minutes or less!! Enjoy!!