What Was In My Fridge Minestrone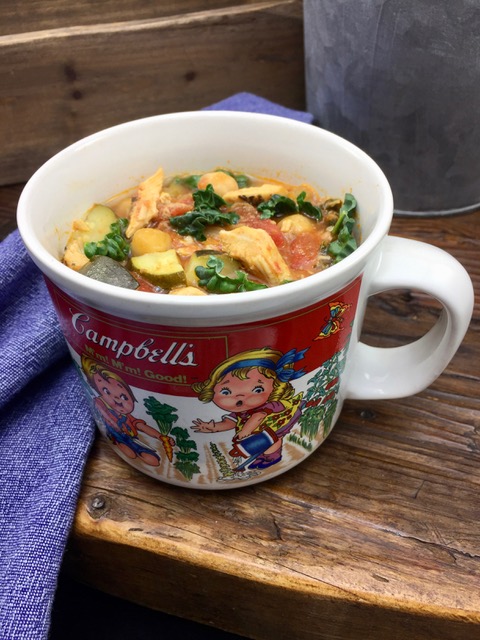 That was one heck of a storm.  Depending on where you live, you may or may not be able to get out.  Even if you are able, some of the roads are still so covered in ice, you may not want to.  It's a great time to sit tight and make soup.  Minestrone is a great, all-purpose soup.  You can use up bits of whatever you have, which makes it a perfect supper for when you're snowed in and can't shop.  Swap in what you like and have fun using up what you have.
I usually include green beans when I make minestrone, but I didn't have any.  This was okay because I used up the fresh zucchini and kale I had. You can add leftover rice or pasta to the finished soup if that is to your liking.  Or you can add uncooked pasta before you reduce the heat and let it cook in the broth.  Doing this will add some body to the soup and thicken it up a bit.  Blending about 1/2 cup of whatever kind of beans you are using with 1/2 cup of the liquid from the can makes a thickening slurry without having to add any flour, or cornstarch.  You can use kidney, or white beans, in place of the chickpeas.  You do not need to add any meat at all, or you can use leftover chicken or beef.  Precooked, crumbled lean ground beef works well, and so does ground chicken or turkey.  I have also added meatballs, which are equally fast and easy, not to mention just plain fun, when added to a soup.
Don't go out.  Use up what you have.  Make soup.  And stay warm!
What Was In My Fridge Minestrone
1 tablespoon extra virgin olive oil
1 medium onion, diced
3 cloves garlic, minced
3 stalks celery, not good enough to eat on their own, but perfect to trim and dice for soup
2 tablespoons shredded carrot from freezer because I don't have any fresh, and don't ask why I have shredded carrots in my freezer
1/3 cup sautèed mushrooms added "just because"…  (I know minestrone does not typically contain mushrooms.  We are "using things up" here!)
1 – 14.5 ounce can diced stewed tomatoes
3 cups reduced sodium chicken broth, made from 3 cups of water and 1 tablespoon of Better Than Bouillon Organic Reduced Sodium Roasted Chicken Base 
5 leaves of kale that are now getting a little sketchy in spots because I didn't make the salad that I originally bought the kale for
2 medium zucchini cut in half lengthwise and widthwise and sliced into quarters 
3/4 cup canned chickpeas 
1/2 cup chickpea liquid, blended with remaining chickpeas from can
5 Italian seasoned chicken cutlets with marinara sauce and mozzarella leftover from last night's dinner, cut into small chunks
1 teaspoon oregano 
1 teaspoon basil
freshly ground black pepper
1/2 teaspoon red pepper flakes
grated parmesan cheese
Warm olive oil in a large Dutch oven over medium-high heat.  Add onion and cook until translucent, about 3 minutes.  Add garlic and continue to cook and stir, about another minute.  Add celery and carrot and cook another 5 minutes, until they begin to soften.  Add mushrooms, stewed tomatoes, chicken broth, kale, zucchini and chickpeas.  Stir in blended chickpea/chickpea liquid and chicken and reduce heat to medium-low.  Season with freshly ground black pepper and red pepper flakes, if desired.  Cook until vegetables are tender, about 10 minutes.  Ladle into bowls and add grated Parmesan cheese.