Watermelon, Blueberry And Feta Salad With Basil And Lime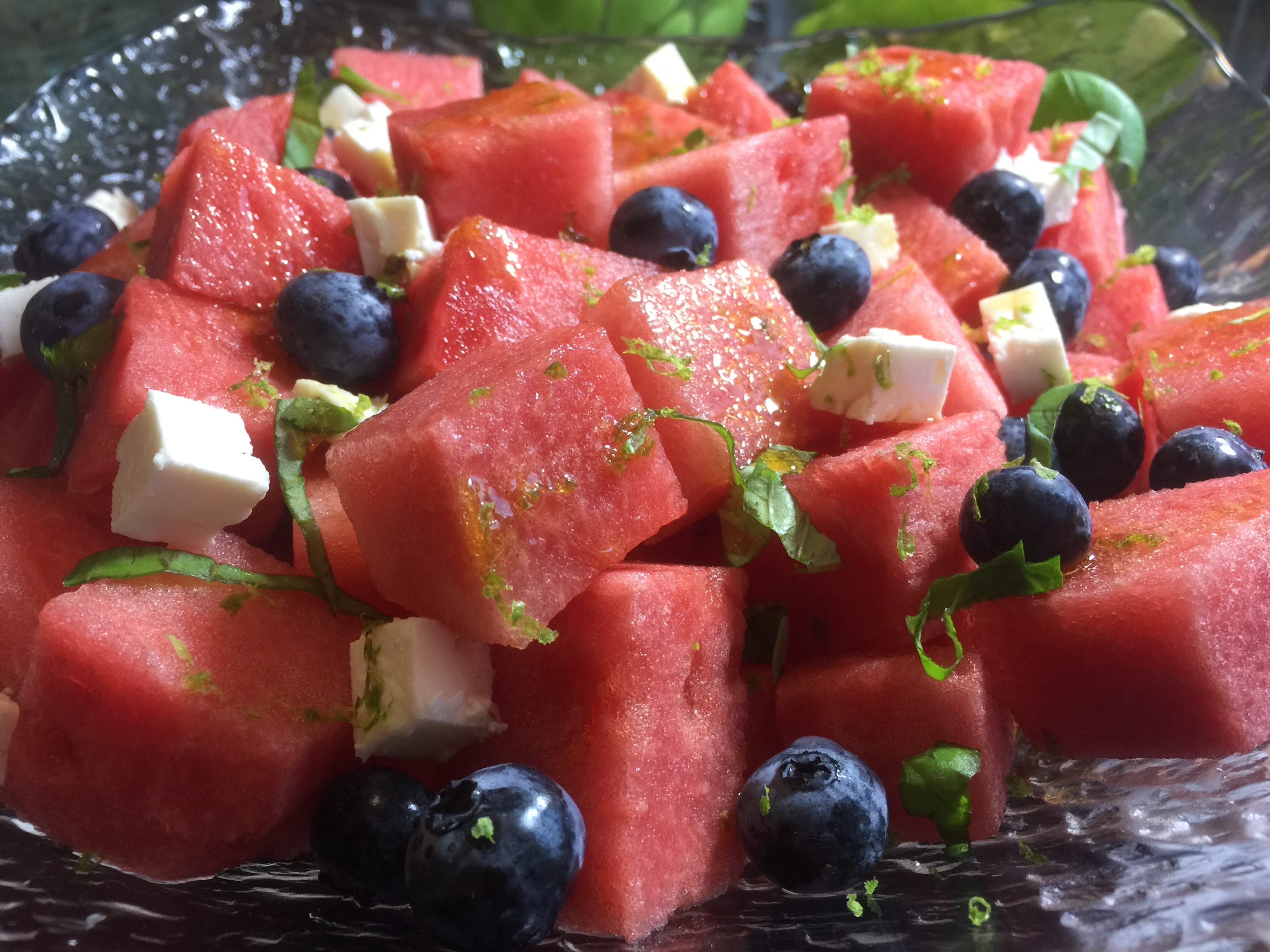 Life is full of good news and bad news.  The good news?  The blueberries in our garden will be ripe just in time for the Fourth of July.  The bad news?  The watermelon I bought for this recipe was a yellow one, not red.  Thankfully, my brother happened to have a red one, and he was more than willing to hand it over, delivery included.
Here's an easy summer salad you can make and take to wherever you plan to be this Fourth of July.  It's cool, refreshing and patriotically red, white and blue.  You can easily substitute another firm, white, salty cheese like Cotija, Ricotta Salata, or Myzithra for the Feta.  Mint would also work well here, but give the basil a try.  It really adds something special to the melon.
Here is a quick guide for cutting watermelon so you can easily make perfect cubes.  Cut the rest of the watermelon into wedges at the same time, and you'll only get your counter (and your floor) sticky one time.
Don't wonder what to bring.  Make this salad.  Just make sure you buy a red watermelon.
Watermelon, Blueberry And Feta Salad With Basil And Lime
1 watermelon, cubed
1 cup blueberries
1 eight ounce block feta cheese
4 leaves fresh basil
1 organic lime
1 – 2 tablespoons honey, optional
Cut watermelon into cubes and place in large serving bowl.  Rinse blueberries and add to bowl with watermelon.  Cut feta cheese into small cubes and scatter between melon and berries.  Stack basil leaves and roll leaves into a cigar.  Thinly slice the roll crosswise into thin ribbons using a sharp knife.  Sprinkle basil ribbons over melon and berries.  Finish salad with grated lime zest and light drizzle of honey.
Let salad chill in refrigerator several hours, or overnight, before serving.