Watermelon, Arugula and Pine Nut Salad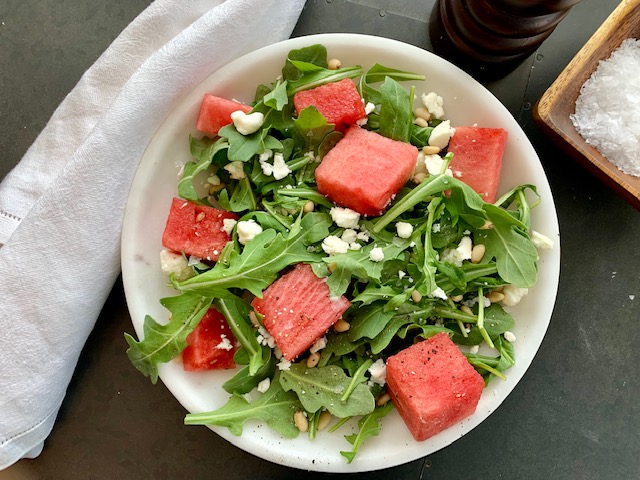 Summer's greatest salad is also its easiest.  Need a side dish for your cookout?  Something to take to a dinner party?  A quick salad for tonight's dinner?  This is your go-to plan.  Watermelon, arugula, and pine nuts:  a simple salad that's a bright burst of flavor and color.  The sweetness of the watermelon tempers the sharp, peppery bite of the arugula – just what you need right now as we transition into the warmer weather. 
Arugula is a fairly hardy green and a great thing to keep on hand in your fridge. Buy it in the clamshell, not the bag, and it will stay beautiful and impervious to time. Simply dressed with a squeeze of lemon and a drizzle of olive oil, a sprinkle of salt and some shaved Parmesan, you've just made something restaurant worthy faster than you can say, "Would you like fresh ground black pepper on that?"  Add some watermelon cubes and some pine nuts and you've got yourself an Instagram post.   
Watermelon is starting to show up at the market.  You can grab one on your way through or if you are extra hurried, and maybe just a little concerned that you might not pick a good one, buy it pre-cut and cubed.  Use some in your salad and pack up the rest in your cooler to take along for your hike or picnic this weekend.  
Here's the formula for something fast and easy that you can use all summer long: arugula, fruit, nuts, cheese, squeeze of lemon, drizzle of olive oil, flaky sea salt, fresh ground black pepper – you're done! Some easy riffs:  slivered or Marcona almonds, or any other kind of nut or seed, toasted or not.  Vary the fruit:  peaches, nectarines, other melons, cherries, or berries.  Swap out the cheese.  Feta, ricotta salata and myzithra are virtually interchangeable, but goat, blue, brie, or my beloved Humboldt Fog could all play well here.  A few more ideas:  adding in some fresh mint, or drizzling with a ribbon of balsamic glaze. Everything can be prepped ahead, but wait until just before serving to add the dressing and that final shower of salt and pepper, or…  skip making the dressing and just top dress the salad with a quick squeeze of lemon and a drizzle or spritz of olive oil.  
Reports of hours-long traffic jams, the lost hiker in Hawaii, and warmer temps are all a reminder to take a minute to think about and pack up some on-the-go reserves.  Get some small, reusable containers or bags that you can keep stashed in your car, backpack or purse for those "emergencies" that seem to somehow arise every day.  Let your kids help out and let them have a say about what goes into theirs.  DIY trail mix made up of nuts, seeds, dried fruit, and coconut will survive the hotter temps and will help you survive being trapped in your car for 12 hours, getting lost in the woods, or just an endless slew of errands.  Make sure your car has some water in it, too. Pack a little more than you need. Your fellow passengers may not be as well prepared and it's always nice to be able to offer a little help.   
Now get out there!  Go have some fun.  And don't forget to pick up some arugula. 
Watermelon, Arugula, and Pine Nut Salad
1 tablespoon fresh lemon juice
1 tablespoon red-wine vinegar
1/2 teaspoon table salt, or to taste
2 tablespoons extra-virgin olive oil
3 cups cubed (1/2 to 3/4 inch) seeded watermelon
6 cups baby arugula (6 oz)
1/4 cup pine nuts (1 oz)
1/3 cup crumbled feta or ricotta salata (1 1/2 oz)
coarsely ground black pepper
Fleur de sel (optional)
Whisk lemon juice, vinegar, and salt in a large bowl.  Add oil, streaming in slowly, whisking until emulsified.  Add watermelon, arugula, and pine nuts and toss to coat.  Sprinkle with cheese, pepper and fleur de sel.  
– Gourmet, July 2004