Vegan Gluten-Free Pumpkin Swirl Brownies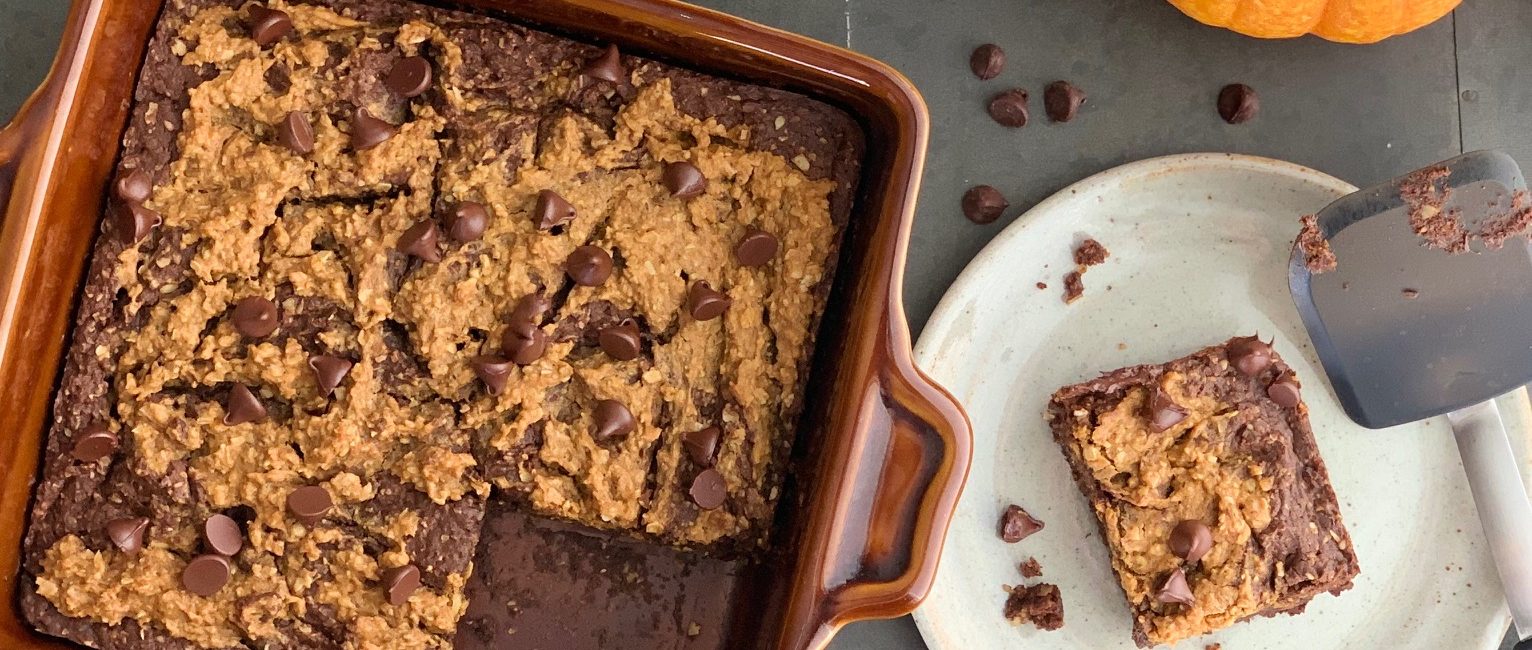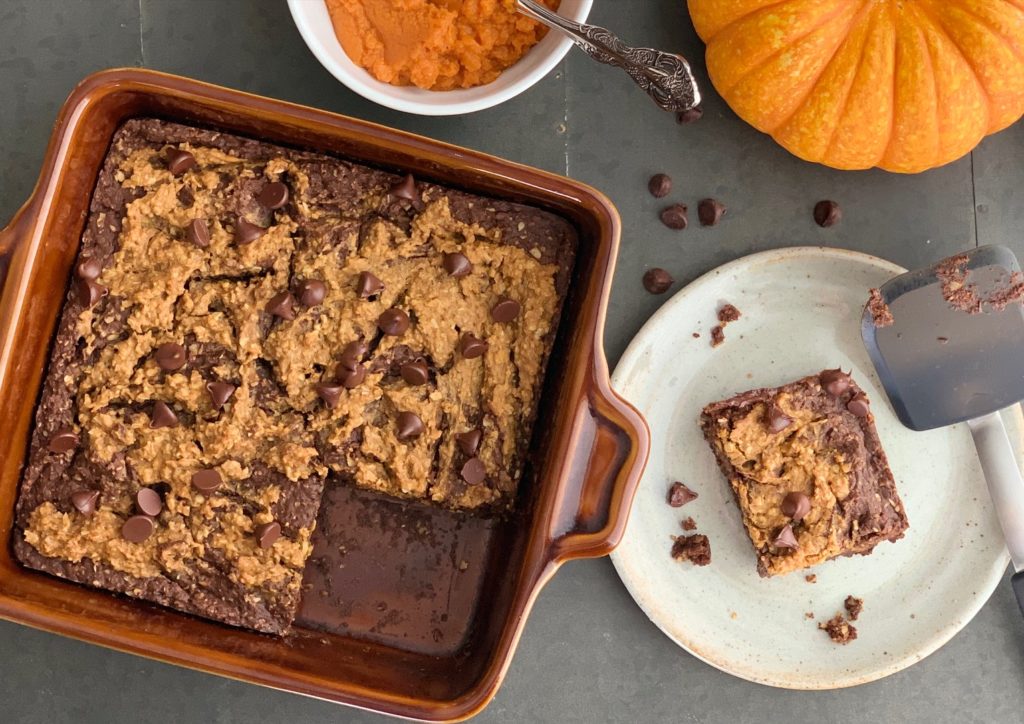 Stir up some smiles this week with a fall treat that lets everyone get in on the pumpkin spice action. Plant based and refined sugar free, these Vegan, Gluten-Free Pumpkin Spice Brownies are  a healthy treat you can feel good about eating. Packed with filling fiber from oats, flax, and pumpkin, plus an added boost of inulin from the coconut sugar, they're not just delicious, they're nutritious. The A, C, and E vitamins in pumpkin strengthen your immune system and help it to fight infections and viruses. More good reasons to add a shot of pumpkin to your meals. 
I made the recipe exactly as follows, but used peanut butter in place of the almond butter to make this nut allergy friendly. You could also use sunbutter or tahini if peanuts are a problem. Use any non-dairy milk you like, such as almond, oat, rice or soy. I used coconut milk, again, because of allergies. If you don't have pumpkin pie spice, you can use cinnamon plus a little bit of ground ginger, cloves, and nutmeg, and a dash of allspice if you have it. Make the oat flour from your pantry staple rolled oats. Pulse them in your blender until you have a flour-like powder, then measure out the quantity you need. Can't wait to try your brownies? Feel free to taste test the batter. No eggs or flour, so it's safe.  
Moist, cakey, and satisfyingly sweet, the chocolate is expected, but the pumpkin and spice make these even more nice. Make some and plan to make some more. They're  just right for snacks, dessert, lunch treats or even breakfast. While you're baking, give your spices a once over. It's a perfect time to toss anything that's old and restock anything you need for baking season. 
Vegan Gluten-Free Pumpkin Swirl Brownies
Flax eggs
2 Tablespoons ground flax
5 Tablespoons water
Wet
1/2 cup coconut sugar
2 Tablespoons maple syrup
1/2 cup canned pumpkin purée (not pumpkin pie mix)
1/2 cup almond butter
1/4 cup coconut oil
1/4 cup plant milk
1 teaspoon vanilla extract
Dry
1 1/2 cups oat flour
1 teaspoon baking powder
1/2 teaspoon pumpkin pie spice

 

1/3 cup cacao
chocolate chips (optional)
Make flax eggs: combine ground flax and water in a small bowl and mix together. Transfer tp refrigerator and let sit for 10 – 30 minutes. 
Preheat oven to 350º F. Combine coconut sugar, maple syrup, pumpkin purée, almond (or other nut or seed) butter, coconut oil, milk, and vanilla extract in a medium bowl and mix together. In a small bowl, combine oat flour, baking powder and pumpkin pie spice; stir together. Add dry ingredients to wet and mix. Add in flax eggs and mix until thoroughly combined. 
Measure out a scant 1/2 cup batter and set aside. Add cacao to remaining batter in bowl and mix until combined. Pour batter into an 8×8 greased baking dish. Spoon the reserved batter on top and lightly swirl into the chocolate batter. Bake 23-27 minutes. Scatter chocolate chips over still warm brownies. Let cool 15 minutes before slicing.
– recipe by Kristi Roeder, avocadoskillet.com