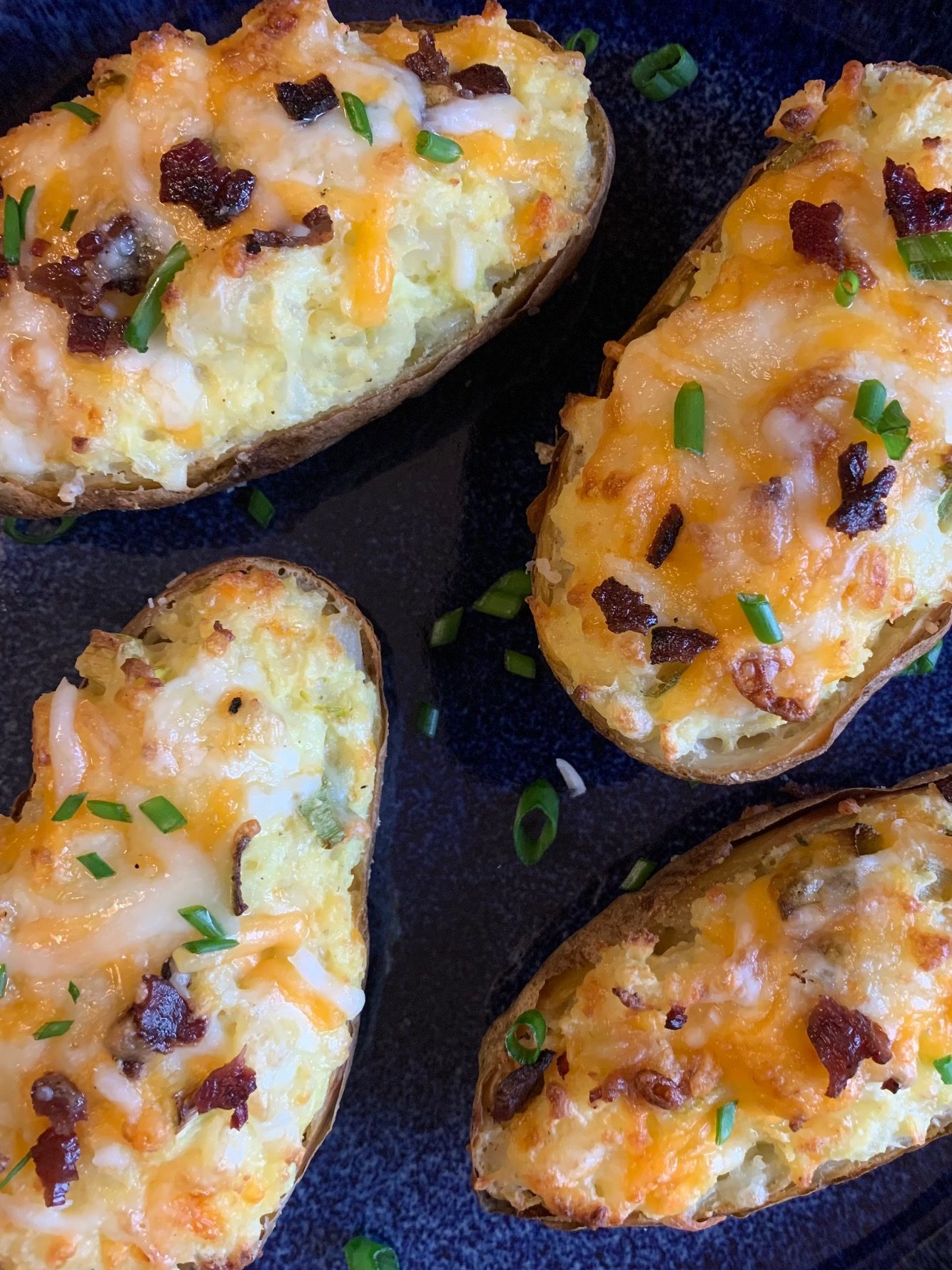 The holiday season is officially here! December 5th is National Comfort Food Day. It is also Repeal of Prohibition Day. Coincidence? I think not. But it definitely justifies a double celebration. Get your comfort where you can, and this week it's Twice-Baked Potatoes that are guaranteed to make you feel all better. 
Cheesy, fluffy, and oh-so-satisfying, the pillowy, warm filling nestled in the crispy, salty skin makes these pretty much the ideal comfort food. Yes, you can bake potatoes in the microwave, but baking them in the oven makes them divine. This technique, from The Kitchn, yields perfect results. Bake directly on the rack to let the air fully circulate around all sides: no flipping needed. You can cut a section off the top of each potato and stuff them whole, but I like to cut each potato in half and treat each half as its own potato. If the filling mixture seems too stiff, add a bit more sour cream. It should be fluffy and spoon easily. And don't bother dirtying your mixer. Just use a fork to lightly mash the filling.
Crispy outside, fluffy inside, they are old school delicious. Your holiday dinner needs these, but why wait? Make a nice dinner tonight. Stuff some potatoes and spread the joy.
Baked Potatoes
4 russet potatoes
olive oil
kosher salt
Heat oven to 425º F. Scrub potatoes thoroughly under cold running water. Pat dry. Prick potatoes in a few spots with the tines of a fork. Rub potatoes all over with olive oil. Season potatoes with a generous sprinkle of salt. Place on rack in middle of oven and bake for 50 to 60 minutes. Potatoes are done when the skins are dry and the insides feel soft when pierced with a knife. Refrigerate up to 3 days in an airtight container. Reheat directly on rack in a 325º F oven.
Twice-Baked Potatoes
4 baked potatoes
salt and freshly ground black pepper
1/2 cup sour cream
3 Tablespoons butter, softened

 

2/3 cup shredded cheddar cheese, plus more for topping

 

1/2 cup crumbled, cooked bacon, plus more for topping
1/3 cup chopped green onion
1 large egg yolk
Reduce oven to 400º F. Line a baking pan with parchment paper and set aside. Once baked potatoes are cool enough to handle, cut each potato in half. Use a spoon to scoop out the insides of the potatoes, transferring the cooked potato to medium bowl as you work. Leave enough potato around the inside of each half to give it stability, using care not to cut through the bottom or sides. Sprinkle the inside of each potato with salt and pepper. Add sour cream, butter, shredded cheddar cheese, bacon and green onion to bowl and mix together with potato, mashing any large pieces of potato with a fork. Add egg yolk and stir to combine. Stuff potato shells with filling and place them on baking pan. Bake for 20-30 minutes or until tops are golden brown. Remove potatoes from oven and sprinkle with additional shredded cheese and bacon. Return to oven to melt cheese, about 5 more minutes.