Tracy's Spinach Pesto and Butternut Squash Ravioli with Sage Brown Butter Sauce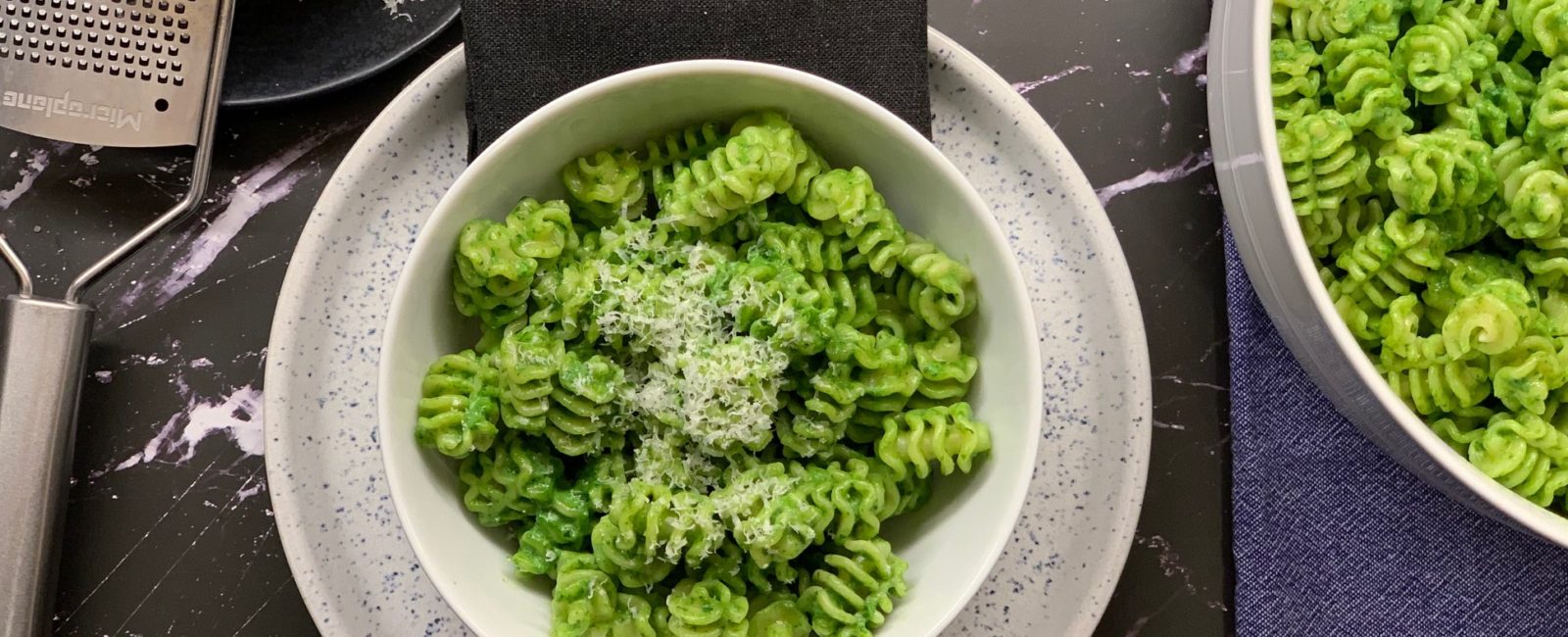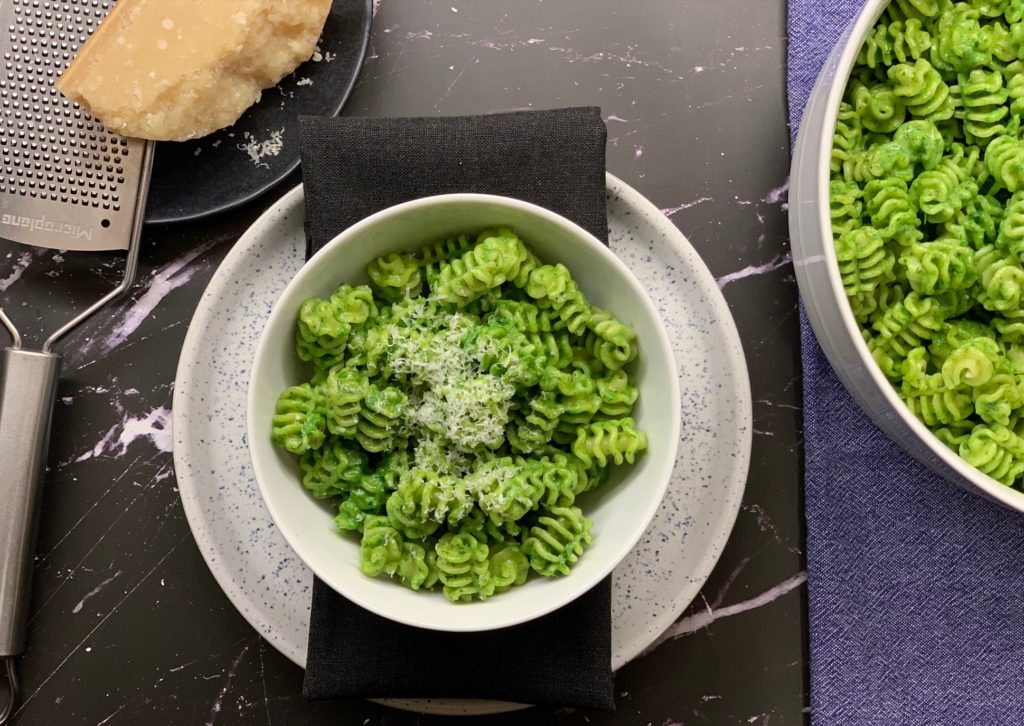 Growing up in an Italian-American family, Sunday was family day. It was a day for gathering and every Sunday gathering centered around a large pot of sauce. Starting early in the day, usually after breakfast, the smell of garlic warming in olive oil would fill the house. The smell is so familiar that it always tugs at my heart. That bubbling sauce was so fragrantly tempting, we couldn't wait for dinner, and more often than not we would convince my mom to ladle out a small bowl for us to eat with a piece of bread. Some Sundays, there was fresh pasta – wide ribbons of linguini or some of my mom's home made ravioli made with ricotta cheese from the local goat farm. They were light as a feather, and if you ever ate them, you would never be satisfied with restaurant ravioli again. Eating is serious business with our family, or as  my great-grandmother would say, "I don't eat spaghetti anyplace but my own kitchen."
The sauce formula is a simple one. Drizzle a good bit of olive oil into the bottom of a deep pot. Warm the oil over medium heat, then add 1 medium chopped onion. Cook and stir until translucent. Add 3 cloves of minced garlic. Stir and cook until fragrant, being careful not to burn. Pour in enough red wine to cover the entire bottom of the pot. Let this bubble and reduce. Add tomato – 2 or 3 cans of tomato sauce, or 1 can of sauce and 1 can of diced tomatoes, or a big jar or two of home canned tomatoes, and a can of tomato paste. Add some water, being sure to swirl it in all the cans to get all the sauce out. Add Italian seasoning, basil, some freshly ground black pepper, and a shake of red pepper flakes if you like. Cover and let cook on low heat all day, stirring every so often, until it becomes thick. Very often the sauce level would be considerably reduced by all that bread dipping. 
March is National Sauce Month. Get saucy and celebrate with two new dishes that use just a few ingredients and only take minutes to prepare. Both sauces are so simple, you can make and finish them in the time it takes the pasta to cook, proving that yes, you can make a delicious, restaurant style pasta dish in no time. 
Making pesto with spinach is genius. Unlike traditional pesto made with basil, this vibrant green sauce won't brown. Use fresh spinach and garlic for best results, especially important here because there are only 4 ingredients.  No need to mince the garlic for this recipe, just smash. Take your large-bladed knife and place the flat side down on top of the garlic clove. Point the sharp side of the knife away from you. Firmly press your palm down on the flat side of the knife until the garlic clove flattens. Don't fret about using 1/2 cup of olive oil. It may seem like a copious amount, but it is getting distributed over an entire pound of pasta. I used radiatori in place of cavatappi, because that is what I had on hand, but any other short sturdy pasta shape, like fusilli or rigatoni, would also work well. 
For another easy 4 ingredient recipe, try this Butternut Squash Ravioli with Sage Brown Butter Sauce. Flavorful and impressive, it comes together just as quickly as the spinach pesto, and is equally easy to make. If you don't have pine nuts, walnuts would be a great substitute. 
For a quick, easy meal you can enjoy at home, celebrate all things saucy!
Tracy's Spinach Pesto 
1/2 cup extra-virgin olive oil
4 large cloves garlic, smashed and peeled
1 1-pound box cavatappi
crushed red pepper flakes (optional)
1 6-ounce bag baby spinach
kosher salt
3 Tablespoons finely grated pecorino cheese, plus more for serving
Combine olive oil and garlic in a large skillet set over low heat. Cook until garlic has softened, about 10 minutes; the garlic should not take on any color. 
Meanwhile, bring a large pot of salted water to a boil.
Cook cavatappi in boiling water according to package directions, until pasta is al dente. When pasta is done, reserve 1/2 cup of cooking water, drain pasta and return to pot. 
While pasta cooks, if using red pepper flakes, add them to garlic-infused oil and cook for 30 seconds. Increase heat to medium high, then add spinach and a pinch of salt. Sauté, stirring often until completely wilted, about 3 minutes. Transfer spinach and all pan juices to blender; add pecorino and process until smooth.
Add spinach pesto to pasta and stir to coat, adding reserved water by the tablespoonful, if needed, until sauce is a creamy consistency. Spoon into bowls and serve immediately with a sprinkling of pecorino.  
Butternut Squash Ravioli with Sage Brown Butter Sauce
8 Tablespoons (1 stick) salted European butter
1 small handful (about 12) sage leaves
1 pound butternut squash ravioli
toasted pine nuts, for garnish (optional)

 
Bring a large pot of salted water to a boil. Melt butter in a large stainless-steel skillet set over medium-high heat. Stir constantly, until the milk solids of the butter turn amber in color and it has a nutty aroma, about 2 to 3 minutes. Turn off heat, add sage and stir; let steep.
Cook ravioli in boiling water according to package directions, until al dente. Use a spider strainer or slotted spoon to transfer ravioli into the butter sauce (don't worry if some of pasta water transfers as well). Return heat to medium high heat and cook, stirring gently, until ravioli are coated with sauce.  
Plate ravioli, then drizzle with butter sauce and garnish with toasted pine nuts. Serve immediately.   
– recipes by Anthony Contrino