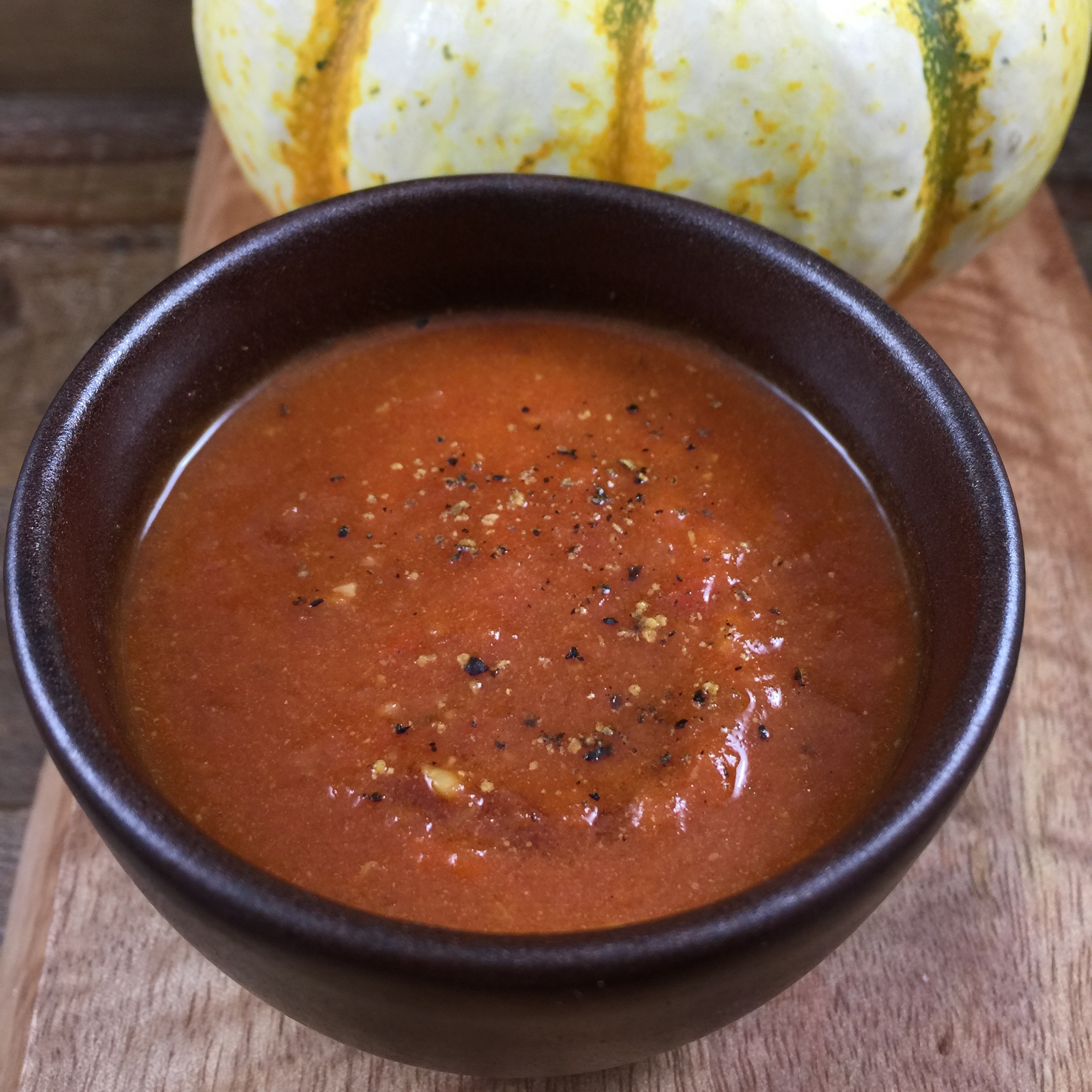 Batten down the hatches, the rain has returned.  As if on cue, someone has flipped the weather switch to "Halloween" and we have creepy, thick fog, blowing leaves, and plenty of rain.  It is plenty dreary and downright spooky out there, but hey, we're used to it.   Hot liquids are a must, and nothing warms you faster than a nice, steamy bowl of hot soup.  Doesn't that sound good right now?
I happened to catch Patricia Heaton's Halloween special on Food Network and watched her whip up a batch of home made tomato soup.  It was so effortless and quick, it motivated me to give it a try.  Let's just say I have not loved Patricia Heaton this much since I watched her stubbornly engage in a two week standoff over a suitcase with TV husband Ray Romano.
Things are slowing down in the garden, but I am still being gifted with beautiful, end of season tomatoes.  And so…   The return of our wet, rainy weather and the last of this season's tomatoes were a perfect storm for making a big pot of soup.  It was so fast, easy, and really good it made me wonder why I ever bought the red and white canned stuff.
You can do this.  Home made tomato soup made faster than you can say "Mmm, mmm good."   Seriously.  It is just as easy to open two cans of tomatoes as it is to open one can of soup.  And, when you make your own soup, the ingredient list will be whole food and have real ingredients – no preservatives, chemicals, or artificial anything.   You can use organic tomatoes.  And you can feel good about what you're eating.
I made a few minor changes to lighten the original recipe.  Less butter and evaporated milk in place of the cream, but don't get too caught up in it.  Just use what you have and make some soup.  Serve this all by itself, or pair it with some toasted or grilled cheese sandwiches and you have something warm and home made to enjoy over this blustery weekend.
Tomato Soup
1 tablespoon unsalted butter
1/2 medium onion, chopped
1 clove garlic, finely chopped
1 teaspoon fresh thyme leaves, chopped
Two 14.5 ounce cans organic diced tomatoes 
1 1/2 cups chopped fresh tomatoes
1 1/2 cups chicken stock
1/4 cup 2% evaporated milk
Freshly grated nutmeg
Kosher salt
Freshly ground black pepper
Melt butter in a medium pot over medium heat.  Add onion and cook, stirring occasionally, about 5 minutes.  Add garlic and thyme and continue to cook and stir until golden and fragrant.  Increase heat to medium-high and add canned tomatoes, fresh tomatoes, chicken stock and milk.  Bring to a brisk simmer, then reduce heat to low.  Continue to simmer, stirring occasionally, until slightly thickened – about 20 minutes.  Puree with an immersion blender.  Add a small bit of nutmeg and season with salt and pepper.  Serve in cups or small bowls.
I reduced the amount of butter by half and substituted evaporated milk (because that is what I had on hand) for the cream.  If you had whole milk, or half and half, I think those would work equally well.  It would also be fine to use an alternate milk, like coconut, rice, or almond.  The original recipe called for a can of fire roasted tomatoes, but again, I used what I had, and also, having some extra fresh tomatoes, I decided to use those, too.   If you don't have fresh tomatoes, you can use another can of diced tomatoes.
I made the chicken stock using concentrated chicken base (Organic Reduced Sodium Better Than Bouillon Chicken Base) that I keep in my fridge.  It adds flavor to soups, casseroles, rice, potatoes and vegetables and is good to have on hand to make home made chicken soup when someone gets sick.
Puree to your own desired consistency.  I like to leave it a little chunky.  (That's how you know it's home made!)  And finally, you could add a little fresh basil for a tomato basil soup just like having lunch at Nordstrom.  The only thing I didn't like about this soup was how fast it disappeared.  I had really hoped for leftovers, but I guess I'll have to make more.   Thanks, Patricia!