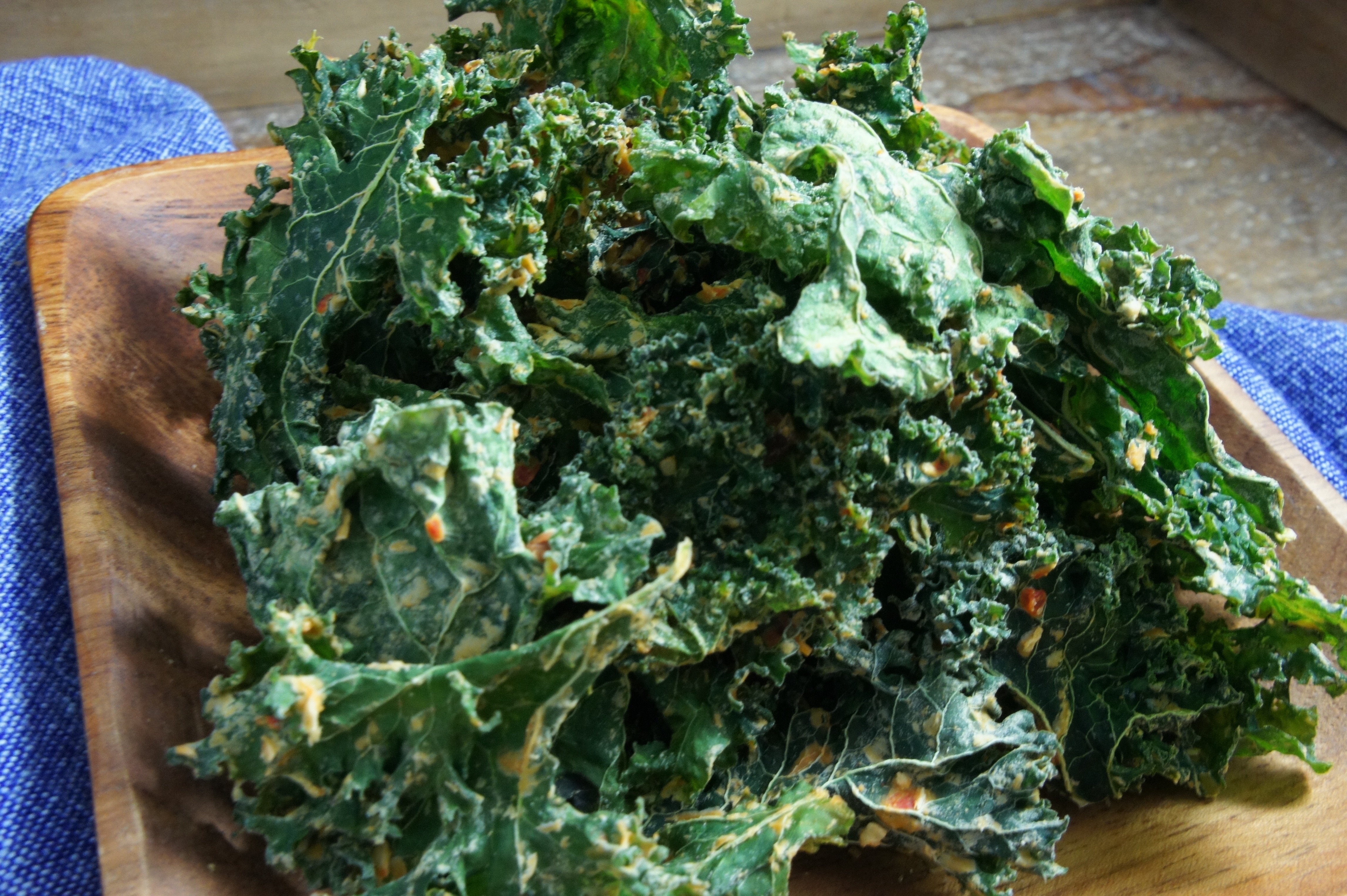 Every house has one, and in our house it's me.  I am the one who persists tirelessly in the quest to use every last drop of something.  Long after my husband and kids give up, I will stand ketchup bottles on their lids, cut lotion tubes in half, and use a long handled spatula until I get the last bit out.
It is not that I am wonderfully thrifty.  I just think that if you save money one place, you will have money to spend someplace else.  Maybe on something you actually want to spend it on.  Why waste your mustard?
I was in the grocery store a few months ago, and started talking to another shopper on the cracker aisle.  We were looking at the kale chips and lamenting about how expensive they were.   I like kale chips a lot because they travel well.   I don't like that they are between $5 and $7 for a 2 ounce package.  They are by no means a potato chip, but they have all the salty, crunchy, crispiness with a lot more nutrition.  Kale chips are not hard to make.  Besides the kale, there are not a lot of ingredients, and if you make them yourself you can make substitutions, which is what made me try making them at home.   We have nut allergies in our family, and most kale chips have cashews in them.
If you have a dehydrator, you can replicate the store bought ones very easily.  It will allow you to dry 2 bunches of kale and make quite a lot of kale chips.  The dehydrator also lets you dry the kale at a very low temperature, preserving nutrients, which is one of the big selling points of the store brands.  Be sure to start checking in for crispness after about 8 hours, although depending on your dehydrator and how much kale you are using, this could take as long as 12 hours.  You can also dry them in the oven at 300 degrees.  Spread onto baking sheets and bake for about 25 minutes, rotating sheets after 10 minutes.
This is a great summer recipe for kids.  If you have little helpers, they can wash and tear the kale, and help to mix the kale and seasonings with their hands.   Let them taste the seasoning mix and help you adjust the seasonings.  Watching the dehydrating process is pretty interesting, too.  And score one for you – kitchen help, a fun activity, you saved some money, and you got your kids to eat a vegetable.  (Not to mention that you made a whole lot of kale chips for a little over $2.)
Thai Kale Chips
2 bunches kale 
1/3 cup creamy peanut butter
2 tablespoons unsweetened shredded coconut
1/2 large roasted red bell pepper (jarred)
1 lime, juiced 
1/4 cup water
1/2 teaspoon sea salt
1 teaspoon dried jalapeno
Rinse kale.  Tear into chip-sized chunks, removing the thick stem portion.  Transfer kale pieces to colander or salad spinner, rinsing well and drying to remove most of the water.  Combine all remaining ingredients in blender, mixing well.   Mixture should be fairly thick and batter-like.  Taste and adjust seasonings.  Transfer kale to large bowl and pour seasoning mixture over, using hands to mix and coat kale evenly.   Spread kale onto drying racks of dehydrator and set to 105 degree setting.  Let dry for approximately 12 hours, checking to see if chips are dry enough after 8 hours.  Store in a cool, dry place.
One thing leads to another…  If I am going to dirty my blender, I am going to make it worth my while and make several things in one big mix session.  First, I made a double batch of salad dressing, then I made a huge batch of hummus, and finally I finished with the kale chip seasoning.