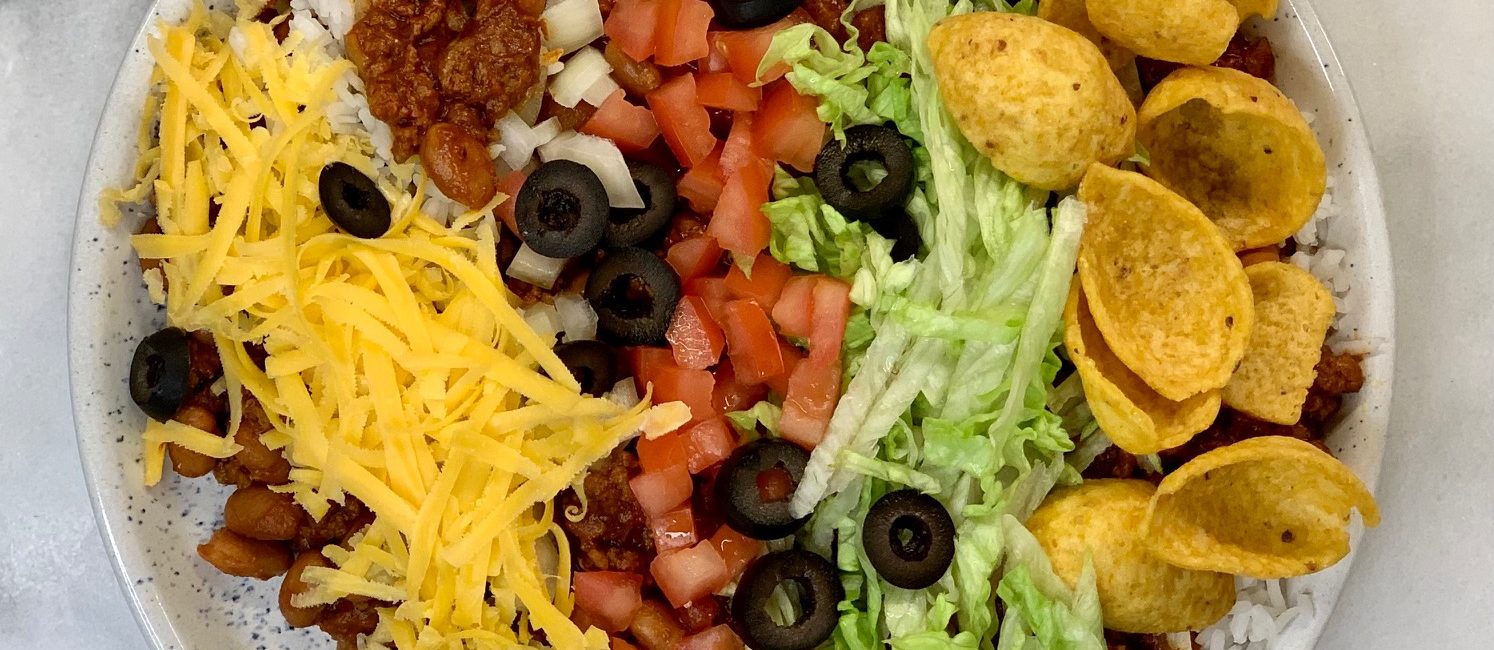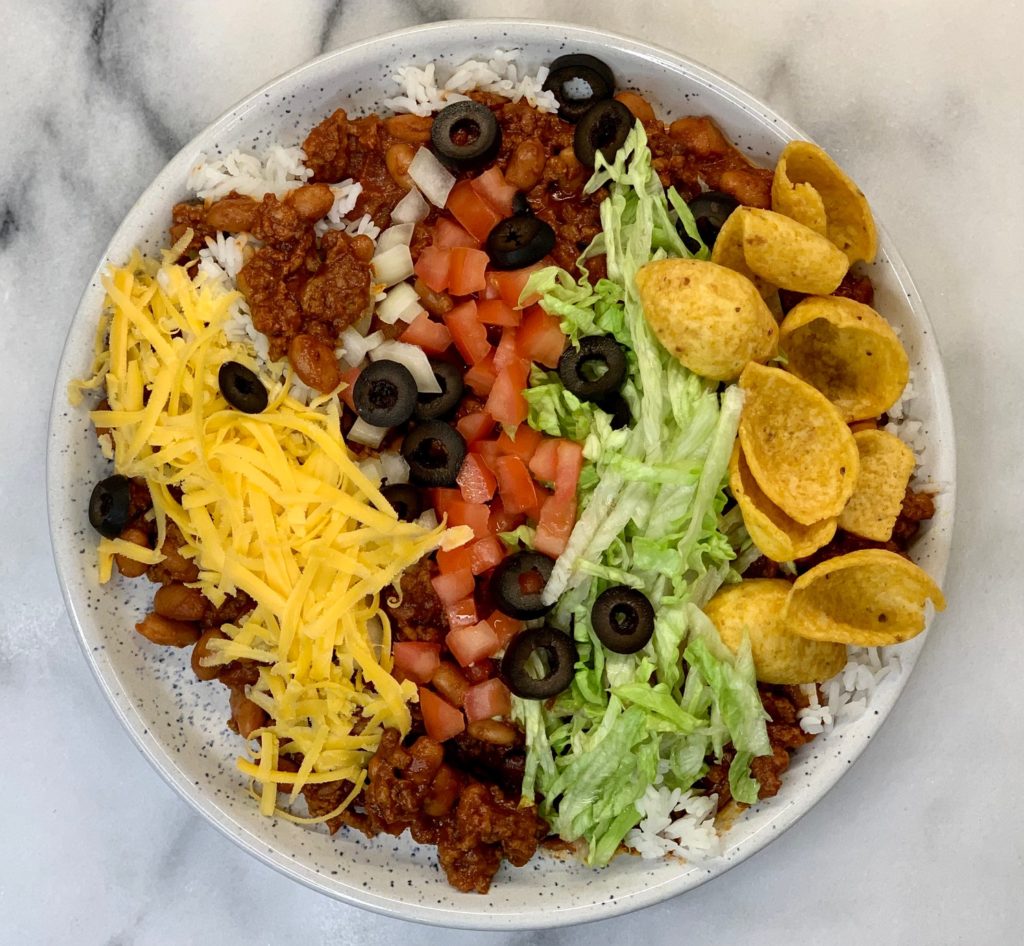 There's no party like a football party and Super Bowl is the biggest one all year. Get ready for game day with three easy dips that are just waiting to be added to your lineup. Fast, flavorful and hearty, this Texas Taco Dip Platter is as much fun for the big game as it would be for a speedy weeknight dinner. I used 92% lean ground beef, but ground turkey would also work well here, and keep it healthier just the same. I made a half recipe, which still ended up being generous, and the ground beef and seasonings were cooked in only 30 minutes. You can cook the beef and bean mixture a day or two in advance if your game plan is to make it ahead. Omit the ground beef and just stick to the beans and rice to make this an excellent vegetarian option, or you could add plant-based crumbles if you like. If you are dairy-free, Daiya Cheddar Style Crumbles are a delicious alternative. Garnish with some fresh cilantro or chopped green onions and serve with sour cream, guacamole, and pickled jalapeño rings to score some extra points.
Next, add something bright and fresh. Go beyond the guacamole. A bowl of Chunky Mango Salsa brings a sunny taste of the tropics. Adding mango to your salsa gives it more than just a punch of vibrant color. Packed with antioxidants and fiber, mangoes are high in vitamin C, plus they are delicious. You can double or quadruple this recipe to feed a crowd, or make it just as is. Get a head start by chopping the onion, tomato and mango ahead of time, then add the avocado just before serving.
Finally, think outside the buffalo wings. I have made Mini Buffalo Chicken Meatballs, Buffalo Chicken Tenders, and Buffalo Chicken Potato Skins, but why not make a dip? This Slow-Cooker Buffalo Chicken Dip is a fan favorite, plus it's easy on you. Making it in your slow-cooker means you can watch the game instead of watching the oven. Use reduced-fat cream cheese (Neufchatel) and Cheddar to make it a bit lighter, and depending on your teammates, consider cutting the recipe in half. Made as directed, this recipe makes 64 servings. Don't have ranch dressing? Make ranch seasoning by combining 1 teaspoon dried parsley, 1 teaspoon onion powder, 1 teaspoon garlic powder, 1 teaspoon dried dill, 1 teaspoon dried chives, 1 teaspoon salt and 1/4 teaspoon pepper. Mix seasoning with 1/2 cup sour cream, 1/3 cup buttermilk and 2 tablespoons of mayonnaise.  
And let's face it, those celery and carrot sticks that go along with the wings are the only chance you have at getting anyone to eat a vegetable on game day. Making a great dip will increase those odds. It will also give you license to put out some other veggies, "just in case." Cut up extra as you go and you'll be ready for the coming week ahead.
Dip in and enjoy the game!
Texas Taco Dip Platter
2 pounds ground beef
1 large onion, chopped
1 can (14 1/2 ounces) diced tomatoes, undrained
1 can (12 ounces) tomato paste
1 can (15 ounces) tomato purée
2 Tablespoons chili powder
1 teaspoon ground cumin
1 teaspoon garlic powder
1 teaspoon salt
2 cans pinto beans, drained
2 cups hot cooked rice
1 package (9 1/4 ounces) corn chips
toppings:
1 cup shredded cheddar cheese
1/2 medium onion, chopped
shredded iceberg lettuce
chopped tomato
1 can (2 1/4 ounces) sliced ripe olives, drained
1 cup picante sauce, optional
Cook ground beef and onion in a Dutch oven over medium heat, breaking up meat with a spoon as it cooks. Cook until beef is no longer pink; drain if needed. Add chili powder, cumin, garlic powder and salt. Stir and cook for 1 minute. Stir in diced tomatoes, tomato paste, tomato purée; cover and simmer for 1 1/2 hours. Add beans and heat through.
Layer the meat mixture, rice, cheese, onion, lettuce, tomatoes, olives and corn chips on a platter. Serve with picante sauce and additional corn chips.
– tasteofhome.com
Chunky Mango Guacamole
3 medium ripe avocados, peeled and chopped
1 large mango, peeled and chopped
1 large tomato, chopped
1 small red onion, chopped
1/4 cup chopped fresh cilantro
3 Tablespoons fresh lime juice
1 teaspoon salt
assorted fresh vegetables and tortilla chips
Combine avocados, mango, tomato and onion in a large bowl. Stir in lime juice and salt. Serve with fresh vegetables and tortilla chips. 
– tasteofhome.com 
Slow-Cooker Buffalo Chicken Dip
2 packages (8 ounces each) cream cheese, cut into chunks
4 cups shredded cooked chicken
1 cup Frank's RedHot Original Cayenne Pepper Hot Sauce
1 cup ranch dressing
1 cup shredded Cheddar cheese, divided
2 Tablespoons chopped green onions
Blue cheese crumbles (optional)
Add cream cheese to slow-cooker. Top with chicken, Frank's RedHot, ranch dressing and 1/2 cup of Cheddar cheese. Cover.
Cook on high 1 1/2 to 2 hours or until heated through. Stir until thoroughly mixed. Top with remaining 1/2 cup of cheese and sprinkle with green onions. Cover and cook 15 minutes, or until cheese is melted. Top with blue cheese crumbles, if desired. 
– franksredhot.com