Sunday Morning Football Waffles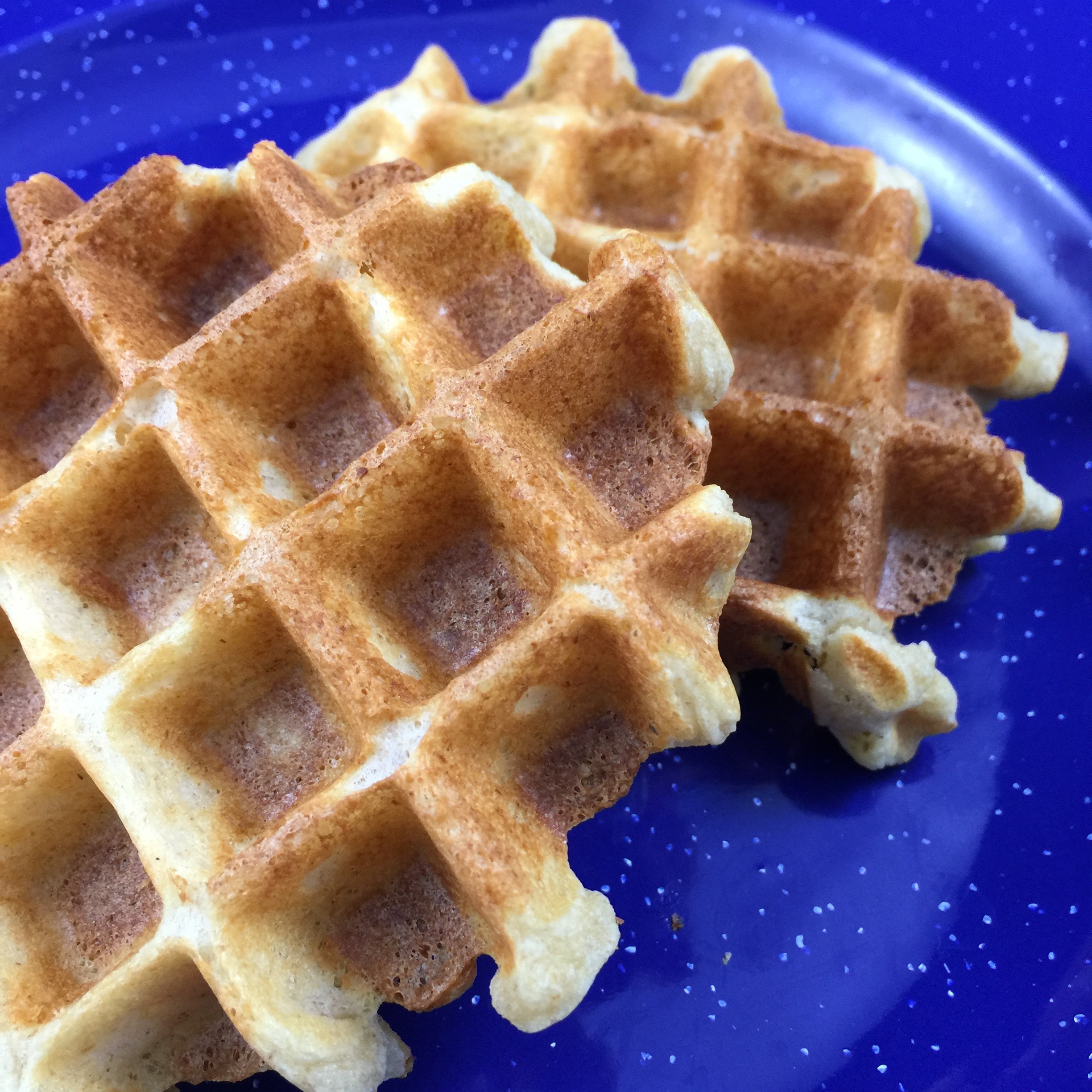 Before the Seahawks played the Vikings in the Minnesota tundra last Sunday, I started trying to think of breakfast foods that would make you feel warm.  I wanted something that was fun, and showed team spirit.   And commiseration.   Hot cocoa came to mind.  And then, it was waffles.  Admittedly, I have not eaten a waffle for a very long time.   A Google search turned up these amazing, easy, waffles that I made last Friday.  I was so astonished that I couldn't wait to share them, but then I became terrified to write this for fear that it would throw the game.  Ridiculous, I know, but I am very superstitious, which I can't help because my predictions always seem come true.  So, I held this back.  Just in case…
You know it's cold when men put on hats.  I was torn between watching, thinking that it might throw things, and not watching, thinking that it might throw things.  I tried crossing my fingers for good luck.  I got my lucky Seahawks napkins out and walked around wearing a ridiculous, striped, (with braids), Seahawks ski hat – just for luck – in my own house.  As it turned out, the game was so intense all we ate was chewed fingernails.  In the end, all was fine and, well, you know the rest of the story.
These are the home made waffles of your dreams.  You have to make these because they are really good.  They are fluffy and crispy, and if you have any left over, they freeze well.  I am not going to use the words gluten-free, or oats, because I don't want to discourage any of you from giving these a fair chance.  My impartial tester said they were really good, and didn't even know they were gluten-free.  I don't want you to be put off by the oat flour, because guess what?  If you have old-fashioned oats you use for oatmeal, you have oat flour in your house right now (see below).  The original recipe, which follows, is Easy Gluten-Free Oat waffles from the Cookie + Kate blog.  If you are not gluten-free, just use regular oats.  For those of you that are gluten-free, you probably already know about the great gluten-free variety of Bob's Red Mill products, which I readily admit to being partial to.  I did not use the cinnamon, but was generous with the vanilla.  I used 1% milk, coconut oil, and swapped 1 teaspoon of agave in place of the maple syrup.  I made amazing, delicious waffles.
You can make amazing, delicious waffles, too.  If you wanted to make something warm and fun for when you watch whatever team you happen to be watching (can't be too careful) play on Sunday, give these a try.  And keep your fingers crossed.
Sunday Morning Football Waffles 
1 1/2 cups oat flour*
2 teaspoons baking powder
1/2 teaspoon salt
pinch of cinnamon (optional)
3/4 cup room temperature milk of choice (light coconut milk, nut milk, cow's milk)
1/4 cup + 1 tablespoon melted coconut oil, or 5 tablespoons butter, melted
2 large eggs
2 tablespoons maple syrup
1 teaspoon vanilla extract
In a large bowl, whisk oat flour, baking powder, salt and cinnamon.  In a separate bowl, whisk milk, melted coconut oil or butter, eggs, maple syrup, and vanilla extract.  Pour wet ingredients into the dry ingredients and stir just until combined.  (Batter will still be a little lumpy.)  Let the batter rest for 10 minutes and plug in waffle iron to preheat.  Preheat oven or toaster oven to 200 degrees.  Stir batter one more time after letting it set up.  Pour batter into the center of waffle iron and close lid.  Cook until waffle is golden and crisp and releases easily.  Transfer directly onto rack in warm oven or to a cooling rack.  Do not stack.  Repeat with remaining batter.  Serve with warmed maple syrup.
*To make your own oat flour, measure 1 1/2 cups quick-cooking or old-fashioned oats into a food processor or blender and grind into a fine flour.  Measure the flour again after grinding to be sure you have 1 1/2 cups.
If you want to freeze these waffles, freeze in a single layer on a cooling rack.  Once frozen, store in freezer-safe ziptop bags.  Warm in toaster or oven.