Summer Heirloom Tomato and Goat Cheese Gratin with Herbs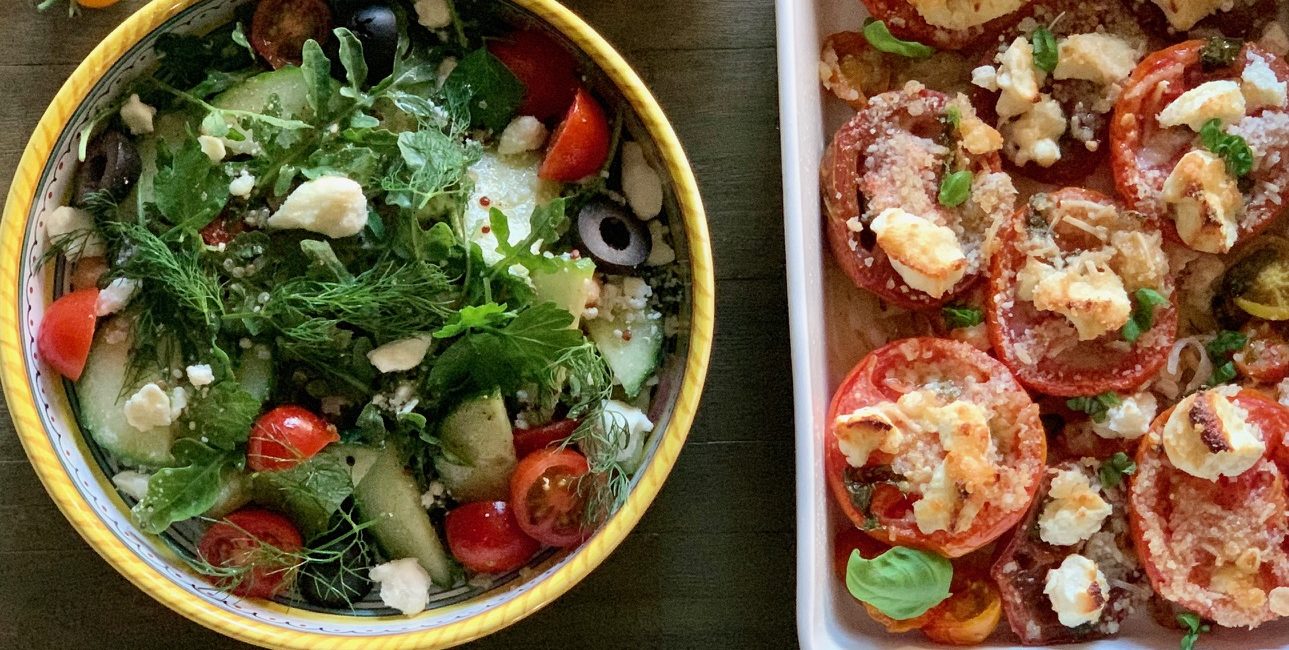 Summer goes by so fast. Just when you really start to get the hang of it, it's suddenly Labor Day. Then, before you know it, it's over. Be sure to make the most of it. Eat fresh and eat seasonal every chance you get.
No matter how you say tomato, the season is upon us. There is nothing quite like a juicy, fresh picked tomato, whether it's from your own vine or warmed from the sun at the market stand. Embrace tomato season with this easy gratin. Bursting with sun-ripened tomatoes, this simple recipe is an easy weeknight supper you'll be eager to make again and again. 
Select a baking dish that is microwave and oven-safe. You can microwave the onions in this first, then finish the rest of the dish in the oven. Use small, ripe tomatoes, or adjust your larger ones by taking a few slices out of the middle, which is what I did. Pop the slices into the fridge so they're ready to go for sandwiches, burgers, or a quick caprese salad. Scoop the pulp out of the tomatoes before roasting, so your gratin doesn't turn soupy. Save what you scoop in a small jar and refrigerate. Add vinegar, oil, salt, pepper and some fresh basil and make a delicious fresh tomato vinaigrette. You'll want a creamy, firm goat cheese for this recipe. It will need to hold up against the juices and form a sturdy crust. I opted to leave the poblano pepper out, but will give it a try the next time I make this. Be ready with plates, forks, knives and some crusty bread. This smells so good while it's baking, it will be hard to wait. (Spoiler alert: it's heaven!)
Next, make a Fonio Grain Salad with Herbs, Summer Vegetables and Chickpeas. This make-ahead salad of ripe cherry tomatoes, diced cucumbers, chickpeas, feta, olives and fresh herbs mixed with peppery arugula, a scoop of fonio and a light vinaigrette is a splendid summer meal. You can also add a portion of grilled fish or chicken on top and make it a heartier meal.
Fonio has been cultivated in Africa for more than 5,000 years. A nutty-flavored kind of millet, this tiny ancient grain is tender, gluten-free and packed with nutrients. It has cystine and methionine, two amino acids that make it a favorite to be baked into bread for diabetics or those who have celiac disease. It cooks up quickly and is much like a cross between quinoa and couscous, both in appearance and texture. With the highest calcium content of all grains, fonio can be a good choice for those who don't consume dairy. You can find fonio at Whole Foods market, or order it off Amazon. 
Soak it all in. Eat up every moment of this beautiful season.
Summer Heirloom Tomato and Goat Cheese Gratin with Herbs
1 small onion, thinly sliced
1 poblano pepper, halved, seeded and shiny sliced (optional)

 

1/3 cup olive oil, plus extra for drizzling
kosher salt and freshly ground black pepper
6 sprigs fresh thyme
3 pounds small tomatoes, halved crosswise
6 Tablespoons basil leaves, roughly torn
6 ounces fresh goat cheese, broken into large crumbs
1/3 cup breadcrumbs
1/3 cup Parmesan cheese
crusty bread (optional)
Preheat oven to 450º F. Place sliced onion and pepper (if using) in a microwave-safe baking dish and toss with 2 tablespoons olive oil, a pinch of salt and thyme sprigs. Cover with plastic wrap and microwave until onions soften, about 2 1/2 minutes. Remove from microwave and let rest, covered, until slightly cooled. 
Uncover dish and discard thyme. Spread onion mixture evenly across the bottom of baking dish. Using a spoon, scoop and discard seeds and pulp from tomatoes. Season the interior of the tomatoes with salt and pepper, then place tomatoes over onions, cut side up, in a snug layer. 
Scatter tomatoes with half of the basil, then top with an even layer of crumbled goat cheese. Top with breadcrumbs, Parmesan, and remaining olive oil. 
Bake until tomatoes are soft and goat cheese bubbles and is brown in spots, about 20 minutes. Remove the gratin from oven and let rest at least 5 minutes. Top with remaining basil leaves and drizzle with olive oil. Serve immediately, with bread for dipping, if desired. 
– adapted from Doug Psaltis
Fonio Grain Salad with Herbs, Summer Vegetables and Chickpeas
2 Tablespoons white wine vinegar
juice of 1/2 lemon, plus more for seasoning
1 clove garlic, finely grated
1/4 cup plus 2 Tablespoons olive oil, plus more for seasoning
1 pinch chile flakes
kosher salt and freshly ground black pepper
3/4 cup black or green olives, pitted and roughly chopped
1 shallot or 1/4 red onion, thinly sliced
1/2 English cucumber, halved lengthwise and thinly sliced into half moons
1 1/2 cups cooked chickpeas
1 1/2 cups cherry tomatoes, halved
1/2 cup crumbled feta cheese
1 cup cooked fonio, prepared according to package directions (quinoa, couscous or millet can also be used)
1/4 cup roughly chopped dill
1 1/4 cup arugula leaves
Make the dressing: In a large bowl, combine vinegar, lemon juice, garlic, olive oil and chile flakes. Whisk together, then season with salt and pepper to taste.
Add olives, shallot or onion, cucumber, chickpeas, tomatoes, feta and cooked fonio to the bowl and toss to combine. Stir in parsley, dill, arugula, and remaining 2 tablespoons olive oil.
Let rest for a few minutes then adjust seasoning, adding more salt, pepper, oil or lemon juice if needed. Serve immediately, or can be served later at room temperature. 
– adapted from Tiffany Derry