Spinach, Ricotta, and Basil Omelette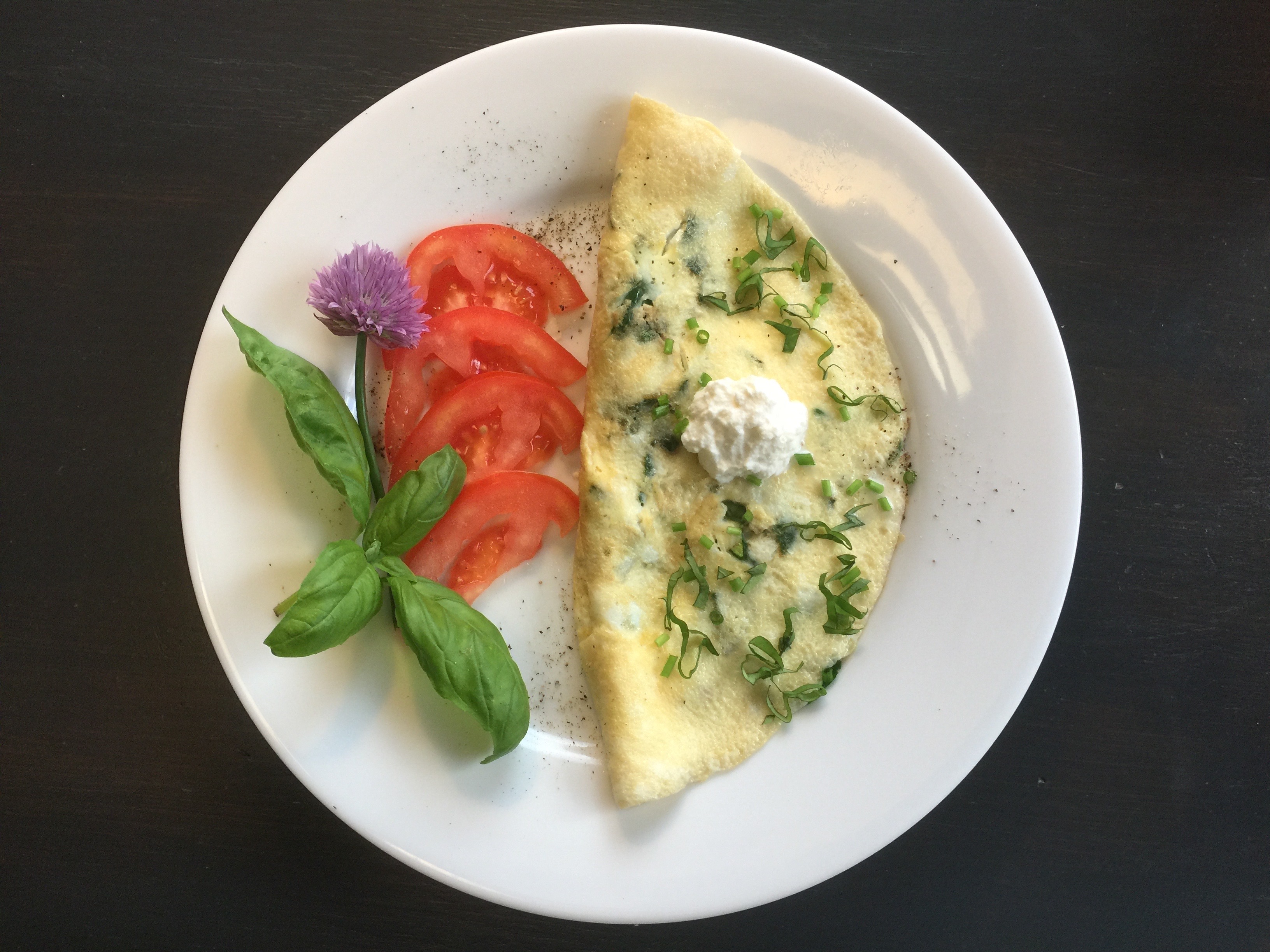 O-m-e-l-e-t-t-e,  o-m-e-l-e-t, any way you spell it, an omelette is a great thing to know how to make.  Today is National Egg Day, they have recently declared a new Spelling Bee champion, and these two events have converged in a quick little blog.
I am a speller.  I read the dictionary for fun, proofread my text messages, and find spell check amazing, even if I do feel that it's cheating a bit.  Misspelled words, anywhere, drive me crazy.  My kids find this ability amusing, love testing me ("Mom!  Spell catatonic…"), and regard me as the household dictionary.  Once upon a time, a long time ago, in a school district far, far away, I was the city-wide Spelling Bee Champion.  Other kids had illustrious sports careers, trophies and awards lining the shelves of their rooms…  I had the spelling bee.  You have three short years to compete in the spelling world, and then your chance is over.  I tried and failed for two years, but the third year was magic.  I have a small trophy, and a big dictionary with my name inscribed in it.  I will show it to anyone who feigns the least bit of interest because it is all I have from my school years.
I went on to the State Competition and took 6th place.  The girl who won state that year came from a family of spelling bee winners (I think 8 in all) and ended up winning the nationals.  (Spelling is genetic.)  That spelled the end of my spelling career, and I can't help but watch wistfully every year as a new batch of spellers gets their chance.  I feel their joy when they get it right, and share their despair when they get it wrong.  It will always have a place in my heart, and I still get sweaty palms as I spell along with the tv.  This year's winning word  "marocain" broke a tie that went on and on.  Congratulations to Ananya Vinay.  You should be very p-r-o-u-d of all your hard work!  Now about that omelette…
If you have 3 eggs and a non-stick pan, you are on your way to a fast, easy meal that works for breakfast, lunch, or dinner.  It is also a good solution when you have little or nothing in your fridge and just need to eat something quick.  (Make sure to add eggs to that pre-vacation grocery list and you will have a late-night or early morning meal when you come home.)
There are lots of ways to make an omelette, but I like to keep it simple.  A good non-stick pan is important.  You can use butter or non-stick spray in your pan, but I use olive oil because why not get the health benefit?  Fillings can be anything you like, complicated or simple, depending on the contents of your fridge, but generally, most veggies you use for your filling should be lightly sautéed or roasted.  Exception:  raw spinach leaves (or other fresh greens), as used in this recipe.  You can also add frozen spinach or kale, sprinkled straight from the bag in your freezer, which is what I often do, shortly after the egg begins to set up.  It works perfectly!  Add bacon, sausage, or ham and any kind of cheese that you like.  Use fresh herbs if you have them.  I use one whole egg, and two whites, but you can use all three eggs if you like.  While you're at it, make 2.  You can plate the second omelette, cover with cling wrap, and reheat gently in the microwave for tomorrow's breakfast.  For more about omelettes, here's a great article by Melissa Clark.  D-E-L-I-C-I-O-U-S!
Spinach, Ricotta and Basil Omelette
1 tablespoon butter, olive oil, or non-stick cooking spray
3 eggs
1/4 cup fresh spinach leaves
2 tablespoons ricotta cheese
4 fresh basil leaves
sea salt and freshly ground black pepper
Crack eggs into a medium bowl or Pyrex measuring cup and whisk with a fork until egg yolks and whites are incorporated.  Place a 8 or 9-inch non-stick skillet over medium to medium-high heat and coat bottom and sides liberally with olive oil, or non-stick spray.  If using butter, melt until bubbling subsides.   Pour in eggs, tipping pan if necessary, to make sure they cover the entire bottom of the pan.  As eggs begin to set, top half of omelette with spinach leaves, and small spoonfuls of ricotta.  Stack basil leaves, roll them into a cigar, and hold over omelette.  Cut into thin ribbons using kitchen shears or herb scissors so that basil falls directly into omelette.  Once eggs look set, gently lift the egg only side, using a rubber spatula to fold the omelette in half.  Slide or flip onto plate.  Serve with sea salt and freshly ground black pepper.