Spicy Thai Coconut Chicken Soup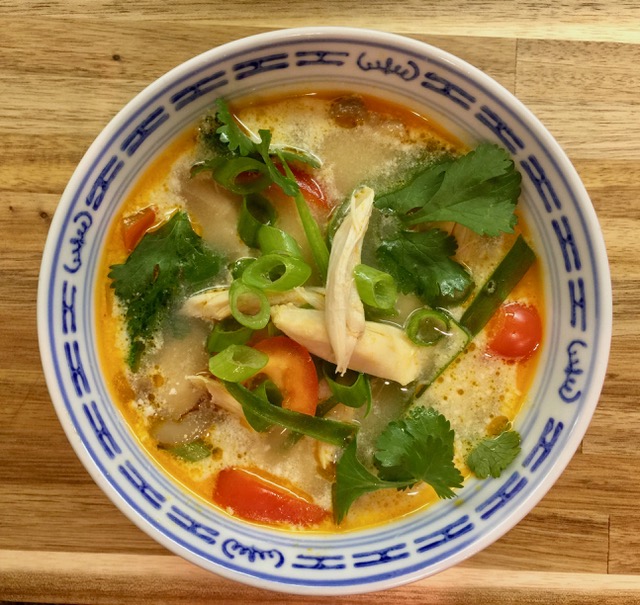 January is National Soup Month, and it couldn't come at a better time.  If ever there was a time for soup, the time is now.  It is freezing cold outside, and brace yourself …  there is more to come.  A warm pot of soup is just what you need to chase the chill, and even better, it tastes just like your favorite Thai food.   Spicy Thai Coconut Chicken Soup is from the December 2011 issue of Cooking Light magazine and it is an enthusiastic favorite of our family.  I have made it dozens of times, and swear that in addition to it being five star good it has healing properties.  It has cured more than a few head colds, and once even trounced a bout of pneumonia.  Not your ordinary soup.
The first time I made this, I had to substitute Thai red curry paste for the sambal oelek (ground fresh chile paste) that the original recipe called for.  When I did make it with the sambal oelek, I was disappointed.  The curry paste gave it a better flavor.  Also, if you can't find lemongrass, which is often a little scarce in the produce department, the curry paste will let you get along without it.  Because the curry paste contains red chili pepper, garlic, lemongrass, galangal (Thai ginger), salt, shallot, spices, and kaffir lime, you could technically just use that and bypass the garlic, ginger, and lemongrass altogether.  But I typically use the garlic, ginger, and lemongrass, if I can find it.  Slice and dice if you have time, because I think using fresh garlic and ginger is better for you, and you want to get over that cold, right?
You can use any kind of mushrooms.  Shitake, white button, or a mixed variety, will all work well in this recipe.  I make a quick 3 cups of chicken broth out of water and 3 teaspoons of Better Than Bouillon Roasted Chicken Base.  Keep this on hand in your fridge at all times.  It is great to cook with and you will be ready to make soup any time someone gets sick.  If you are a fan, add the fish sauce, but I  still can't bring myself to use it, so I omit it altogther.  You can skip the sugar if you want, but the small amount used here adds the flavor we are so used to in Thai food.  I use coconut palm sugar, and only use a scant teaspoon.  If you have leftover chicken, here is where you use it.  If not, add a rotisserie chicken to your grocery cart before you head home to ride the storm out.  You can eat some of it as is, and use the rest in this recipe.
Glance through this ingredient list, grab what you need from the store, and settle in.  Make a big pot of soup for dinner and warm yourself.
Spicy Thai Coconut Chicken Soup
2 teaspoons canola or coconut oil
1 cup sliced mushrooms
1/2 cup chopped red bell pepper
4 teaspoons minced, peeled fresh ginger
4 garlic cloves, minced
1 (3-inch) stalk lemongrass, halved lengthwise
2 teaspoons Thai red curry paste
3 cups chicken stock, or reduced sodium chicken broth
1 1/4 cups light coconut milk
4 teaspoons fish sauce
1 tablespoon sugar
2 cups shredded, cooked chicken breast (about 8 ounces)
1/2 cup green onion strips
3 tablespoons chopped fresh cilantro
2 tablespoons fresh lime juice
Warm a large stock pot over medium heat.  Add oil and swirl to coat bottom of pan.  Add mushrooms and next 4 ingredients (through lemongrass), and cook 3 minutes, stirring occasionally.  Add curry paste, continue to cook and stir, 1 minute.  Add chicken stock, coconut milk, fish sauce and sugar; bring to a simmer.  Reduce heat to low and simmer for 10 minutes.  Add chicken to pan and cook 1 minute, or until thoroughly heated.  Discard lemongrass.  Top with green onions, cilantro, and lime juice.