Spicy Thai Coconut Chicken Soup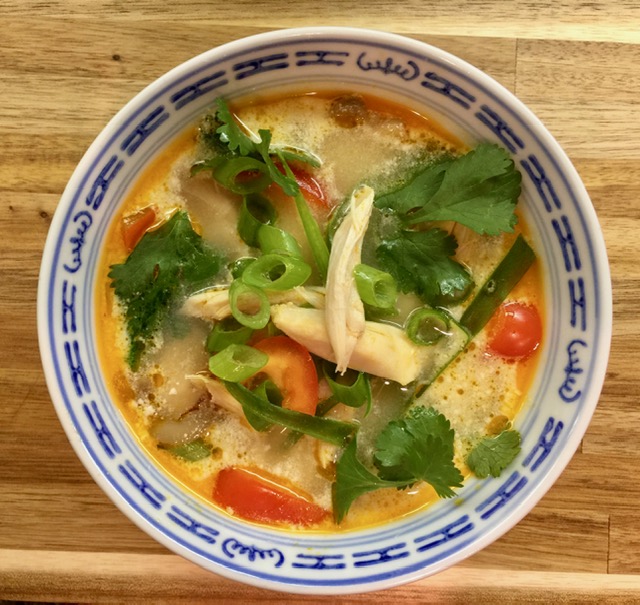 Hey, you with the cold.  Don't just sit there with a stuffed-up head, feeling miserable under a pile of blankets.  You need to feel better quick and what you need right now is a nice, hot bowl of some warm, soothing soup.  Aromatic and piping hot, Spicy Thai Coconut Chicken Soup has cured more than a few head colds, and I swear it works like magic. Find a well person to go to the store for you and round-up whatever you're missing from the short list below.  You are on your way to some feel-good food in a hurry.
Chicken soup has medicinal properties and this recipe, in particular, provides a (sorry, can't resist) Super Bowl of them. The bell peppers and lime juice provide vitamin C, which is good for you any time, but especially good if you have a cold.  Garlic and ginger have antiviral properties and are the vampire slayers of the germ world.  Mushrooms are loaded with health benefits, too:  fiber, vitamins, minerals, and most notably are the richest dietary source of the antioxidant ergothioneine, or ERGO.  In addition to lots of other remarkable things, cilantro supplies Vitamin A and is high in antioxidants.  Told you this was a Super Bowl.
I first posted this recipe back in January of 2015 and am revisiting it to wrap up National Soup Month.  The original recipe called for sambal oelek (ground fresh chile paste), but I like using Thai Red Curry Paste, because I think gives your soup a better flavor.  Also, if you can't find lemongrass, which is often a little scarce in the produce department, the curry paste will let you get along without it.  Because the curry paste contains red chili pepper, garlic, lemongrass, galangal (Thai ginger), salt, shallot, spices, and kaffir lime it adds a lot of flavor, which is good because you probably can't taste anything right now.  If you feel up to it, do take the time to slice and dice that garlic and ginger, because using fresh garlic and ginger is better for you, and you want to get over that cold, right?
You can use any kind of mushrooms.  Shitake, white button, or a mixed variety, will all work well in this recipe and it's okay to take a shortcut here and buy them pre-sliced if that helps you.  I keep Better Than Bouillon Roasted Chicken Base stocked in my fridge at all times.  It is great to cook with and if you have this you will always be ready to make soup any time someone gets sick.  You can make a quick 3 cups of chicken broth out of water and 3 teaspoons of the Chicken Base, or you can use pre-made chicken stock or broth.  Add the fish sauce if you are a fan, but I still can't bring myself to use it, so I omit it altogether.  You can skip the sugar if you want, but the small amount used here adds the flavor we are so used to in Thai food.  I used coconut palm sugar, and only a scant teaspoon.  If you have leftover chicken, here is where you use it.  If not, add a rotisserie chicken to your grocery cart.  You can eat some of it as is, and use the rest in this recipe.
Want to get better quick?  Drink plenty of liquids, hot liquids in particular.  Fill a pot with water and  bring it to a rolling boil on your stove. Turn down the heat and add a few drops of eucalyptus and/or  tea tree oil.  Once the hot water is just simmering, and the steam has cooled to a point where it's safe to put your head over the pot, breathe some steam.  Do this as often as you can throughout the day.  Use an OTC saline spray to help unstuff your sinuses.  Gargle with warm salt water.  Get some extra rest and be patient.  Your body really wants to get better.  You just have to help it along.
Even if you're not sick, this soup is delicious.  Glance through the ingredient list, grab what you need from the store, and settle in.  Make a big pot of soup for dinner.  It's good for what ails you.
Spicy Thai Coconut Chicken Soup
2 teaspoons canola or coconut oil
1 cup sliced mushrooms
1/2 cup chopped red bell pepper
4 teaspoons minced, peeled fresh ginger
4 garlic cloves, minced
1 (3-inch) stalk lemongrass, halved lengthwise
2 teaspoons Thai red curry paste
3 cups chicken stock, or reduced sodium chicken broth
1 1/4 cups light coconut milk
4 teaspoons fish sauce
1 tablespoon sugar
2 cups shredded, cooked chicken breast (about 8 ounces)
1/2 cup green onion strips
3 tablespoons chopped fresh cilantro
2 tablespoons fresh lime juice
Warm a large stock pot over medium heat.  Add oil and swirl to coat bottom of pan.  Add mushrooms and next 4 ingredients (through lemongrass), and cook 3 minutes, stirring occasionally.  Add curry paste, continue to cook and stir, 1 minute.  Add chicken stock, coconut milk, fish sauce and sugar; bring to a simmer.  Reduce heat to low and simmer for 10 minutes.  Add chicken to pan and cook 1 minute, or until thoroughly heated.  Discard lemongrass.  Top with green onions, cilantro, and lime juice.
– adapted from Cooking Light, December 2011