Spicy Shrimp, Celery and Cashew Stir-Fry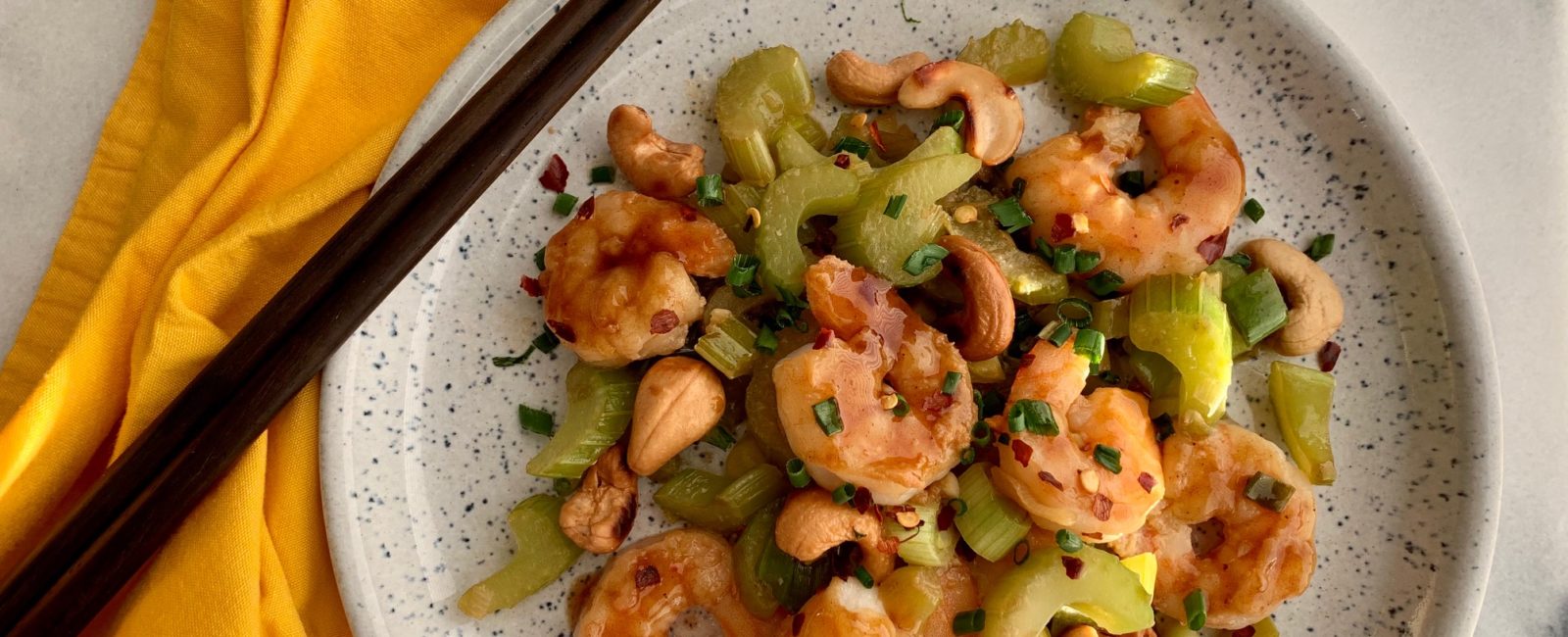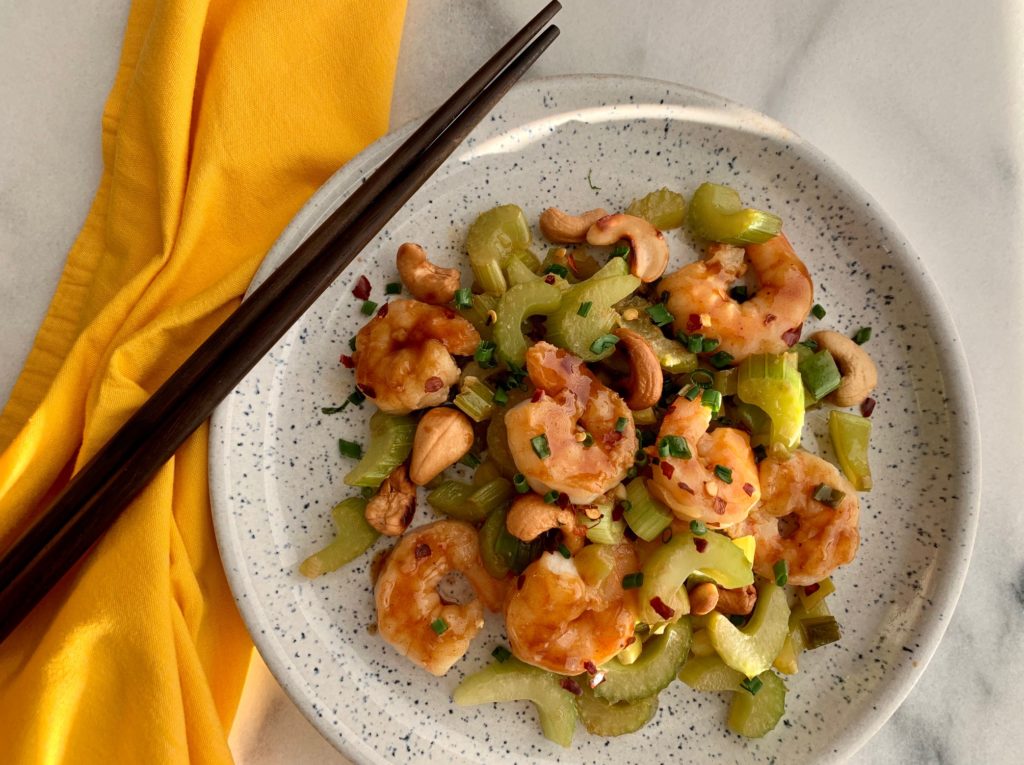 Make it take out tonight: outside that is. Eat light and enjoy the beautiful spring weather with this quick Spicy Shrimp, Celery and Cashew Sitr-Fry. It's healthy, delicious and there for you anytime you need something good to eat but forgot to think about it until just now. 
Keep a bag of peeled and deveined shrimp in your freezer for spur-of-the-moment protein. For the quickest, best texture defrost, pour shrimp directly from bag into a big bowl and cover with cold water to completely submerge. In just 10 to 20 minutes, you're good to go. If you have more time and can actually plan ahead, you can also defrost the entire bag in the fridge overnight. 
This dish comes together very quickly. Prep your ingredients ahead so everything is ready before you start cooking (think Benihana). Mix the sauce in one small prep bowl. Mince the garlic and ginger and combine with the red pepper flakes in another small bowl. Have the celery sliced and the scallions sliced and separated. Get a 1/4 teaspoon measure ready to add each addition of the salt and a tablespoon measure ready for the oil. Have a transfer plate nearby for the celery. Now you're ready to wok. 
Because of it's high heat point, I used avocado oil when I made this, but you can use canola, grapeseed or vegetable oil. Substitute tamari for the soy sauce to make this gluten-free. Keto as is, you could also serve it with brown or white rice, or with noodles. Or, keep it low carb with cauliflower rice. The filling would also be a good one for lettuce wraps. Enjoy!
Spicy Shrimp, Celery and Cashew Stir-Fry
1 Tablespoon soy sauce or tamari
1 Tablespoon dark sesame oil
1 Tablespoon rice cooking wine or pale dry sherry
1-inch piece peeled fresh ginger
3 cloves garlic

 

1/2 to 1 teaspoon crushed red pepper flakes
2 Tablespoons vegetable oil
4 ribs celery, thinly sliced (about 3 cups)
3/4 cup roasted salted cashews (4 ounces)
3/4 teaspoon kosher salt
1 pound peeled and deveined medium shrimp
3 scallions, thinly sliced, white and green separated
Combine soy sauce, sesame oil and rice cooking wine in a small prep bowl; mix together and set aside. Mince ginger and garlic and transfer to a small prep bowl along with red pepper flakes. 
Heat a large nonstick skillet or wok over high heat until very hot, about 2 minutes. Add 1 tablespoon vegetable oil, then add celery and cashews. Sprinkle with 1/4 teaspoon salt and stir-fry about 3 minutes, until celery turns jade green. Transfer celery and cashews to a plate.
Return skillet to high heat. Add remaining tablespoon of oil, shrimp and remaining 1/2 teaspoon salt. Stir-fry about 2 minutes, or until shrimp turn pink and curl up. Add ginger-garlic mixture and the scallion whites. Stir-fry until fragrant, about 1 minute. Return celery and cashews to pan along with most of the scallion greens. Add soy sauce mixture and stir to mix evenly and blend flavors. Continue to cook until thoroughly heated, another minute or more.  Mound on a platter and garnish with remaining scallion greens. 
– recipe from foodnetwork.com