Spaghetti Squash Pizza Crust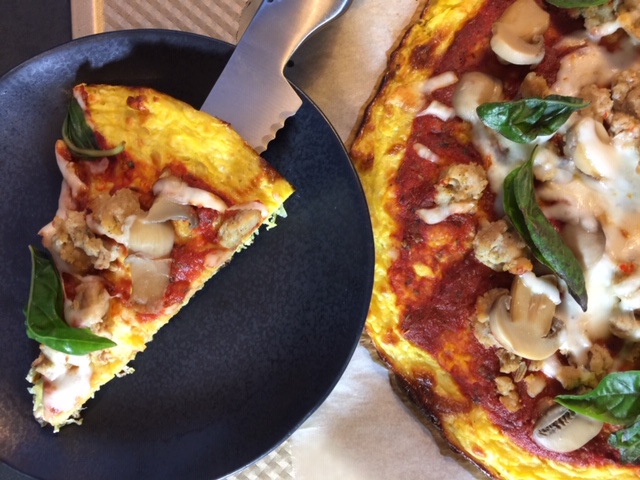 Right about now your holiday excitement is reaching a fever pitch.  Your thoughts have turned to turkey, turkey, turkey.  You are checking off that all-important turkey to-do list, one detail at a time.   "Do I have enough celery?"  "Where did I put that tablecloth?" And, "Oh no, I counted wrong. We need another card table!"  Somewhere between, "Do I have enough napkins?" and "How can they be all out of toothpicks?" you realize you have to eat.  Several times a day, in fact, every day between now and then.  Dig deep, people.  Now is the time to search your freezer for anything taking up major space.  What do you have that you can re-heat in a hurry?  Same goes for the fridge.  Toss out anything you can and use up whatever will get in the way of that giant turkey that just needs a place to chill.
If you have time to cook, and are so inclined, here's a little something fun to do while you're counting down the minutes to the Macy's Parade.  I am always on the look-out for gluten-free recipes, and this one is low-carb as well, which according to the latest study is now the answer to weight loss.  Hmmm…   Before you push this aside and continue eating your bagel, let me say that this is a really good recipe.  Admittedly, it is a little more involved than making your typical skillet meal, but if you approach it as a payoff of several meals, it's very worthwhile.
I used a large spaghetti squash when I made this, so I ended up with about half of it left over, which I froze in a zip top bag for another meal.  You could also use any extra to make another pizza that you can freeze and reheat.  If you need help with your squash cutting technique, there is more detail in this Spaghetti Squash Bolognese recipe on the blog.  When you squeeze the excess water out of your squash, be sure to squeeze out as much as you can.  There is a lot of water, and getting most of it out will give your crust a better texture.  Line your clean dishtowel with a paper towel for easier clean up.  While your wrapping up those leftovers, do a quick scan of your waxed paper, aluminum foil, and zip top bags.  You do not want to discover that dreaded last little bit of foil right as you are tenting your turkey.   Safe travels and have a wonderful Thanksgiving wherever you may gather.
Spaghetti Squash Pizza Crust
1 small to medium spaghetti squash
2 large eggs
1/2 cup shredded mozzarella
1/2 teaspoon garlic salt
nonstick cooking spray
desired sauce and toppings, such as pizza sauce, cooked and crumbled Italian sausage, sliced mushrooms, shredded mozzarella, halved cherry tomatoes, fresh basil
Preheat oven to 400º F.  Cut spaghetti squash in half and use a spoon to scoop out seeds.  Put one half cut side down into a pie plate (or other microwaveable dish with sides) and add just enough water to cover the bottom of the pie plate.  Microwave on high for 10 minutes.  Remove from pie plate and repeat with other half.  When cool enough to handle, use a fork to pull the flesh from its peel.
Wrap the squash in a clean dishtowel and squeeze out all the excess water.  Whisk eggs, shredded mozzarella, and garlic salt in a large bowl.  Stir in the spaghetti squash until well combined.
Line a baking sheet with parchment paper and spray with nonstick cooking spray.  Transfer squash to center of baking sheet and form into a 10-inch circle.   Bake until golden brown, about 20 minutes.  Remove from oven and spread pizza sauce on crust.  Top with desired toppings and bake until cheese is melted and golden brown, about another 10 minutes.
– recipe by Katie Lee as seen on foodnetwork.com