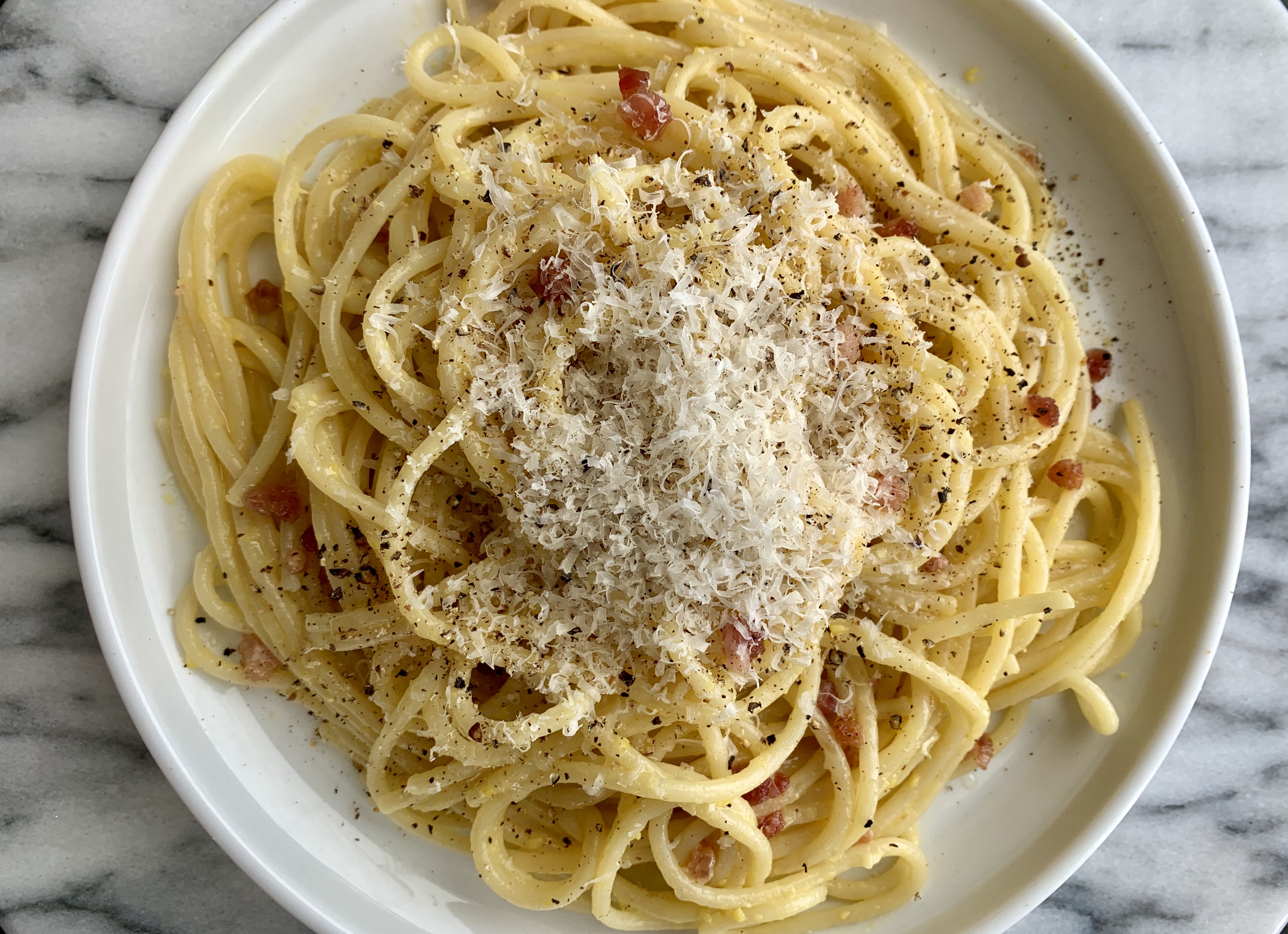 We're eating in tonight! It's dinner and a movie. This meal pairs well with a glass of wine and whatever you might be watching on Netflix. Easy to make out of what you have on hand, pasta meals are perfect for when you're craving comfort. They're emotionally nourishing. Spaghetti Carbonara is a recipe to know. This dish is simple, but exciting. Creamy, silky and seemingly indulgent, it's just like what you might have ordered out, but you're making it at home. Anything goes here. The recipe calls for pecorino Romano, which I did not have, and you probably don't either. The Kraft green shaker cheese is perfectly acceptable. It's all about using what you have and making the most of it. Bacon stands in for guanciale or pancetta. It's all fine. 
A few things to note. Avoid scrambling the eggs. There are various ways of doing this, but a very warm bowl heated by the technique described below will yield thick, creamy perfectly coated and cooked pasta. Don't skimp on the pepper, and be ready to eat this right away. Once everything comes together, this dish is at its finest. If they're not already standing by the stove, fork in hand, you should quickly gather your family. Cue the fanfare and use your tongs to pile it into a twirly mountain as you plate. Give it a sprinkly shower of cheese, and hand it off. 
Having a houseful of housebound has brought about a new reality. I am cooking more and even more. A pre-made breakfast, ready to go lunch, and a dinner plan are a must. Making a weekly meal plan and having scheduled meal times really helps. Take inventory of what you have and plan ahead. Routine and stability are important for everyone right now, even more so if you have children in your household. 
Embrace vegan. One meatless meal a day, or a meatless day, is economical, healthful, and a necessity right now. If you have never done this before, here's a great way to make fast, no-soak beans in the Instant Pot. 
We may have to stay at home, but we don't have to be unhappy. Set the table for a nice dinner. Spread a blanket on the floor and have an indoor picnic, or go outside on your patio, our weather has been pretty nice! Tapping in to fun is more important than ever right now and it's all about how you do it. Check in with me on Instagram. I will be posting more ideas for meals you can make quickly using things you have on hand.  If you need more help, email me. Just like you, I'm home, and no question is too big or small. 
Most of all, love each other. Be kind. Reach out and help someone if you can. Call a friend and talk to them. We all need this right now. Cook! Feed yourself and feed those you love. A meal is a powerful thing. We have been through a lot together. We can beat this, but we must do it together. You can do it. We can do it. Be strong. Cook happy and stay safe.
Spaghetti Carbonara 
1 Tablespoon salt, plus 1 pinch more, divided
1 large egg and 3 large yolks, room temperature (see below)
2/3 cup grated Parmesan (or 1/3 cup grated pecorino Romano, plus 1/3 cup grated Parmesan), plus extra for serving
coarsely ground black pepper
1 Tablespoon olive oil
3 1/2 ounces bacon (or guanciale or pancetta), sliced 1/4 inch thick by 1/3 inch square

 

16 ounces spaghetti (substitute gluten-free if needed)
Fill a large pot with cold water and add 1 tablespoon salt. Place over high heat and bring to a boil. Crack eggs into a small stainless steel bowl and whisk to combine. Set the small bowl inside a larger bowl filled with very warm tap water. Stir eggs from time to time until they feel neither cool nor warm when checked with your finger, or reach 68 to 70º F. Remove small bowl from water, then add Parmesan, a pinch of salt, and a generous, coarse grind of black pepper; whisk well. 
Heat oil in a large skillet set over medium heat. Add bacon and sauté until fat just renders. Bacon should be on the edge of crispness, but not hard. Remove from heat and set aside. 
When water is boiling, add pasta and cook according to package directions until pasta is just a bit firmer than al dente. While pasta cooks, set a colander over a large, stainless steel mixing bowl and place inside your sink. When pasta is done, quickly measure out 1 cup of pasta water and set aside. Drain pasta into colander, then remove colander and pour hot water out of the large bowl. Transfer pasta into the heated bowl and add bacon. Stir in egg and cheese mixture, adding reserved water about 1/3 at a time, as needed, for creaminess. Serve immediately topped with a bit more Parmesan and pepper. 
– adapted from recipe on cooking.nytimes.com