Sour Cream and Onion Potato Salad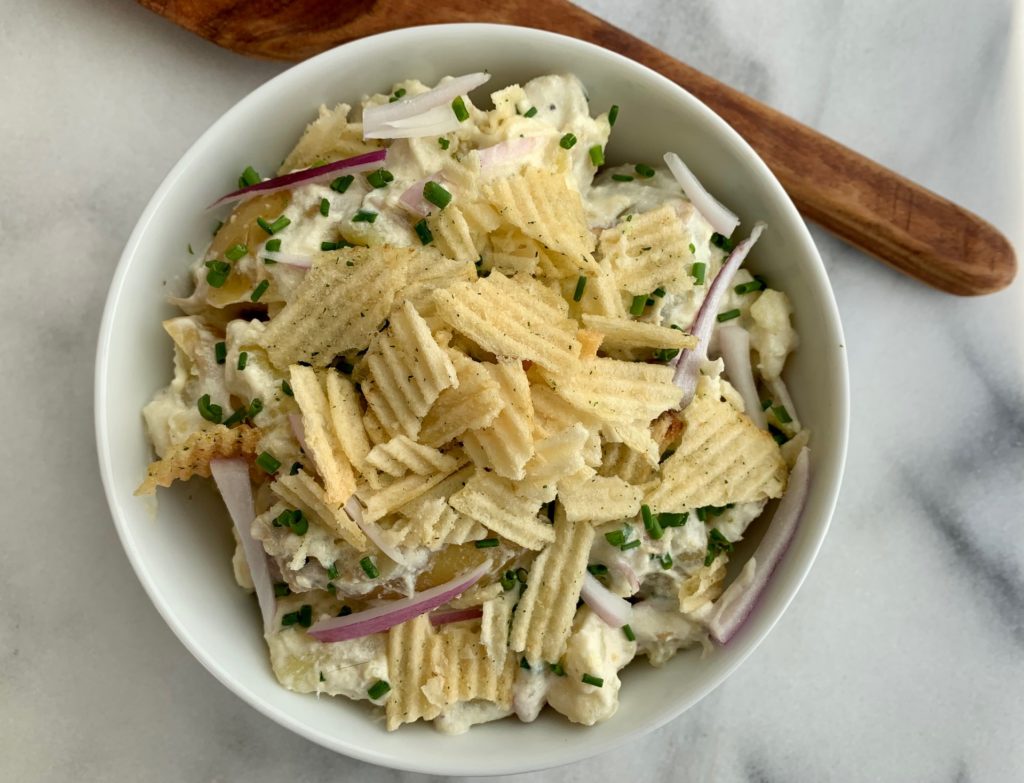 Bring on the BBQ! We made it to Memorial Day and if your job is the potato salad, do it like this. Kick off the summer with this Sour Cream and Onion Potato Salad. Classically creamy, just like you'd expect a potato salad should be, it's the crunchy potato chip topper that takes it from ho-hum to hurrah. 
The original recipe called for 1 cup of salt added to the cooking water. I tried just 1/4 cup and even then, I had to close my eyes while adding it. I thought it was just right, but you can always add more salt when you taste and adjust to your liking. Cook your potatoes until a fork inserts very easily: not so much that the potatoes are fall apart crumbling, but not too firm either. Mix the dressing in a separate bowl. You might discover, as I did, that you don't need all of it and you will have yourself a delicious dressing to add to a green salad. Slice your red onion through the root end for those nice, neat shallow arcs that look so pretty in your salad. For maximum oomph/crunch, use potato chips with ridges. Add them shortly before serving so they don't get soggy on you. 
Eat it warm, eat it cold, just eat it! And enjoy.
Sour Cream and Onion Potato Salad
2 lb. baby Yukon Gold potatoes
1/4 cup kosher salt, plus more
3/4 cup sour cream

 

1/4 cup mayonnaise
1 Tablespoon onion powder
2 teaspoons Dijon mustard
1 teaspoon freshly ground black pepper
1 garlic clove
1 bunch chives
1/4 small red onion
1/2 cup sour cream and onion potato chips
Place potatoes in a large pot and add enough cold water to completely cover. Add kosher salt, then bring to a boil over medium-high heat. Once water boils, reduce heat to temperature needed to maintain a simmer. Cook potatoes until fork-tender, about 15-20  minutes.  
While potatoes cook, make dressing. In a small bowl combine sour cream, mayonnaise, onion powder, Dijon mustard, and freshly ground black pepper. Finely grate garlic clove into dressing. Thinly slice chives. Add half of chives to dressing, then set the rest aside for garnishing. Slice red onion as thinly as possible through the root end then transfer to a fine sieve and rinse with water; pat dry. Add half of onion to dressing; reserve remaining for garnish. 
When potatoes are tender, remove from heat then use a spider or slotted spoon to transfer them onto a sheet pan; let cool 10 minutes or until cool enough to handle. Crush each potato slightly using the palm of your hand. Spoon about half of dressing into the bottom of a large bowl. Add potatoes and toss with dressing adding about 1/4 cup of the cooking liquid as you stir to coat. Adjust with more dressing, salt and another splash of liquid if the dressing looks too thick. Transfer to serving bowl if desired, then top with reserved chives and onion. Crumble 1/2 cup of potato chips over top of salad and serve. 
– adapted from recipe by Molly Baz, bonappetit.com