Soft Pretzels with Easy Beer Cheese Dip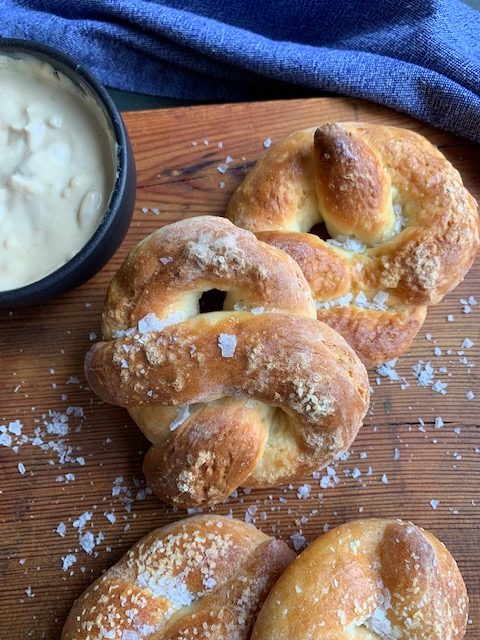 September is National Family Meals month and it's a perfect time to gather your family and friends, cook together, and share something good that everyone can eat. Fun for your football game, Oktoberfest, movie night, or an after school snack, home made pretzels are what's up next and they couldn't be easier to make. Warm, soft and doughy with a generous sprinkling of coarse salt, they are everything you'd expect in a pretzel minus the major time commitment. Rolling and shaping the dough brings back warm, fuzzy memories of play dough and lets you get back in touch with your inner child. Make some to go with that chili you just made. Make some to dip into while you watch the return of your favorite fall TV show. Your poker game just called, and it needs these.
You can use any kind of flour that you like, but if you use whole wheat flour and divide your dough into 4 portions as instructed, each pretzel will have 20 grams of protein and 6 grams of fiber. I opted to make smaller pretzels, so I used tennis ball sized portions, which made about 8 pretzels. I also wanted to see if it would work using gluten-free flour, and happily, it did. I used Bob's Red Mill Gluten Free All-Purpose Baking Flour because it has added protein and fiber like the whole wheat flour called for in the original recipe. Serve your pretzels with mustard or the Easy Beer Cheese Dip that follows. You can also make these ahead and gently rewarm them in a 250º F oven, but honestly, they are pretty exciting straight out of the oven. 
I already can't stop with the pumpkin, so I used a bottle of Elysian Night Owl Pumpkin Ale in the cheese dip, but be sure to use a gluten-free beer if your are gluten-free. Your dip will be more or less vivid orange depending on the cheese you use. I used Trader Joe's Lite Mexican blend, which is very pale, so mine turned out like a queso blanco. If you happen to have a can of Rotel on hand, feel free to use that in place of the tomatoes and chiles. Depending on how thick you like your cheese sauce, you may not use all of the 4 cups of cheese. I used about 2 1/2 cups and felt like it was just right. 
Home made pretzels. Give em a try. (I promise not to say pumpkin spice until next week.) 
Soft Pretzels
2 cups whole wheat flour

 

1 Tablespoon baking powder
1 teaspoon kosher salt
2 cups non-fat plain Greek yogurt
1 egg, beaten
1 teaspoon kosher salt

 
Preheat oven to 350ºF and line a baking sheet with parchment paper. Combine flour, baking powder and salt in a large mixing bowl, stirring together to mix well. Add yogurt and stir until all of the flour is incorporated. Using clean hands, knead for about 1 minute, until it comes together in a ball, becomes elastic and resembles dough. 
Divide into tennis ball sized portions. Roll each portion into a rope on a lightly floured surface, then form into a pretzel shape and transfer to parchment paper. Brush top of pretzels with egg wash, then sprinkle with kosher salt. Bake for about 30 minutes. Serve warm. 
Easy Beer Cheese Dip
12 ounces beer
8 ounces cream cheese, cubed

 

4 cups shredded Mexican cheese blend

 

3 Tablespoons stewed tomatoes, drained
2 Tablespoons roasted diced green chiles

 
Add beer to a small saucepan and warm over medium heat. Bring beer to a boil, then add one third of cream cheese, whisking until melted and combined. Repeat with remaining cream cheese.  Add shredded cheese a cup at a time, continuing to whisk until melted. Stir in tomatoes and green chiles. Serve warm.  
  – soft pretzels from joybauer.com
  – cheese dip lightly adapted from thecookierookie.com