Sockeye Salmon with Snap Peas and Caramelized Honey Miso Dressing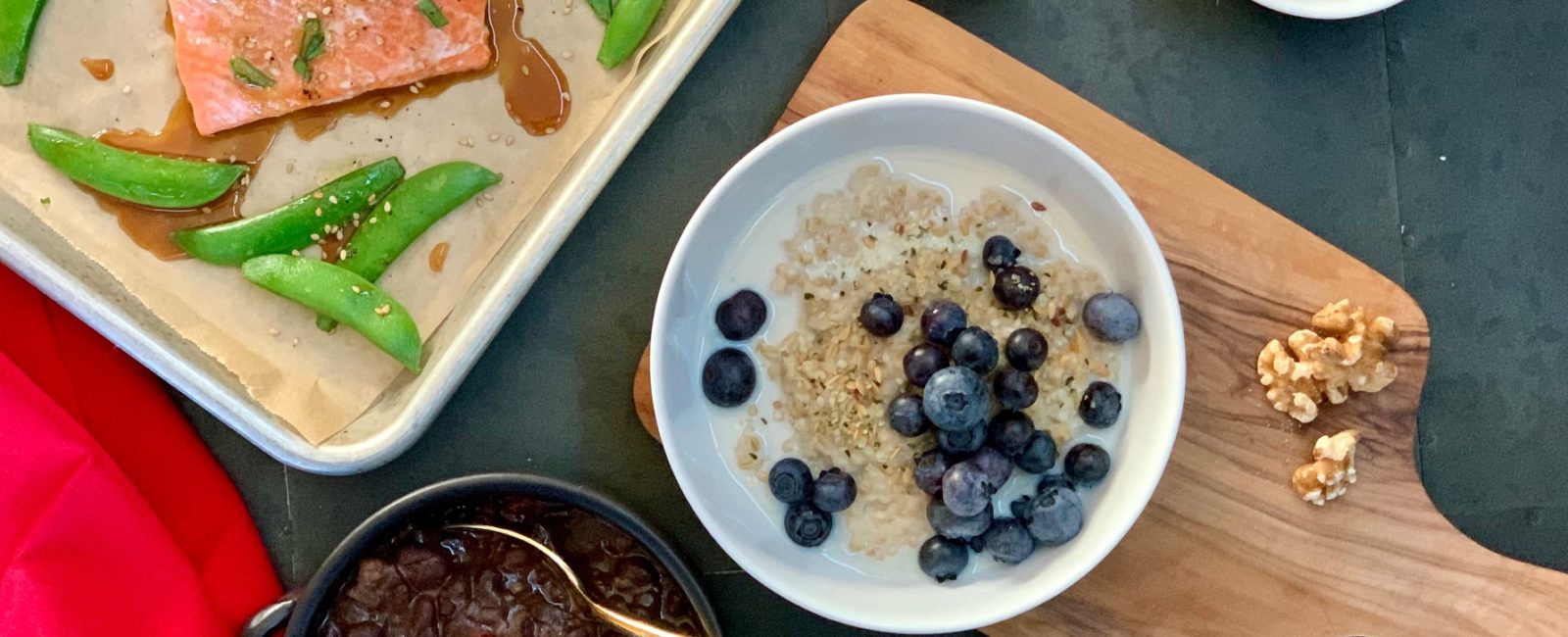 February is American Heart Month, a reminder to take good care of your heart and make lifestyle choices that improve and maintain heart health. Here are a few quick ideas for a day of heart healthy eating to help you meet those goals.  
Start your day with Instant Pot Steel-Cut Oats. If you have never made oats in your Instant Pot, prepare to be dazzled. Thick, creamy, and perfectly cooked, with hardly any effort on your part, they are absolutely fool-proof. Top with blueberries or cherries, a dollop of yogurt and a sprinkling of almonds or walnuts for more heart healthy benefits. Any plant-based milk will work here, but if dairy is your choice, use 3 cups of water during the cooking process and add the milk to your serving bowl.  Covered and refrigerated, leftovers will keep for 4 days. 
For lunch, it's Black Bean Soup. Black beans are packed with heart-healthy nutrients and their fiber helps control both cholesterol and blood sugar levels. Start by sautéing onion and garlic in a little heart healthy olive oil. If you have green onions in your crisper, this is a great place to use them. You can use dried beans that you have prepared yourself, but I like to use canned low sodium beans, using both the beans and their liquid, to make this soup quickly. Season simply with some smoked paprika for quick, complex flavor and let simmer until thick. Easy! Tomorrow, this thick soup makes a great topping for a baked sweet potato (another heart healthy food), or add leftover vegetables, or toss in some frozen ones, to make an all new soup.
For a snack try nuts – almonds or walnuts, specifically – or edamame. Or some yogurt topped with blueberries. All are heart healthy, plus easy to keep on hand or take along.
Now for dinner. This delicious salmon recipe is so easy you'll be making it again and again. The sheet pan makes for speedy clean up, the prep is minimal, plus, it cooks in only 10 minutes. I love this recipe so much I've been relying on it for fish night and have discovered it plays well with halibut and cod, too. The snap peas add fresh, crisp texture but you could also try string beans or asparagus as other bright, crunchy options. 
Miso is fermented soybean paste. Besides adding salty, rich flavor, it's full of probiotics, which contribute to improved gut health. There are three varieties of miso: white, yellow, and red. Longer fermentation results in darker color and stronger flavor, making red the most assertive of the three. I used the white miso that I had on hand. It gave the dressing plenty of umami but also added less sodium then the darker varieties. If you are cooking for one or two, you will not need all of the dressing. Transfer to a small covered container, then refrigerate, for a flavorful topping you can quickly spoon over greens, grains, or vegetables over the next few days. Salmon is medium-rare when it flakes easily with a fork, or when the thickest part of the fillet registers 120º F, which also happens to be exactly 10 minutes, as the recipe instructs. Once you put your salmon in the oven, there is just enough time to grate your ginger, slice your scallions and finish the dressing, so it's ready when everything comes out of the oven. Serve this with some steamed rice, fresh baby greens and edamame, and finish with some fresh herbs to brighten. Try the basil. It's unexpected and surprisingly good!
Instant Pot Steel-Cut Oats
2 cups water
1 cup non-dairy milk of choice

 

1 cup steel-cut oats
pinch of salt
optional:
1 teaspoon vanilla
1 teaspoon ground cinnamon
1/8 teaspoon ground cloves
Add water, milk, oats, salt and optional ingredients, if using, to Instant Pot. Lock lid.  Use "Pressure Cook or Manual" function to cook for 3 minutes. Let sit until pressure releases naturally. Carefully remove lid, tilting away from you. Stir oats and serve.
Black Bean Soup
1 1/2 Tablespoons olive oil
3 green onions, white part only or 1/3 cup chopped onion
1 clove garlic, minced
1 cup water
1 teaspoon Better Than Bouillon Reduced Sodium Vegetable Base
2  15 ounce cans low sodium black beans
freshly ground black pepper
2 Tablespoons diced pimientos, drained
1 teaspoon Pimentón de la Vera smoked paprika
Warm olive oil in a medium saucepan set over medium heat. Add onion and sauté, stirring until softened. Add garlic and stir for another minute. Add water, vegetable bouillon, both cans of beans with their liquid, and a few grinds of black pepper. Cook, stirring occasionally, until soup thickens. Stir in diced pimentos and smoked paprika, cooking a few minutes more before serving. 
Sockeye Salmon with Snap Peas and Caramelized Honey Miso Dressing
1/4 cup warm water
2 Tablespoons honey
1 Tablespoon red or brown miso
4 6-ounce sockeye salmon fillets
1 Tablespoon olive oil, plus more for drizzling
kosher salt
1 pound snap peas, trimmed

 

2 Tablespoons rice vinegar or apple cider vinegar
1 inch piece ginger, grated
1 Tablespoon sesame oil, optional
4 cups tender leafy greens
1 Tablespoon toasted sesame seeds
fresh mint or basil, optional

 
Preheat oven to 400º F. Line a sheet pan with parchment paper, then warm 1/4 cup of water; set aside. Combine honey and miso in a small saucepan set over medium heat. Stir continuously with a whisk until mixture bubbles, deepens in color and thickens, about 5 minutes. Remove from heat and whisk in warm water. Let cool.
Pat salmon fillets dry with a paper towel, then place skin side down on prepared baking sheet. Drizzle fillets with oil and lightly season with salt. Roast for 6 minutes. Remove pan from oven, then scatter snap peas around edges of pan, drizzling with more oil if desired. Return pan to oven for 4 minutes, or until salmon is cooked through and snap peas are tender. 
Whisk vinegar into the honey-miso mixture, then add ginger, scallions, and sesame oil, if using. Spoon half the dressing over the salmon and snap peas while still warm. Divide salmon and snap peas between bowls and top with fresh mint or basil. 
– adapted from recipe on wildalaskan.com
Now that your heart is in the right place, pay it forward. This week is Random Acts of Kindness Week, a great time to spread care and compassion. All kindness counts, and no act is too small. Kindness creates a ripple effect of goodwill and the positive effects of kindness are quick to spread. Felt in the brain of everyone who observes a kind act, it boosts their mood, too, making them more likely to be kind. Being kind lowers your blood pressure. And that's good for everyone's heart. 
21 Foods That Can Save Your Heart
fresh herbs
black beans
red wine and reservatrol
salmon
tuna
olive oil
walnuts
almonds
edamame
tofu
sweet potatoes
oranges
swiss chard
barley
oatmeal
flaxseed
low-fat yogurt
foods fortified with sterols
cherries
blueberries
dark leafy greens