Slow Cooker Mac and Cheese with Bacon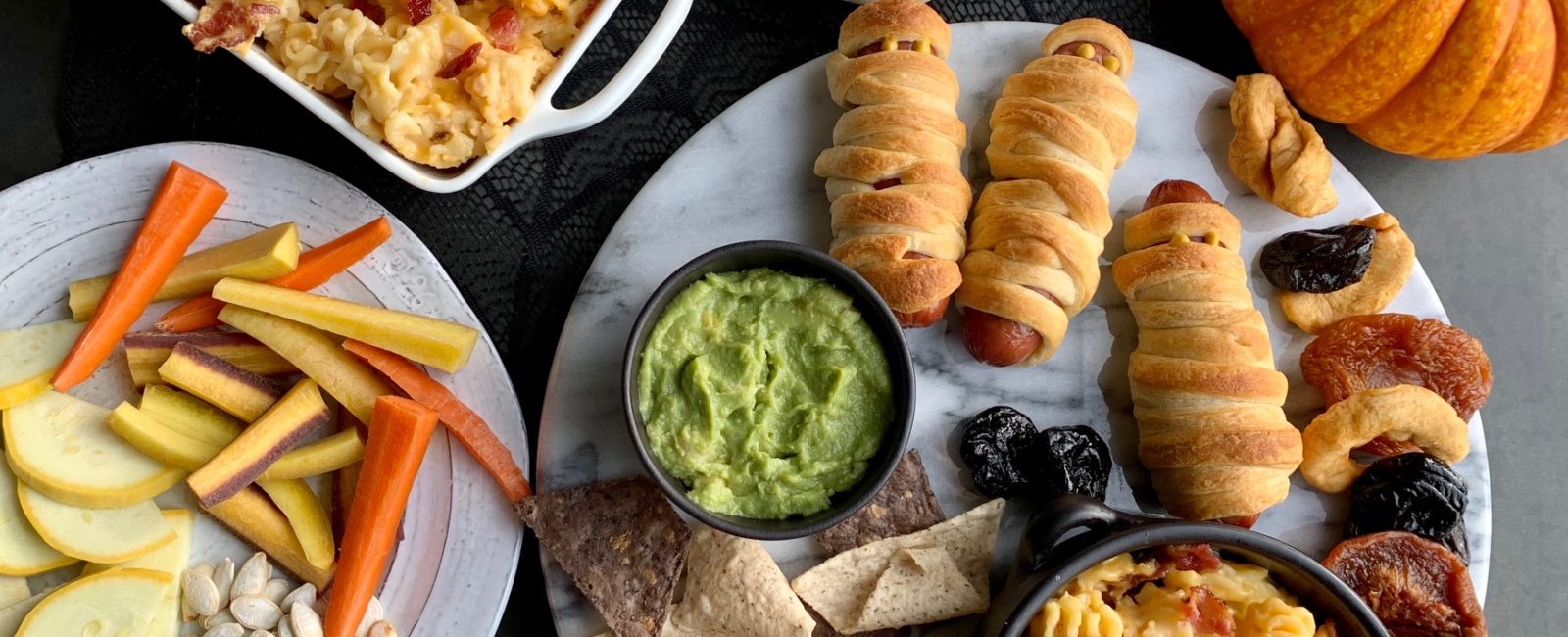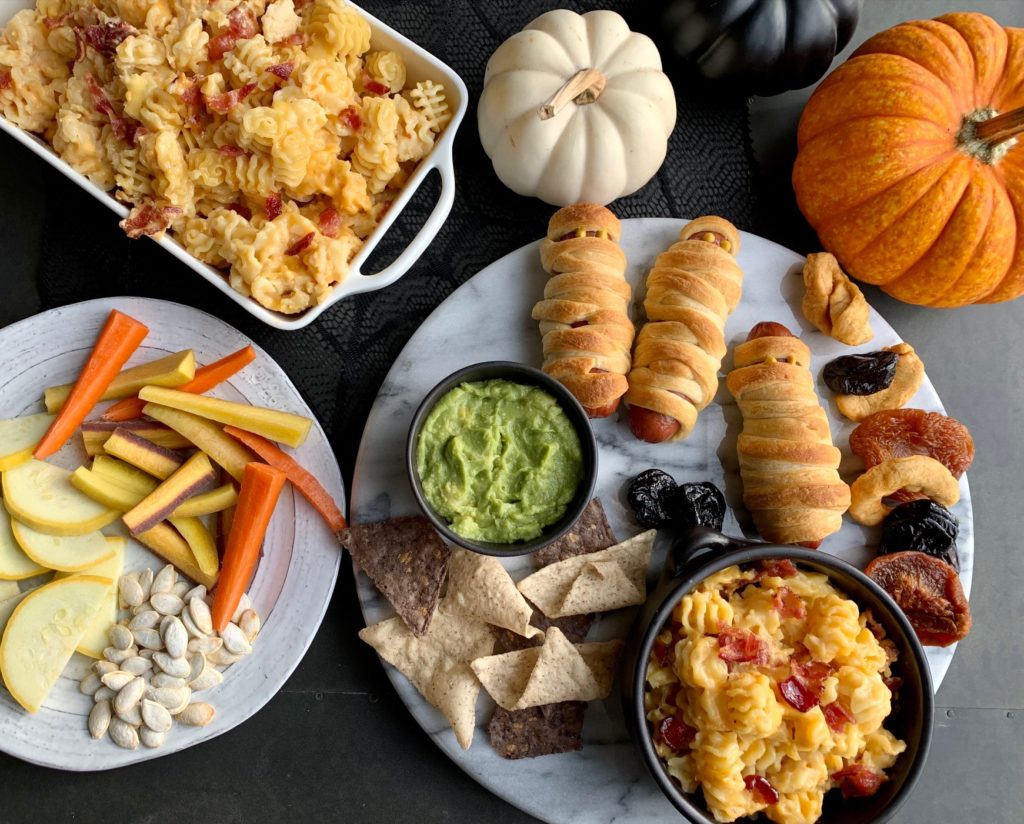 No bones about it, Halloween here is just better. Someone flips a magic switch- foreboding clouds gather. A chilly breeze hits the leaves, and the night takes on all the broody, moody feel of a Nirvana song. Perfect, right? Now gather your ghouls and goblins and let's get this party started!
Pray for drizzle, but plan for rain. Your trunk-or-treaters are bound to return home soaked or soggy. Be ready with something warm and waiting. This Slow-Cooker Mac and Cheese with Bacon is just the thing. Serve it on its own or make it part of a fun boo board full of spooky eats. 
Here are some tricks for your treats. Scare up some fun and make easy Crescent Mummy Dogs. Wrap them earlier in the day with your kids, bake them ahead of time, and then gently rewarm before serving. Go to pillsbury.com for directions or email me and I'll send you the recipe. Set out finger food that sets the mood. Start with some eerie, green guacamole. Add yellow, orange, and purple carrots, some yellow squash, pumpkin seeds and tortilla chips. Keep the creep with some dried fruit. Shriveled, withered, and already eerie, it does spooky on its own. No added effort on your part required. 
You can use any shape pasta that you like, but radiatore will hold their shape and consistency  best with this cooking method. I added 4 extra ounces of pasta, using all of the 16 ounce package when I made this. It turned out very creamy and cheesy, so don't be afraid to use a little more pasta and make a bigger batch. I used 2% milk and low-fat 2% evaporated milk to reduce the fat a bit, and you could also use reduced fat cheese if you like. Make this recipe gluten-free by using your favorite gluten-free pasta. Be sure to undercook your pasta. Reduce the package cooking time by two minutes when you boil it.
Settle in for a spooky movie. Eat, drink, and be scary! Have a frightful biteful and however you may gather, stay safe out there.
Slow-Cooker Mac and Cheese with Bacon
12 ounces uncooked radiatore pasta (about 4 cups)
8 slices bacon, cooked crisply, divided
2 cups milk
1 can (12 oz) evaporated milk

 

2 teaspoons Dijon mustard
1 teaspoon onion powder
1/4 teaspoon salt

 

9 slices American cheese, torn into pieces (or 6 ounces sliced deli cheese)
1 cup grated or diced Gouda cheese
Lightly coat the bowl of a 4- to 5-quart cauldron, or slow cooker, with nonstick cooking spray. Bring a large pot of lightly salted water to a boil, then add pasta. Set timer for 2 minutes less than package directions.  
While pasta cooks, crumble 6 slices of bacon and add to slow cooker, along with milk, evaporated milk, mustard, onion powder, and salt. Whisk until blended. When pasta is done, drain and quickly transfer to crock pot; stir gently. Cover and cook on low for 2 1/2 hours.
Lightly stir in cheeses and cook and additional 30 minutes. Crumble remaining 2 slices bacon, then sprinkle on top. 
– familycircle.com, February 2015