Slow Cooker Healthy Hamburger Soup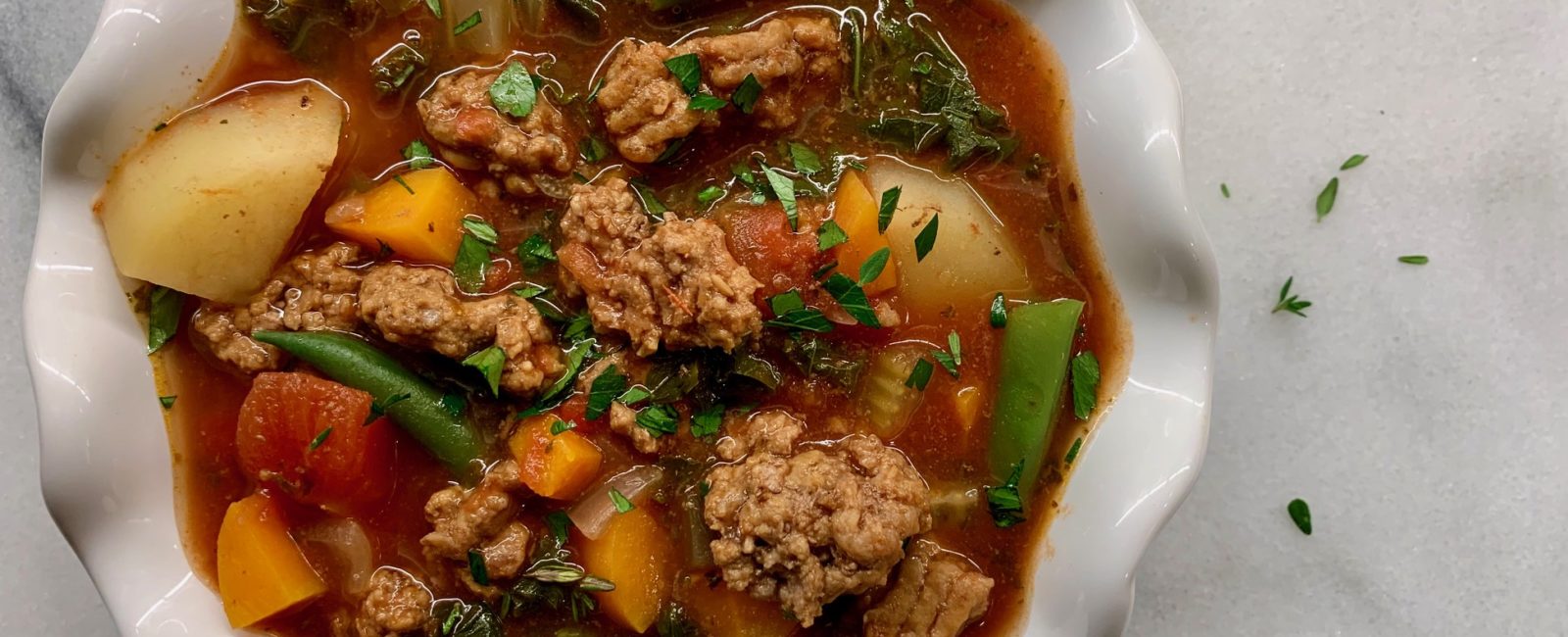 There's no better way to chase the chill than with a warm and hearty bowl of soup. Prepared early in the day in your Slow Cooker, it fills the whole house with the soothing, simmering aroma of dinner that's ready when you are. This Slow Cooker Healthy Hamburger Soup is fast, family-friendly fare. Packed with veggies and chunks of tender ground beef, it's nutritious and filling. Each serving provides 3-4 servings of vegetables, 7 grams of fiber and 24 grams of protein. Not bad for soup. 
Yes, the Instant Pot is miraculous, but it will never take away the magic of the Slow Cooker. You fill it up in the morning and it bubbles away, unattended, mind you. You feel smug all day about having your dinner ducks in a row and return to a warm, home-cooked meal, feeling like you've had a night off. Old fashioned, yes. Comforting, you bet. There will always be a place in my heart, and on my counter, for my slow cooker. 
I used lean ground beef, but ground turkey or chicken would also work in this recipe. Feel free to use whatever veggies you have on hand. You can use only one kind of potato if you like, and spinach can be substituted in place of the kale. Regular diced tomatoes can swap in for the fire-roasted ones. If you don't have fresh, you can use frozen kale and green beans.
Make soup and welcome the return of your slow cooker to your countertop. It's a delicious and soothing way to end the day.
Slow Cooker Healthy Hamburger Soup
2 teaspoons avocado oil or olive oil
1 pound ground beef
1 yellow onion, diced
1 green bell pepper, diced
6 garlic cloves, minced
10 oz. sweet potato, peeled and cubed
10 oz. Yukon gold potatoes, cubed
2 medium carrots, diced
2 ribs celery, diced
2 (14 oz.) cans fire-roasted diced tomatoes
6 oz. can tomato paste
1 quart beef broth, plus more if needed
1 1/2 Tablespoons Italian Seasoning
freshly ground black pepper
8 ounces fresh green beans, cut into 1-inch pieces (can use frozen)
2 cups packed kale, stems removed and chopped
Add oil to a large skillet set over medium heat. When oil has warmed, add ground beef, onion, green pepper and garlic cloves. Sauté, breaking up ground beef with a spoon, until meat is no longer pink. (Select 'Sauté' on Instant Pot; cook 5 to 7 minutes.)
Transfer ingredients from skillet to slow cooker. Add potatoes, carrots, celery, diced tomatoes, tomato paste, beef broth, Italian seasoning, and several grinds of black pepper. Cover and cook on low 8-9 hours or on high for 5-6 hours. (Lock lid on Instant Pot and flip valve to sealing. Cook on high pressure 12 minutes. Wait 5 to 7 minutes before venting to releasing pressure. Remove lid and stir in kale and green beans; cook until tender.)  About 2 hours before serving, add green beans and kale. Add additional broth to thin, if desired. Cook until green beans are tender. Taste and adjust seasoning as needed. 
– recipe from therealfooddieticians.com