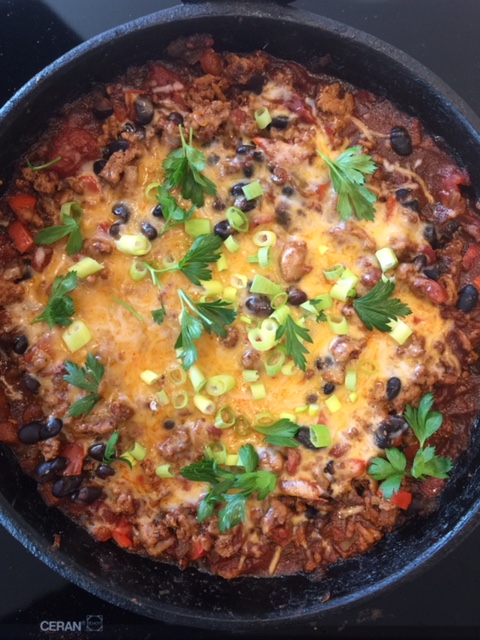 It's a big week.  Work, school, soccer, football…  fall tv.  It's premier week and your favorite shows are back, along with a few new ones that you're not so sure about yet.  It's time for answers.  What happened in that fire?  And what's the deal with that plane?  I am not sure why, but I have a yearly ritual of tuning in and scrutinizing the programming with all the intensity and seriousness of genetic research.  Some shows are obvious write offs, but I will give others an obligatory one time viewing, just in case they prove to be something worth watching.  You have my permission to eat while you watch tv and you need something fun and easy to munch on while you do it.  This Skillet Taco Bake is just the thing.   It has that one pan, everyone serves themselves, fun garnishes game plan that I love so well.  This will be a family favorite you will want to make again and again.
I've said it before, and I'll say it again:  you probably have most of the ingredients already in your fridge and pantry.  The ingredient list is long here, but most of it is the individual spices that make up the taco seasoning.  The spicy seasonings were spot on, but if you are time crunched grab that taco seasoning that you love and just use that.  If you do decide to go the make it yourself route, measure twice (or three times!) into some small canning jars.  Label and store in your pantry, ready to go, so you can whip through this recipe some night when you are in a hurry and looking for something easy to make.   I left the frozen corn kernels out when I made this because I don't just don't like corn in my tacos, and, I recommend adding sour cream, sliced ripe olives, and sliced, pickled jalapeño to that list of toppings at the end.
Spicy…  taco… tv….   Grab a blanket and hit the couch!
Skillet Taco Bake
1 tablespoon olive oil
1 yellow onion, chopped
1 red bell pepper, chopped
1 poblano pepper, chopped
1 1/2 pounds ground turkey or chicken
2 tablespoons chili powder
1 teaspoon kosher salt
1/2 teaspoon garlic powder
1/2 teaspoon onion powder
1/2 teaspoon dried oregano
1/2 teaspoon ground cumin
1/2 teaspoon crushed red pepper flakes
1/2 teaspoon paprika
1/4 teaspoon ground cayenne
One 14.5 ounce can fire-roasted tomatoes
1 cup frozen corn kernels
1/2 cup cooked black beans, drained and rinsed
1 1/2 cups Mexican-blend shredded cheese
Garnishes: 
1 ripe avocado, pitted, peeled and sliced
5 scallions, white and light green parts only, sliced on the diagonal
3 – 4 tablespoons chopped fresh cilantro
tortilla chips, for serving
Heat oil in a large cast-iron skillet over medium-high heat.  Add onion, red pepper, and poblano, cooking and stirring until softened, about 5 minutes.  Add ground turkey and cook about 10 more minutes, until no pink remains, breaking up with wooden spoon as it cooks. Add all spices and stir to combine.  Add fire-roasted tomatoes, corn, and black beans, lightly stirring to mix, and bring to a simmer.  Reduce heat to low and continue to simmer until liquid has reduced slightly, about 10 more minutes.
Sprinkle cheese over top of skillet, then cover and turn heat off, letting sit for a few minutes until cheese melts.  Serve from skillet with garnishes alongside.
– recipe by Gaby Dalkin, as seen on foodnetwork.com