Skillet Cheesecake Banana-Peanut Butter Bread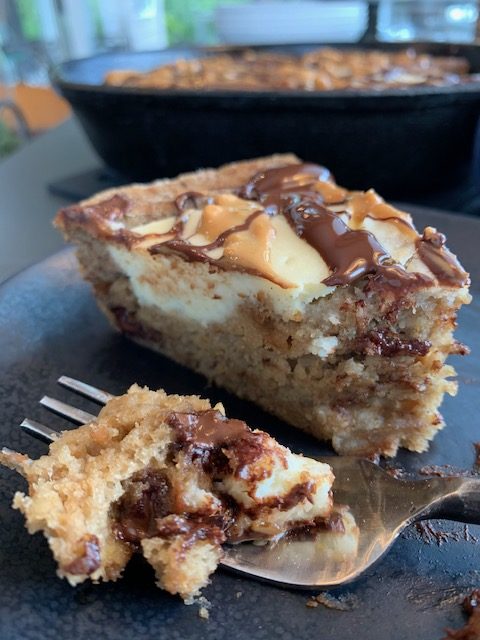 Ahhh…. Father's Day.   If you are lucky enough to have a dad, husband, brother, uncle or other important man in your life, today is the day to celebrate them. It's their special day. Just be sure to give them what they want:  a big steak, some ribs, or maybe a chance to cook up that fish they just caught.  You be on hand with some manly side dishes and a dad-approved dessert.  The best way to be sure about that menu? Ask! 
My dad was a great one. When his first-born turned out to be a daughter, he made the most of it and channeled that disappointment into teaching.  I know how to put a worm on a hook, which screwdriver is the Philips one, and how to be quiet when someone's taking a shot or a swing. He taught me how to catch a fish and he also taught me how to live. He worked hard, but he played hard, too, and he never missed an opportunity to seize the beauty of the day. "How can you die if you have't lived?" he would say.  We had a lot of great times while he was here. He lived like he meant it. I miss him terribly but I am sure that he is up there somewhere playing a perfect game of golf, reeling in an amazing fish, and scratching a winning lottery ticket… and he's having a big steak for dinner.  He is always in my heart… 
Dad loved chocolate. He liked bananas.  And like most men, he was a fan of peanut butter. With this in mind, I adapted a recipe I found on the delish website with my favorite banana bread recipe and lightened it a bit. I added peanut butter, first in the batter, and then melted on top, then I baked it in a cast iron skillet, which I know was my dad's pan of choice. The result?  A banana-peanut butter cake with a moist, cake-like crumb studded with chocolate and cheesecake, topped with a drizzling of melted chocolate and peanut butter. Definitely dad-approved.  
To all the dads out there – have a great Father's Day!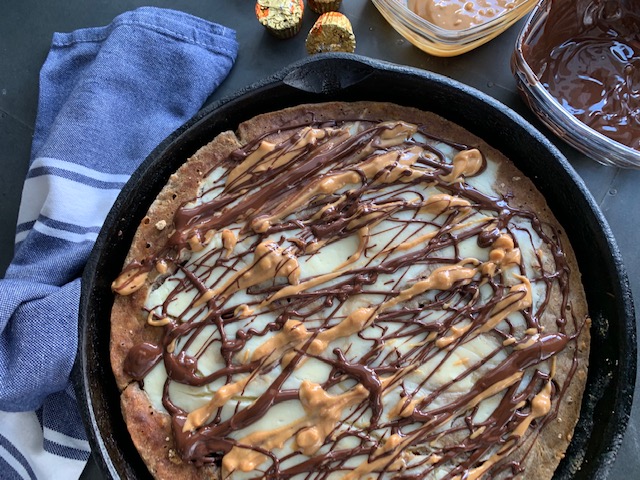 Skillet Cheesecake Banana-Peanut Butter Bread
for banana bread:
1/2 Tablespoon butter
3 medium ripe bananas
1/3 cup packed brown sugar
2 large eggs, room temperature
2 tablespoons canola or vegetable oil
1 teaspoon vanilla extract
1 cup all-purpose, or gluten-free, flour
2 Tablespoons powdered peanut butter
1 teaspoon baking soda
1/2 teaspoon kosher salt
1 cup semisweet chocolate chips
for cheesecake:
6 ounces Neuftchatel, or cream cheese, softened
1 large egg
2 Tablespoons granulated sugar
1 teaspoon vanilla
2 Tablespoons all-purpose, or gluten-free, flour
pinch of kosher salt
1/4 cup melted chocolate for drizzling
1/4 cup melted peanut butter for drizzling
Preheat oven to 350ºF.  Place skillet* in oven long enough to melt butter, then remove. Swirl or use pastry brush to coat bottom and sides.  In a large bowl, mash bananas until smooth.  Add sugar, eggs, oil, and vanilla and mix until smooth using hand mixer.  Add flour, baking soda, and salt to a small bowl and stir together.  Add to banana mixture, mixing until just incorporated.  Fold in chocolate chips.  
For cheesecake:  In a medium bowl, combine cream cheese, egg, sugar, flour, and salt, mixing until smooth. 
Add banana bread batter to skillet.  Dollop cheesecake mixture over top of batter, then use a butter knife to swirl.  Bake until toothpick inserted in center comes out clean, about 25-35 minutes.**  Drizzle with chocolate and peanut butter before serving.  
*If you don't have a cast iron skillet, a 10-inch cake pan would work just fine.    
**watch your cooking time.  My cake took just 27 minutes.